Published: 28 May 2020
Remote Testing Services – Its importance during Pandemic
Last Updated: 19 Jul 2022
In these unprecedented times with coronavirus targeting almost every country in the world, this is indeed a great disaster for the human race. The pandemic has been expanding its roots, and the devastating impact is not only on humans but also on every segment of the industry.
Businesses across the globe have been radically affected in some way or the other, and they
continue to face challenges
in many ways in the wake of the pandemic.
Content 1. Need of Remote Testing Services 2. Types of Remote Testing Services 3. Benefits of Remote Testing Services for Businesses 4. Conclusion
Need of Remote Testing Services
Enterprises across the globe are in need for faster delivery and at the same time require quality products but are unable to support their go-to-market timelines due to many challenging factors. Most of the businesses have been disrupted due to the current pandemic and continue to vouch for alternatives to uphold their upcoming product timelines with effective business strategies.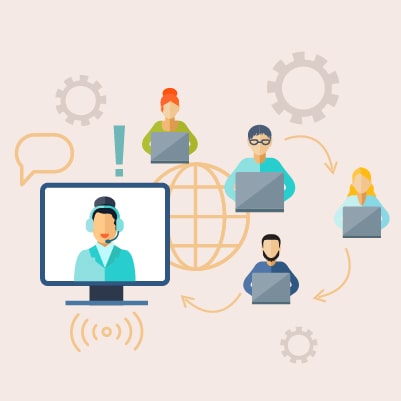 Some of these businesses face challenges with talent shortages, lack of domain experienced QA experts to support their ongoing IT delivery moves. Consequently, businesses are in a dire need for alternatives that might uphold their product delivery timelines to ensure quality products.
In a recent article by Everest Group,  it is mentioned that 'Talent shortages will become acute. Increasing focus on automation and digital transformation will further widen the demand-supply gap for skills, making it difficult for organizations to source suitable skills internally or in the open market.'
Evidently, In the wake of the current pandemic, global enterprises are in need of suitable alternatives and can leverage Remote testing services to be ensured of their time-to-market timelines. They need remote testing services to plug critical gaps in their delivery, with special focus to be laid down on security monitoring, disaster recovery and performance monitoring.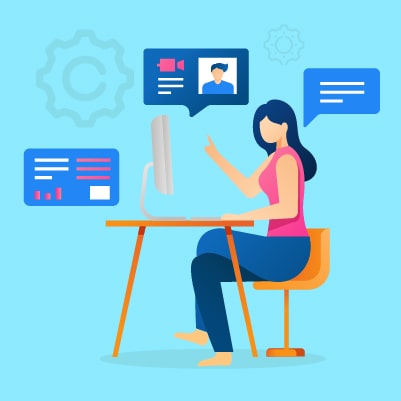 Significantly, the needy enterprises can leverage a wide range of remote testing services listed below by software testing service providers to be ensured of faster quality releases and leverage benefits with nearshore and offshore testing services.
According to a recent article by Nearshore Americas which states that "This new way of working for some is what Nearshore has always done. Collaboration is crucial and is where nearshore excels. Collaboration means working together closely, and even if remotely.
Types of Remote Testing Services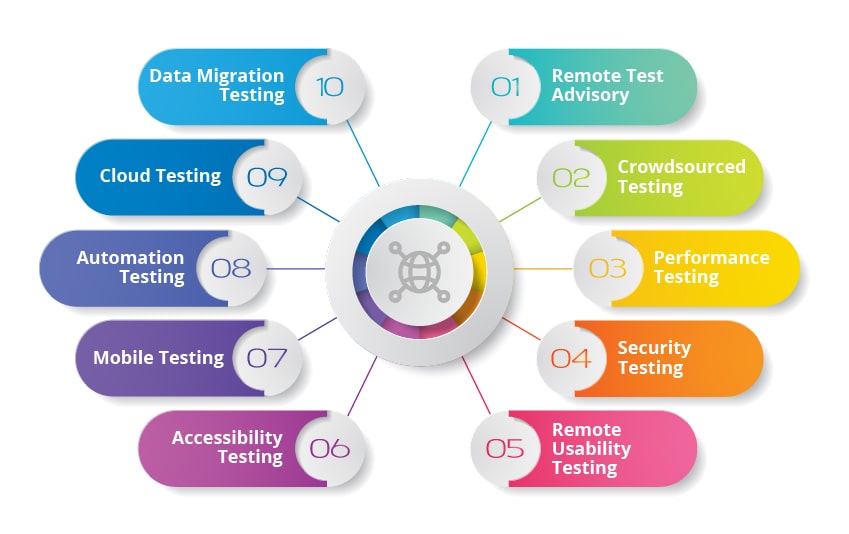 Remote Test Advisory:

Some businesses face challenges towards setting up the effective QA function across the enterprise. The right QA strategy can help you improve the overall product quality and reduce the release cycle time. It also enables faster time-to-market and helps reduce QA costs.
Remote Test Advisory services help to achieve the right QA strategy across the enterprise. This sort of remotely conducted test advisory service ensures the business moves to the next maturity level in QA and helps to effectively control the rising QA costs.
Crowdsourced Testing:

This type of testing is an emerging trend in software testing that exploits the benefits of crowdsourcing and cloud platforms. Essentially it differs from other traditional testing methods as it is carried out by different testers located at different locations across the globe.
The software is tested by different people under diverse realistic platforms which makes this testing process more reliable, fast, and cost-effective. Moreover, this process uses remote usability testing as specific target groups can be used to test the software. The testers involved belong to different workplaces.
Crowdsourced testing is best for both compatibility testing and usability testing, and specifically covers all possible issues to ensure quality software.
Performance Testing:

Performance or load testing is the process of determining the system's speed, responsiveness, reliability, and stability under varying loads. There are various types of performance testing which include load testing, volume testing, stress testing, capacity testing, soak/endurance testing, and spike testing which combined fall under non-functional testing service segment.
The remote QA team performs the end-to-end testing of the web app or mobile app for its performance to ensure the stability under sudden spikes and deliver high-performing flawless applications.
Security Testing:

This is a unique and an important type of software testing that uncovers vulnerabilities, threats, and risks in a software application. This testing process prevents malicious attacks on applications from intruders and helps in detecting all possible security risks in the system. With a lot of cyber-attacks today both on applications and system infrastructure, it is necessary for businesses to leverage this form of testing.
Some of the important types of security testing include Static code analysis, Penetration testing, Ethical hacking, Security Auditing, etc.
Remote Usability Testing:

Specifically, Remote usability testing is a testing method that allows to conduct user research with various users in their natural environment. The testers record the screen and voice, depending on the software tested, as test participants interact with the product and experience it in their natural environment.
Specifically, Remote user testing is a form of usability testing wherein the QA tester moderates the testing process through phone, webcam, or an online tool and rarely will be available on-site with the user.
Further usability testing is suitable for typically validating concepts and also for gathering qualitative insights about the product. There are many automated usability testing tools that can be leveraged to deliver effective usability test results.
Accessibility Testing:

It is important and in some countries it is a mandate that all business applications should be accessible to differently-abled people with disabilities like motor, visual and other hearing impairments along with color blindness, deafness, etc. All business apps and websites should be compliant with accessibility regulations like W3C's which include WCAG 1.0/WCAG 2.0, BITV 1.0, Section 508 & Stance Act, etc.
Effective remote accessibility testing with various accessibility testing tools ensures that your web apps and mobile apps are accessible to all types of people even with disabilities.
Mobile Testing:

With mobile apps running in millions, it becomes critical for businesses to ensure flawless and secure mobile apps that truly deliver a great customer experience (CX). Independent mobile testing services companies should be leveraged to ensure effective and flawless mobile apps that delivers great CX. Various open-source and commercial mobile automation testing tools can be used to deliver apps that make digital customers happy.

Enterprises across industries continue to demand faster releases and quality software to withstand market competition. With enterprises adopting agile and DevOps methodologies, software testing forms an integral part of it.
The earlier manual method of testing does not suffice completely the present-day complicated architecture applications with connected IoT devices in place. Hence, there is a critical need for businesses to adopt test automation that ensures faster and quality releases along with saving time and effort.
Software test automation is a method in software testing that effectively makes use of special test automation tools. These tools are used to control the execution of tests using well-crafted test cases for each of the user scenarios and compares the actual test results to the expected results.
Automated testing is the process that validates whether the software is functioning properly and effectively meets the given requirements using various test automation tools.
Cloud Testing:

The process of cloud testing involves monitoring and reporting on real-world user traffic conditions. Cloud-based platforms increase enterprise's ability to reduce time-to-market drastically along with eliminating upfront costs. Further, an effective cloud testing strategy is essential for businesses to realize the complete benefits of from the cloud solution.
Data Migration Testing:

The process of Data migration deals with moving data from one system to another and though this process seems to be pretty straightforward, it involves a change in storage and database. Data migration testing ensures the data migrated from heterogeneous sources to the data warehouse occurs with no loss of information or data.
Businesses need to leverage data migration testing to ensure their data migration is effective and businesses should preferably leverage testing services providers to get the complete advantage with this form of software testing.
Benefits of Remote Testing Services for Businesses
There are mainly two types of benefits:
a) Benefits with Professional QA teams
b) Economic benefits
Benefits with Professional QA Teams

1. Access to QA resources with required/specified domain expertise:
With the availability of domain-specific QA teams with the testing services providers, businesses can take complete advantage of the resources. Domain-specific teams have more knowledge about specific domains and are more helpful as they can better handle tasks and ensures better outcomes.
2. Eases team communication with Videoconferencing tools:
With the numerous video conferencing tools available such as Teams, Skype, Zoom, etc., it becomes easier than ever for various agile teams to connect with the stakeholders. Close collaboration between QA teams, developers and product owners ensure better outcomes as quality work is ensured.
3. Greater availability of professional QA teams as per time zones:
Professional testing teams are available with independent testing service providers. These QA teams are well experienced and perform effective testing practices to deliver quality at speed. These expert QA teams are available to serve clients according to their time zones across the globe.
4. Dedicated QA teams ensure faster speed of execution:
The availability of experienced QA resources along with clearly defined requirements helps for better framing of test suites. In projects where goals are well defined, it effectively helps the QA team to have a complete understanding of the project. This further ensures faster execution due to usage of test automation with various types of software automation testing tools.
Benefits – Economic Aspects
1. Ensures cost-effectiveness:
Today, businesses continue to feel the pressure of costs due to the unexpected pandemic. But, due to the nearshore and offshore testing services, they can be ensured of a reduction in total QA costs and be assured of faster releases with underlying quality software. Thus, remote testing services help to reduce total operating costs, and businesses can be assured of the quicker ROI.
2. Ensures effective SLAs:
The remote testing process becomes transparent and more effective as closely guided service level agreements with clients prove to be helpful and useful to businesses.
3. Facilitates to focus on business development:
As various dedicated teams perform the testing activities, the product owner can ease their efforts and concentrate on core business activities.
4. Delivers time-to-time comprehensive reporting:
The dedicated QA teams prove to be useful and deliver time-to-time reporting to the product owner and also to the stakeholders. The reports generated are comprehensive in nature and become visible to all teams to make them take appropriate actions correctly.
Conclusion
Businesses have been highly impacted due to the COVID-19 pandemic and continue to face the wrath of ups and downs in these difficult times.  They continue to struggle due to the lack of skilled and talented resources who provide effective services to enable them to stick to their go-to-market timelines.
In this uncontrolled situation with instability all around due to the pandemic, businesses can leverage nearshore and offshore remote testing services to be ensured of faster releases.  At the same time quality software is ensured and their time to market timelines are essentially met.
Last but not the least, businesses must leverage remote testing services by next-gen QA services providers that have professional QA teams to work remotely on projects to support their requirements during the current pandemic.
At TestingXperts, Our expert QA testers are available remotely to help your business with an agile, flexible and cost-effective way to build QA process. Talk to our experts today!.