Published: 23 Aug 2022
How Right Test Strategy Ensures Successful Retail Digital Transformation?
Last Updated: 29 Aug 2022
Contents 1. The Rise of Retail Digital Transformation 2. Key Factors Driving Today's Retail Digital Transformation 3. Primary Benefits of Retail Digital Transformation 4. An Overview of a Right Test Strategy for Successful Retail Transformation 5. Key Benefits Retailers Get with Effective Retail Application Testing 6. Conclusion
The Rise of Retail Digital Transformation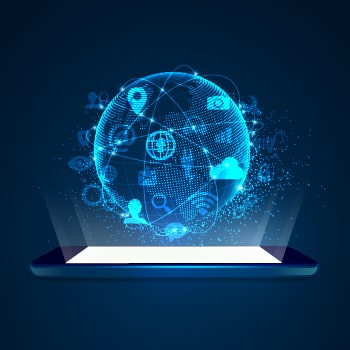 Retail is one of the leading industries that has seen tremendous growth in the last 5 years. With the COVID-19 pandemic hitting the globe, the need for retail digital transformation pushed businesses to move online as per the rising needs of the competitive market. The retail IT system is a dynamic ecosystem that involves critical applications such as social media, POS, web apps, and mobile apps, along with inventory, delivery, and product management. Customers' ever-evolving needs are pushing retail organizations to deliver and deploy new services and features much faster than ever before.
Key Factors Driving Today's Retail Digital Transformation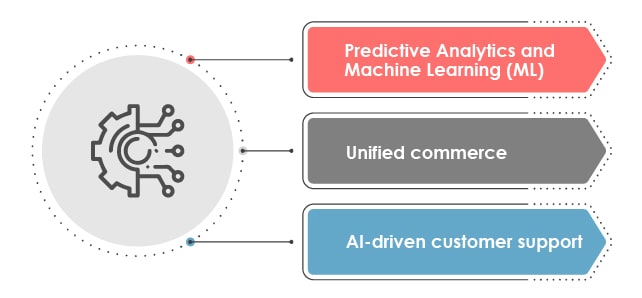 Predictive Analytics and Machine Learning (ML):
Machine learning strengthens the retailer-customer bond by helping retail businesses better understand and predict customer needs. ML is the data science that collects data from different sources and feeds the data into ML models that forecasts future outcomes.
Data received and processed via ML models enables retailers to measure shopping patterns, understand buying habits, adjust offers, personalize recommendations, and create forecasts based on the trends and preferences of the customers.
Unified commerce:
Shoppers today use multiple channels – web, mobile, social, etc. and expect retail businesses to always be available across all these channels. Many retailers implement a unified commerce strategy in a single and integrated platform that controls different business systems from a common interface. Unified commerce interconnects the systems of eCommerce, mobile commerce, customer relationship management, and more to gain insights into optimizing the existing customer experience.
Before the unified commerce concept, retailers used multiple systems to manage their business components. Trying to collect data from multiple systems is time-consuming and resource-draining. To retain the customers' data integrity and ensure a unified customer experience across multiple platforms, retail businesses should break down data siloes and integrate data from disparate sources into a unified commerce system.
AI-driven customer support:
Customers expect quick answers and assistance at any time – and the more accessible, the more convenient it is, the better the customer experience. Artificial intelligence (AI) is a meaningful new way to deliver the 24/7 service that shoppers now expect. For instance, AI-driven chatbots can act as digital store associates, instantly responding to customer queries through texts or chatbot messages.
Chatbots can also understand customers' engagement and upsell or cross-sell products. AI Chatbots are cost-effective and act as instant response tools that are helping today's leading retailers to freeze conversions and create new business opportunities.
Primary Benefits of Retail Digital Transformation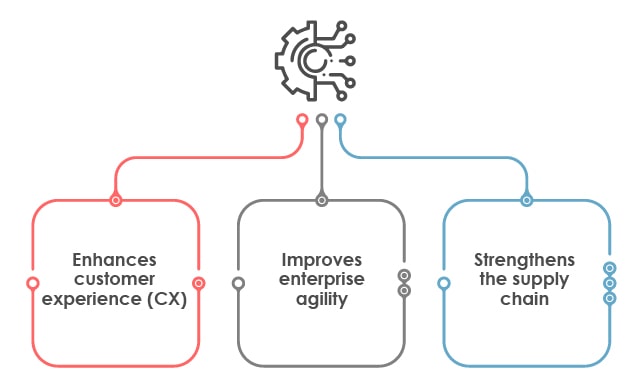 1. Enhances customer experience (CX):
Retail digital transformation enables retailers to uplift their in-store and online experiences. Technologies such as big data, location-based services, eCommerce, and mobile apps allow retailers to offer unified and personalized customer service thus enhancing the CX.
2. Improves enterprise agility:
Digital technology is moving at a lightning pace. Retail businesses that embrace digital transformation gain the ability to capitalize on digitization initiatives and be future-ready.
3. Strengthens the supply chain:
A digital supply chain strengthens supplier-carrier connectivity via streamlined inventory management, integrated demand forecasting, etc. These benefits optimize the existing retail supply chains, allowing retailers to meet their operational efficiency goals and offer timely deliveries to customers.
An Overview of a Right Test Strategy for Successful Retail Transformation

Retail applications are frequently updated and released in today's dynamic digital landscape. The rapid application releases should deliver efficient, fit-for-purpose solutions with high speed and agility. Testing for retail applications is often repeated across all supported operating systems and hardware configurations during the development cycles.
Retail businesses should leverage test automation since manually repeating such tests takes more time than they ideally should. Test automation allows retail businesses to run repetitive regression tests in much less time, leading to faster time-to-market. Once created, automated tests can be run when required at no extra QA cost, which means faster deployment and valuable cost savings for the retailer.
1. Leverage integration testing to manage complex integrations:
A mature retail ecosystem should seamlessly integrate internal and third-party components. Testing for integration of the dynamic landscape of devices, operating systems, ISPs, and applications across the digital and physical spaces is challenging for testers. A thorough functional testing and non-functional testing test strategy must be deployed based on the integration challenges that arise due to the diversity of retail channels and dynamic customer behavior.
2. Adopt end-to-end testing for a seamless omnichannel experience:
Customers today expect to shop anytime, anywhere, from any device, and wish for a seamless experience across devices. As a result, there is a need to test the user experience over the ever-growing number of devices, combined with various operating system versions and network bandwidth simulations. This is achieved with thorough and automated regression testing.
3. Adopt security testing in the DevOps cycle:
Digital transformation has sharpened security and data integrity. The high number of mobile payment solutions, POS applications, mobile payment solutions, and POS credit card-enabled apps make the entire system highly vulnerable to security threats if not correctly configured and tested. End-to-end security testing for potential threats is necessary by focusing on application profiling, authentication, data validation, and encryption algorithms.
4. Perform Point of Sale (POS) Testing for a seamless UX:
The retail ecosystem features inventory, CRM apps, data warehousing, e-commerce channels, supply chain management, and POS systems. Customer experience is at the center of effective retail business operations. A poor-quality experience at the storefront or with mobile apps hampers UX and should be eliminated with a specialized POS testing process.
5. Leverage performance testing for high-performing apps:
A positive user experience (UX) can be a crucial differentiator for a retail business. Similarly, a poor UX can hamper retail business outcomes and damage the brand's reputation. Functionalities such as personalized search and product discovery of products offer an in-store-like experience to the customers. It is crucial to ensure a consistent user and brand experience across various channels and form factors.
6. Leverage automation testing with the latest tools:
Test automation helps to deliver faster releases of the retail apps within shorter timelines, which helps software developers and QA teams to deliver faster. Retail apps testing should include leveraging advanced test automation frameworks to test various application scenarios with the latest test automation tools.
Key Benefits Retailers Get with Effective Retail Application Testing

Faster and quality releases for retailers:
Automation testing, when leveraged to design a comprehensive regression suite for retail app testing, will provide instant feedback on the code, helping make an informed decision on the production code deployment.
Improves customer experience & enhances user experience:
Across the eCommerce channel as the application becomes glitch-free and improves business outcomes as new features are thoroughly tested before going to market.
Early detection of bugs in the SDLC:
Along with functional testing, non-functional testing is critical for retail platforms and applications to cover performance, security, and accessibility scenarios, as impact in this area directly leads to degrading usability and customer experience. An automation testing approach can be implemented for non-functional testing to get shift-left of non-functional testing and fix issues earlier in the SDLC.
Enhances the coverage of retail omnichannel apps:
Testing the omnichannel availability of retail applications in a limited timeframe is challenging, owing to the high number of platforms, devices, and OS combinations. Emulator-based automation testing helps to mitigate quality risk in the least possible time to validate application behaviour on different platforms.
Ensures seamless integrations:
Retail platforms amalgamate systems and sub-systems such as UI, payment gateways, third-party APIs, data warehouse, reporting tools, middleware, etc. Testing all these systems is difficult but mandatory to ensure no break in the entire process. This testing, when automated, yields requisite coverage within the short timeline and provides a view of end-to-end use cases.
Faster testing outcomes with AI and RPA:
AI and ML-based automation testing has further improved the quality, efficiency, and speed of risk mitigation and achieving business goals of retail apps. Self-healing frameworks can optimize the test scripts during changes in GUI web elements and reduce the resources required for maintaining test scripts.
Conclusion
Businesses looking to implement a successful retail digital transformation should think globally. It's not a simple web app but a seamless and immersive experience across all digital and physical channels. Testing e-commerce applications is critical to driving online sales and delivering a great user experience. Businesses should ensure the website or mobile device apps are globally available and accessible to all. Therefore, effective end-to-end digital testing is essential for retail software.
Leverage our experts with domain knowledge in digital testing to achieve quality retail software. Connect with our automated testing services.