Published: 11 Feb 2019
The Benefits of Test Automation in Salesforce
Last Updated: 29 Aug 2022
As per a market forecast report, "Worldwide CRM Applications Market to reach $29.7 billion by 2022, compared with $27.1 billion in 2017 at a compound annual growth rate of 1.9%. In 2017, the top 10 CRM software vendors accounted for nearly 60% of the global CRM applications market which grew 11.85% to approach nearly $27.2 billion in license, maintenance and subscription revenues. Last year, Salesforce led the pack with a 25% market share riding on a 23% jump in CRM revenues. Adobe was #2, followed by Oracle, SAP and Genesys." (Source: Appsruntheworld)
Contents 1. Why testing is important to ensure successful Salesforce implementations? 2. Salesforce Test Automation 3. What are the best practices for Salesforce Automation Testing? 4. Best Test Automation Tools for Salesforce testing 5. Top benefits of test automation in Salesforce 6. Conclusion
Due to its seamless integration, a wide range of cloud-based SaaS offerings, automation feature (SFA) and continuous innovation, Salesforce is considered to be one of the preferred CRMs by enterprises across various industries. Hence, it is crucial for enterprises to ensure seamless implementation and integration of Salesforce into the dynamics of their enterprise ecosystem
Why testing is important to ensure successful Salesforce implementations?
Salesforce supports a wide range of Customer Relationship Management (CRM) activities. It is implemented and integrated with other applications in one or many ways, such as a web portal, web services, security, service cloud, outbound messaging, Apex programming, social media, data loader, and more. But, in many of these integrations, testing is often neglected because of budget and time constraints. This negligence results in a poor quality product, sub-optimal performance, customer dissatisfaction and an overall increase in quality costs. Hence, effective testing of Salesforce is important to make sure every business process works.
Since this cloud-based application, Salesforce, can be easily integrated with other enterprise applications, checking for functional testing and validating its customized Salesforce functionality plays a critical role. Introducing automation for functionality testing of enterprises' complex yet unique business processes bring many benefits, and supports enterprises' strategy.
What are the best practices for Salesforce Automation Testing?
Get expert QA team help:
For Salesforce automation testing, it is essential to have teams that are experienced to handle the test cases. For example, if an enterprise aims to perform regression or UAT testing, then it is essential to have experts who are good at regression and user acceptance testing.
Begin testing early in the SDLC:
It is essential to involve software testers from the very beginning in the SDLC. By involving the teams from the beginning, it will help the teams to understand the software requirements and as well help to identify the issues at the earliest. Also, this will help in reducing future risks. This is an effective way for the QA teams to improve the test coverage and perform more number of tests as the QA team gets exposed to the application early during SDLC.
Choose a proper testing tool:
There a number of salesforce test automation tools available to perform effective Salesforce automation testing. Hence, before choosing a tool, it is essential for the teams to verify whether the tool is capable to manage during the critical scenarios and meet the requirements or not. Also, it is important to check if the tool is capable to provide the required simulators to test the app functionality or not.
Include Classes and Controllers:
In the development phase of Salesforce, adding classes and controller files in each function helps to make coding more easy, organized, portable, and reusable. Though this is not an efficient way for a developer, but this will help to achieve portability if the test code is in its original class and controller code. Also, this will help not to miss any test classes while migrating from sandbox to production.
Make Use of Proper Naming for Test methods:
Before planning to begin any test method in salesforce automation testing, it is important to save the test method with proper naming. The naming of the test method should include three parts, i.e. the name of the method, information about the Testpath, and the condition on which the method is being performed. This will effectively help the testers to understand the type of test method or the test case it is before opening it.
Top benefits of test automation in Salesforce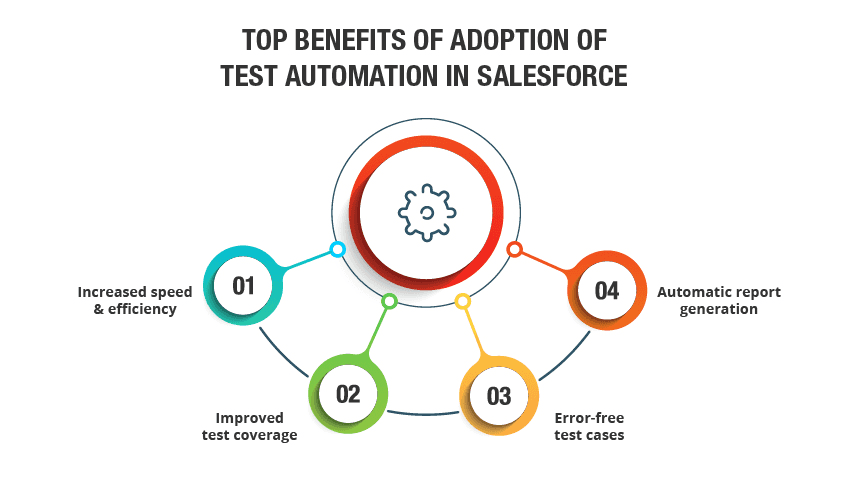 1. Increased speed & efficiency
Manual testing of Salesforce
functionality takes time and is expensive too, as a lot of human effort is required for regression testing. This not just slows down the delivery cycle, but affects the overall quality of testing. With
automation in testing
you will be able to increase speed, efficiency and reduce testing costs.
2. Improved test coverage
Enterprises should be able to tackle changes that come with their cloud-based applications and releases. This requires sufficient test coverage, which includes the execution of hundreds of test cases, exercise user scenarios, validate edge cases and more. A data-driven test automation in Salesforce ensures seamless applications' compatibility and consistent performance.
3. Error-free test cases
Executing repetitive tasks continuously via a manual approach is prone to human errors. Automated testing alleviates repetitive testiwhile increasing performance of the applications that are integrated with Salesforce, improves accuracy of tests and ultimately enables testers to focus on risk analysis and exploratory testing.
4. Automatic report generation
Automatic report generation is created on the success and failures of each tests. This report aids in running tests automatically and save time.
Best Test Automation Tools for Salesforce testing
Microsoft Dynamics CRM:
It is a salesforce automation software contributed by Microsoft. This tool offers integrated business management tools with a line of flexibility. This tool is efficient to improve the sales process and achieve more number of leads. This tool includes a number of features such as availability as a hybrid or cloud-based tool, a good competitor of Salesforce at a lesser cost, ability to track leads, etc.
Sales Edge:
This is a prominent tool to make easier ways for new customer sign-ins. Sales Edge ensures to provide several features that include a request for a proposal (RFP), availability as a web-based tool across platforms, the significant increase of the RFP response time, automation of the sales presentation and pitch books, etc.
Force.com:
This tool is part of the Salesforce Customer 360 Platform, and it is widely known as a social and mobile app development platform. This Platform as a Service (PaaS) tool is designed for simplifying the deployment and development of websites and cloud-based applications.
Insight Squared:
This automation testing tool can provide a good kick-start for business processes and improve these processes with efficient data-driven decisions. The features that can be achieved with this salesforce automation testing tool are identifying the scope of improvement by analysing the trends, helps to generate every day or regular lead conversion reports, ability to unlock historical financial data, etc.
Active Conversion:
This test automation tool for salesforce is effectively used for bridging the gap between the marketing and sales process. With this tool, visitor data and promotional efforts are tracked with the marketing automation tool. This web-based tool is compatible across platforms and can help to increase more number of leads.
Adoption of Salesforce within an enterprise must bring business value and greater ROI (Return On Investment). This can be effectively done by introducing test automation in Salesforce and allowing testers to focus on rewarding tasks than focusing on mundane & error-prone manual testing. TestingXperts' test automation framework, Tx-Automate and its test accelerators, test cases, test scripts and data-driven testing strategies are leveraged by many enterprises for Salesforce adoption.
Connect with us today and leverage our Salesforce testing expertise for a successful adoption of Salesforce automation testing in your organization.
Related Queries on Salesforce Testing
Q1. How do I check test coverage in Salesforce?
Ans. A data-driven test automation in Salesforce ensures seamless applications' compatibility and consistent performance.
Q2. What is Salesforce used for?
Ans. Due to its seamless integration, a wide range of cloud-based SaaS offerings, automation feature (SFA) and continuous innovation, Salesforce is considered to be one of the preferred CRMs by enterprises across various industries.