14 Jan 2020
Why Quality Assurance is Critical for Medical Device Testing?
The healthcare industry in recent years has seen numerous innovations with digitization. This has helped in connecting people more effectively with the latest medical devices embedding software that delivers better healthcare services. Medical devices are vital for patient care as they directly impact human lives by providing critical data and observations derived by using them.
The medical device software continues to become more complex due to various advances in healthcare. There are certain important and compliance factors such as regulatory delays and the adoption of international standards that affect the medical device's software quality.
Contents
1. What is Medical Device Testing?
2. What is the Role of QA in Medical Devices Testing?
3. What are the Methods Followed by QA for Medical Device Software Testing?
4. Conclusion
What is Medical Device Testing?

Medical devices are regulated mainly by multiple regulatory bodies and have to satisfy a set of compliances and standardizations. Moreover, they should deliver effective performance, accurate readings and should be safe while at use.
Therefore, it is essential for medical devices to have a proper device testing strategy in place. The approach consists of maintaining compliance processes and planned software testing to deliver device effectiveness.
Medical Device testing ensures the product's software and devices are fully compatible and compliant with various regulations and functionality. This testing ensures that these devices fulfill all quality-related aspects successfully for which QA plays an important role.
Hence, medical device manufacturers should adopt quality assurance (QA) for thorough verification and validation of devices. It ensures to deliver the proper quality and reliability of these devices.

What is the Role of QA in Medical Devices Testing?

1. Ensures compliance testing with various regulations such as HIPAA, PCI DSS, and FDA, etc.
2. Ensures healthcare CRMs, patient mobile apps, medical devices software, and Patient Database management systems work seamlessly under various scenarios
3. Integration testing of devices ensures proper connectivity with other devices
4. Helps to improve the clinical effectiveness of medical devices
5. Adequate testing ensures the quality and effectiveness of various medical devices to provide optimal patient care
6. End-to-end devices testing mitigates any risk of device failure
Further, glitches in medical device software may lead to false diagnosis and hence QA is essential to ensure proper performance and functioning of medical devices.

What are the Methods Followed by QA for Medical Device Software Testing?

Having an effective testing strategy helps to achieve successful medical device testing which is based on several sets of test requirements. These requirements are based on various component specifications, manufacturing processes, and other critical functional specifications of the devices and software.
Further, proper evaluation of the sets of requirements smoothens the test implementations as tests can be carried out effectively on the software of medical devices.
Different parameters have to be tested to ensure device functionality. There are various methods for medical device software testing.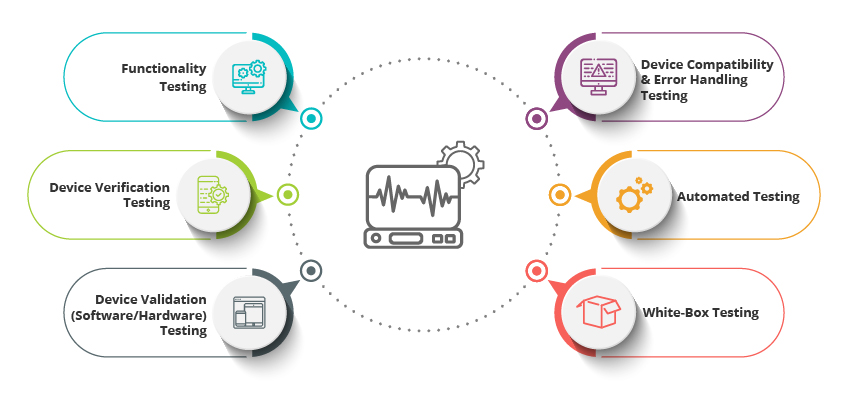 1. Functionality Testing:
It focuses on test efforts to evaluate how the device is supposed to perform under various scenarios. It involves the actual process of verification and validation of devices. Each of the functions is exhaustively tested with a combination of parameter values to know the device's functionality.
2. Device Verification Testing:
This process confirms whether the examination of any objective evidence with specified requirements of the device has been fulfilled or not. The process starts with clear and well-defined product requirements which must be measurable in order to verify them. The process follows certain protocols and uses a standard methodology that compares current product requirements with already approved requirements.
3. Device Validation (Software/Hardware) Testing:
After the entire system is in place, then medical devices should be validated for both software & hardware. The primary purpose of this validation process is to test if the device meets specific user needs or not. It can be tested under simulated or under actual environment conditions to know how the software and hardware function.
4. Device Compatibility & Error Handling Testing:
Medical device's compatibility across various devices has to be tested to prove its success. It is essential to test how the device responds under various error conditions especially under power fluctuations, internal failures or for any peripheral device failure. The devices should deliver proper error messages to notify users.
5. Automated Testing:
This form of testing is taken up to ease the testing process and overcome manual tasks to ensure quality at speed. The automation process makes the testing process faster, more accurate and complete. Primarily, the process includes stimulating the target device, monitor the device response, record the results, control the entire process using automation and declare results.
6. White-Box Testing:
Automation of white-box testing is essential as it ensures the testing process to be closer to the design and coding phases of the project. It is necessary to introduce an automated test system that enables an inside look at medical device software. Tests are devised to monitor various parts to check any overflow conditions, timing interactions, interrupt handling, error counts, etc.

Conclusion:
It is a known fact that medical devices are critical as they have a direct impact on patient's healthcare. To ensure optimal working of medical devices an end-to-end medical device software testing is essential.
Any sort of performance issues prevailing in these devices proves to be fatal to the patient's healthcare. Thus, to ensure fully-functional medical device software, businesses should adopt effective software quality assurance.