Published: 21 Apr 2020
What is the Effect of Current Pandemic on Retail eCommerce?
Last Updated: 08 Aug 2022
Content 1. Surge in eCommerce Industry 2. Need for Retailers to Invest in eCommerce Business and Platforms 3. Surge in eCommerce Business during this Pandemic 4. How to Build your E-commerce Business During COVID-19 Pandemic? 5. Conclusion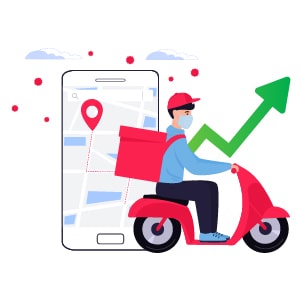 With the pandemic invasion, the mandatory concept of social distancing and complete lockdown has come into place in many countries across the world. Today, people have been slowly adjusting to this new way of life (Stay at Home) and it has become significantly difficult to manage life without spending time with friends and relatives, without visiting favorite restaurants even over the weekends, and even without attending any sporting events during these pandemic times.
Surge in eCommerce Industry
Undoubtedly, COVID-19 has been hurting mankind in all ways mentioned above, and even the in-store traffic has come to a halt as people rarely visit stores to buy their products due to the prevailing situation.
It is interesting to note that although the in-stores have been widely affected, there has been surges in the online shopping using all preferred mediums of eCommerce channels using digital transformation, as people are forced to stay at home and place their orders as they experience anxiety over the virus spread.
According to Adobe Analytics, data which monitors the eCommerce transactions of 80 of the top 100 U.S. retailers, it states that there is a mounting concern over the COVID-19 outbreak's impact in the United States on the online shopping behavior.
Another research by RetailDive suggests that it is a boon to eCommerce business, which allows consumers to find what they require without physically visiting to a store. While COVID-19 is hurting in-store traffic for some retailers, others have seen surges in online shopping, as anxiety over the pandemic increases.
Need for Retailers to Invest in eCommerce Business and Platforms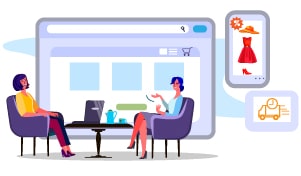 This pandemic outbreak has led to the inevitability of people accessing digital mediums to perform their shopping using various online eCommerce websites. It is a truth that to everyone's dismay, the supply chains are disrupted and majorly with the production lines halted, there is a necessity for retailers to invest in eCommerce business to further sustain post this COVID-19 situation.
Basically, an eCommerce platform helps their retailers to minimize the impact of any future disruptions and essentially upholds their sales numbers even in the absence of foot traffic to their physical stores.
Moreover, eCommerce business is said to deliver many benefits for micro, small and medium retailers by providing them access to wider markets, and ensuring greater geographic access to their products. These eCommerce sites also help in making them successfully compete with larger players in the segment.
Thus, the eCommerce business during this pandemic has been facing more demand for essential products such as healthcare products, medicines, hand sanitizers, face masks and other medical products.
Now. Let us look at some of the top reasons for the surge in eCommerce business during the pandemic.
Surge in eCommerce Business during this Pandemic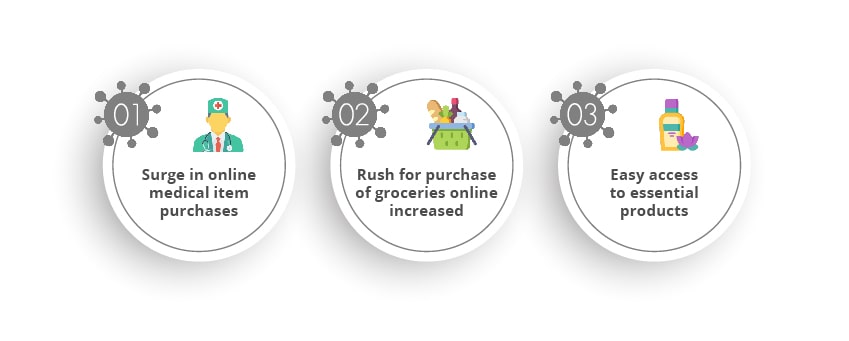 Today, with people living in isolation and uncertainty around, there has been changes in their shopping behavior. As stated by Business Insider, peoples shopping behavior has been changed from bulk-buying to online shopping, people are changing what they're buying, when, and how.
Surge in online medical item purchases:
It has been observed that with the pandemic, there has been an evident spurt in the purchase of medicines post the COVID-19 outbreak. With the virus fears spreading more, people are generally opting to order and buy more medicines.
Adobe's analysis of eCommerce transactions found that purchases for cold, cough & flu products have increased 198%, while online purchases for pain relievers increased 152%. eCommerce purchases of the virus protection category of products such as hand sanitizers, gloves, masks and antibacterial sprays have surged by 817%, according to Adobe's analysis.
Rush for purchase of groceries online increased:
There has been an increased sale of groceries as people are essentially locked down and wish to support themselves from this unprecedented situation by ordering online through eCommerce sites.
Easy access to essential products:
Today, due to the coronavirus contagious disease, people prefer safe purchase and eventually prefer safe shopping experience. They continue to order and purchase essential products through performing online digital transactions to keep themselves safe from any possible virus exposure.
All the above factors state the increasing importance of eCommerce business. Hence, retailers should take all possible steps to ensure great shopping experience to their customers.
How to Build your E-commerce Business During COVID-19 Pandemic?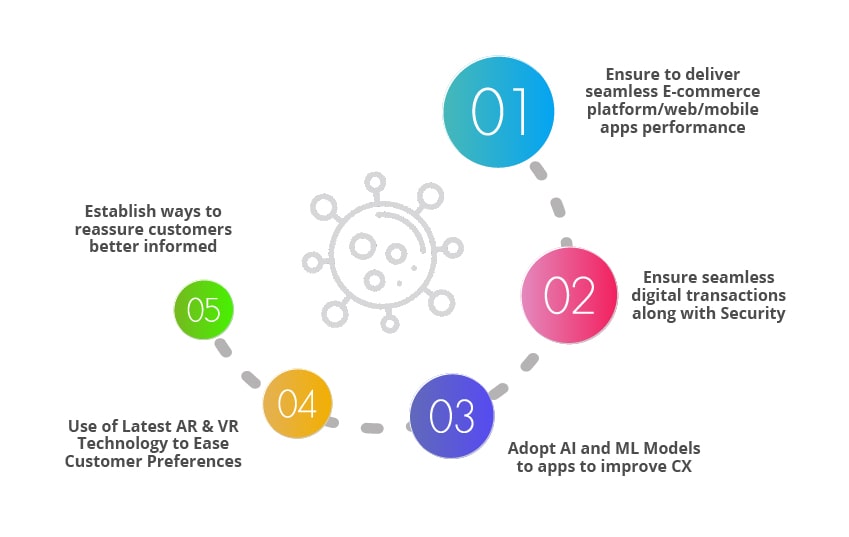 With the growing uneasiness around the world with the spread of the coronavirus, it is keeping people away from moving around at public places and there is thinning attendance across all the physical stores. They prefer to choose eCommerce platforms for their essentials due to the unforeseen eventuality caused due to the pandemic.
Hence, eCommerce businesses should take advantage of the situation and ensure their eCommerce platforms, eCommerce websites and eCommerce mobile apps are flawless, secure, and are delivering great user experience with great performance.
1. Ensure to deliver seamless eCommerce platform/web/mobile apps performance:
While users add the products to their cart as they browse for the products of their choice, it is important that the eCommerce websites and eCommerce apps should deliver great user experience. eCommerce apps should be flawless and perform seamlessly even while handling loads of users.
In order to achieve seamless mobile app performance, businesses should avail effective performance and load testing by next-gen performance testing experts. This is more important especially with the present COVID-19 situation, as more users continue to login and place their orders through eCommerce sites.
2. Ensure seamless digital transactions along with Security:
Online customers tend to abandon eCommerce apps and eCommerce websites when they encounter delays at the processing time. It is essential for retail businesses to ensure and deliver seamless digital transactions during order processing.
In addition, along with the seamless payment and order processing, users should be ensured of safe and secure transactions at every level. With the connected devices and connected world in place, there are more cyber-attacks that have become common across eCommerce channels.
Hence, this can be overcome by leveraging effective security testing by next-gen security testing experts. These security testing experts perform end-to-end security testing to deliver eCommerce websites and apps that are safe and secure for performing digital transactions. They even safeguard eCommerce portals from any possible threats and vulnerabilities in these unprecedented times.
3. Adopt AI and ML Models in apps to improve CX:
Businesses can use Artificial intelligence and machine learning algorithms to really entice their users with great features that delight customers by delivering great user experience (UX). It is essential to deliver an effective AI-enabled eCommerce based model that delivers all latest features the millennials look for today.
4. Use of Latest AR & VR Technology to Ease Customer Preferences:
eCommerce businesses should look out to adopt augmented and virtual reality to try on each product. During the on-going crisis, this might work out better especially for some of the shopping categories like shoes, bags, etc.
5. Establish ways to reassure customers better informed:
During this crisis period, communicate properly with your customers to ensure about their order placement status and answer all their queries quickly. Also inform the people the latest updated news through maintaining a blog or a separate portal that holds handy for the customers.
Conclusion
In these testing times with COVID-19 pandemic, isolating people with social distancing and lockout in many countries, users continue to look out for options to ease their shopping behavior. Undoubtedly, during lockdown and further, people will look for eCommerce options to purchase medicines, groceries and other essential products.
This is a crucial time when retailers need to brace up and build their eCommerce business by enabling effective and seamless secure digital transactions to attract more users. It is essential for businesses to look out for performance and security testing of their eCommerce mobile apps and eCommerce websites to ensure safe and secure transactions along with delivering great customer experience to digital customers.