Published: 23 Jul 2018
Why Pen Testing as a Service Makes Sense
Last Updated: 02 Aug 2022
Security vulnerabilities are a reality faced by the digital world at a rapid speed. Given this reality, penetration testing (also known as Pen-Testing) has become a critical method for protecting systems and applications from security vulnerabilities.
Pen-test assesses the security posture and discovers possible defects that could allow malicious individuals/organizations to compromise the security's main pillars, i.e. Confidentiality, Integrity, and Availability.
Contents 1. Penetration Testing Role 2. What are the types of penetration testing? 3. Why Penetration Testing as a Service (PTaaS)? 4. Major Benefits of Penetration testing Services? 5. What are the tools for Pen testing? 6. Why Outsource PTaaS? 7. What factors should be considered while opting services from PTaaS provider? 8. Why Choose TestingXperts?
Penetration Testing Role
The goal of this exercise is to uncover vulnerabilities in a target system so the team of developers can take action to correct them. Talking about pen-testers, they act as real attackers, attempting to compromise the system to learn the effectiveness of the performed DDoS and cyber attacks.
What are the types of penetration testing?
Penetration Testing on Wireless Networks:
In this type of testing, all wireless devices that are used by an enterprise such as laptops, notebooks, smartphones, etc. are tested. This type of testing helps in finding vulnerabilities of admin credentials, wireless protocols, and wireless access points.
Physical Penetration Testing:
This type of penetration testing is practiced in order to stop the unauthorized control or access on the physical components such as sensors, cameras, motion detectors, etc.
Application Penetration Testing:
This testing practice discovers the security threats and weak points in a web application. It is the process that simulates the app from attacks by monitoring the systems and firewalls.
Social Engineering Test:
This testing practice will help an enterprise to find the threat actors who are trying to lure the employees with the methods of manipulation or influence for achieving control over system and enterprise's sensitive data.
Network Penetration Testing:
In this testing method, the vulnerabilities and weaknesses in network infrastructure are identified. This method performs a thorough examination on several software packages such as MySQL, File transfer protocol, SQL server, Secure Shell (SSH), etc.
Denial of Service (DoS) testing:
This method of testing is performed in both ways, i.e. using automated tools and manual methods. And, the different types of Dos tests are classified as flooding attacks and software exploits. The DoS formats can occur in various formats such as half-open SYN attack, resource overload, flood attacks, etc.
Pen-tester is likely to make use of the standard hacking tools to check for vulnerabilities. However, various challenges are involved with the traditional pen testing model, which is the reason, companies are moving towards the new Pen Testing as a Service model comprising of data, technology, and talent to eliminate the security challenges for modern applications. This methodology applies a SaaS security platform to pen testing to boost workflow efficiencies.
Why Penetration Testing as a Service (PTaaS)?
A company's security stance is continuously changing in-line with the growing risks. A traditional penetration testing services is a point in time evaluation. However, PTaaS involves a continuous cycle of testing and remediation. It suggests that to combat the changing security stance of the company, there must be an on-going program of testing and management. The PTaaS methodology recognizes, tests and validates the entire platform stack. From the operating system to the SSL certificate, PTaaS is about creating a system of automatic checks and monitoring to protect the smallest features of the software eco-system.
Major Benefits of Penetration testing Services?
– Continuous Security Management: PTaaS encompasses continuous security management through all-encompassing managed services
– Frequent Vulnerability Scanning: Unlike the traditional penetration testing, in PTaaS, you can receive access to regular vulnerability scanning report
– Automatic Track Changes: PTaaS comprises of an automatic track changes feature that would ensure traceability of improvements in the application security.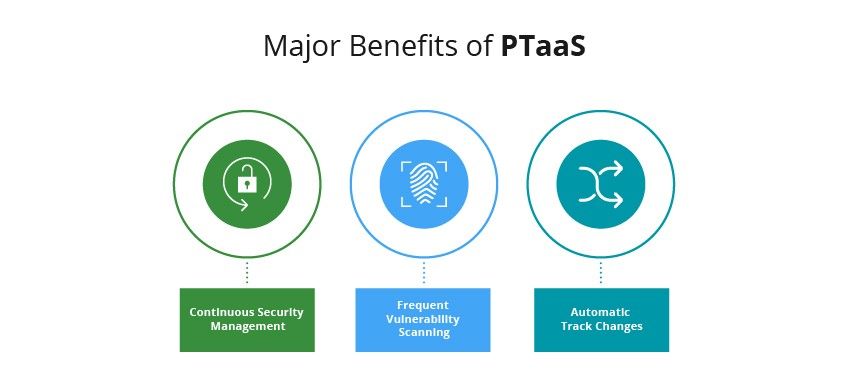 What are the tools for Pen testing?
OWASP:
The Open Web Application is a non-profit organization that is running several projects to improve the security of software. A few of the flagship tools of this tool are ZAP, OWASP Web Testing Environment Project, OWASP Dependency-Check, etc.
W3af:
This tool is popularly used to audit framework and protect the app from the web application attacks. Generally, this tool has three types of plugins namely, audit, discovery, and attack. It has a good number of features to prevent vulnerabilities such as cookie handling, DNS cache, proxy support, etc.
Acunetix:
This tool is known for providing complete automation penetration testing services. The security scanner scans applications available on JavaScript, single-page applications, HTML5, etc. With this tool, a tester can audit complicated web applications, clear the compliance issues, and manage the reports on web and network vulnerabilities.
BurpSuite:
The software of this tool known as a commercial product can work for web application scanning, crawling content, intercepting proxy, functionality, and many more. The main advantage of this tool is that it can be used in any environment like Windows, Linux, Mac OS, etc.
Wireshark:
This is an open-source tool known as a network protocol analyser. It is capable to run on various platforms such as on Linux, Windows, Mac, Linux, etc. The efficient features of this tool include displaying filters, live capturing, VoIP analysis, offline analysis, etc.
Metasploit:
This is an open-source penetration testing tool that enables a tester to access a number of features such as to verify vulnerabilities, to manage security, and more.
Aircrack-ng:
This is a complete suite of tools that effectively focuses on vulnerabilities that can affect Wi-Fi security. All the tools that are available are command line interface and have a need of heavy scripting.
SQLMap:
This is an open-source tool, widely used for identifying the issues related to SQL injection in an application. It supports a number of platforms such as Windows, Linux, Mac, etc.
Why Outsource PTaaS?
Outsourcing Pen Testing as a Service is a common practice for businesses across various industries. One major benefit of outsourcing pen-testing is to stay updated with the latest tools and cyber trends in the market. Outsourcing the Penetration Testing as a Service efforts can provide innovative and tailored methodologies that can create better quality and coverage. Almost all organizations perform these evaluations to validate their security stance across their IT domain and accomplish different supervisory requirements, mandating an independent security audit.
What factors should be considered while opting services from PTaaS provider?
– The provider should be able to correlate data and aggregate with multiple resources
– Should have testers who are able to perform multi-level tasks on the project
– Testers should have the ability to combine the workspace findings for reporting
– Need to build the confidence, put efforts to improve the growth and reduce the conditions of failures
– Should have the ability to generate reports in multiple file formats
– The teams must be able to customize report templates for every specific testing type
– Need to have the ability to track the trends from period to period
– Must be able to integrate reporting along with enterprise ticketing, risk, governance, and compliance

Why Choose TestingXperts?
Enabling a long-term partnership is something that a PTaaS approach brings into play. TestingXperts' global pool of skilled testers and researchers with a diverse set of skills across the technology stack helps in providing the best services to eliminate the security testing challenges. Our PTaaS model combines data, technology, and talent to eliminate security challenges for modern web/ mobile applications and APIs.