Published: 04 Feb 2020
Criticality of IR35 Legislation and How It Impacts Businesses in 2020
Last Updated: 31 Aug 2022
1. What is IR35? 2. How does IR35 affect different companies and other sectors? 3. What is the Bigger Picture of IR35? 4. How to be Prepared for New IR35 Rules? 5. How TestingXperts can help Companies with Managed IR35 Services? 6. TestingXperts Managed IR35 Services 7. Conclusion
What is IR35?
IR35 in simple words is legislation in the UK introduced by HMRC (Her Majesty's Revenue and Customs) in the year 2000 wherein UK contractors were entitled to pay the same tax and National Insurance Contributions (NIC) on par with an equivalent employee. IR35 is a set of tax laws that effectively forms a part of the Finance Act and is more commonly referred to as an Intermediaries Legislation. The new changes to this
IR35 (Off Payroll Working Rules)
will come into existence from
6th of April 2020
and it is the responsibility of the limited company to decide on their own the employment status of each assignment. With the new IR35 legislation coming into effect in UK this year, it essentially aims to close a loophole in the tax system where workers use a limited company structure to pay less tax. With IR35, responsibility for taxation would shift to the company/employer rather than the individuals or contractors. In a way, this legislation entails restricting contractors from avoiding payment of taxes and NIC that should be paid as part of the employment.
How does IR35 affect different companies and other sectors?
A report by Brookson Legal has warned that Private sector firms need to take their time to understand the complexities of the incoming IR35 tax avoidance reforms or risk losing their contractor talent. These new IR35 reforms are a major threat for private sector firms with the liability carried by the fee-paying party which is the major threat of all. From April 2020, as the IR35 rules will change, majorly it will affect the medium and large businesses within private sector. Companies will be responsible for determining the employment status for the tax of the workers whom they engage via an intermediary. For self-employed individuals working for a limited company for just one client in a role that has equal risk, will have to introspect whether they are inside IR35 or outside IR35.
What is the Bigger Picture of IR35?
IR35 is truly not the end of contracting but its avoidance is not possible as with the new legislation rules, hirers may take a decision to cease the hire of PSC contractors or disguised employment. Under this disguised employment, earlier people would work for firms and organizations as contractors using certain intermediaries such as limited companies. Earlier, they could slash the tax bills for both the employee and the employer. HMRC says that when determining whether IR35 applies to a contract or engagement, "you must work out the employment status of the person providing their services." HMRC goes on to say that the off-payroll rules apply if the contractor "would be an employee if there was no intermediary."
How to be Prepared for New IR35 Rules?
Now, it is the time to pull up your socks as April 2020 is fast approaching and companies with contract workers will have to plan on how to proceed with this complicated tax reform. There would be a possible end for contractors working as 'disguised employees'. The medium and large private sector firms would become responsible for deciding whether a contractor provides a service as self-employed or as an employee. Undoubtedly, many business sectors depend on contracting and it is no surprise that this upcoming IR35 legislation poses a high risk for companies if not addressed in time. IR35 amendments would compel companies to switch to PAYE model rather than using contractors.
How TestingXperts can help Companies with Managed IR35 Services?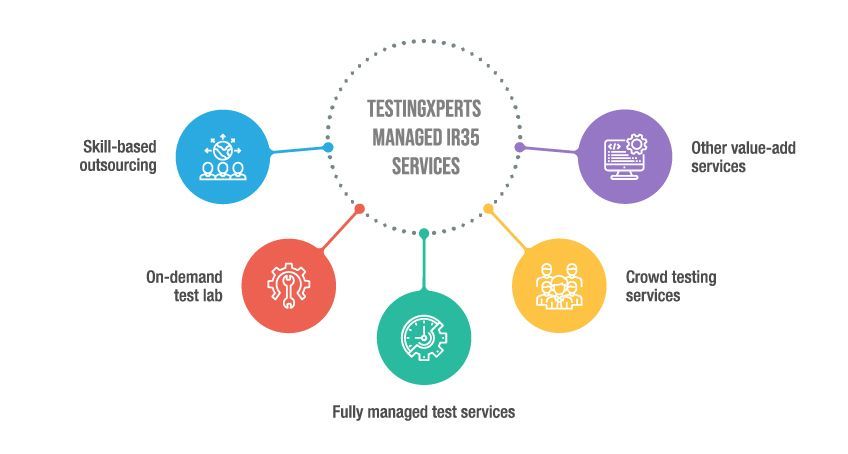 To address the potential issue of losing critical Contractor skills, Tx has various offerings:
– Skill-based outsourcing:
All QA,
testing and DevOps
skills made available across a variety of location models (Onsite, Offsite and Offshore). Our in-house team of 600+ professional testers across domains are available for skill-based outsourcing that spans various domains.
– On-demand test lab:
Leverage our fully equipped test labs and professional testers to carry out testing for project in an on-demand manner across all test areas (i.e. functional testing, automation, performance testing, security testing, accessibility testing etc.). Our fully equipped Mobile test labs have more than 500+ devices to ensure quick and effective testing of mobile applications.
– Fully managed test services:
Get the total benefit of complete ownership of QA function with managed services, bringing exclusive value-adds like Tx IPs, Accelerators, Knowledge Academy, Thought Leadership, etc. that adds a lot of value to your QA function. As a next-gen testing services provider, Tx's expertise is wide across industry domains with a focus on improving the overall maturity of testing for our clients using new-age best practices like CI/CD, DevOps, Shift left, etc.
– Crowd testing services:
Leverage Tx crowd testers across the globe to carry out testing with actual end-users. Our huge pool of crowd testers can be used to ensure testing of your application with 'real' end users in geographies of your choice.
– Other value-add services:
Training:
We can train client teams across all testing, automation and DevOps areas to help build the QA function rapidly
Consulting:
to help build new organization structure aligned with IR35
Specific IPs, accelerators, and assets
: Our in-house accelerators, and IPs help deliver best testing solutions to even complex applications and projects.
Leverage Our Managed IR35 Services to ensure smooth business without IR35 Overheads
– Thorough assistance to large and medium businesses of the private sector to support your business-critical assignments – Our specialists are available with clearly defined objectives matching your business expectations – Ensure to provide substitutes when needed with same skillset and experience – Engage with our flexible workforce without facing the difficulty of changes in IR35 – Explore alternative engagement models such as project-based or statement-of-work models to have an effective QA workforce in place for various domains – Risk management and change management will be taken up time-to-time
Conclusion
With the IR35 changes to be implemented in April 2020, it is necessary for all businesses of all sectors to focus on the new act and abide by them. Leverage IR35 Managed Services by TestingXperts which helps you to overcome this situation easily and effectively. It is important to have a trusted consulting services provider with in-house consulting support.
TestingXperts
will help you to overcome the IR35 legislation challenges without taking a hit on the productive while offering a cost-effective alternative.