Published: 02 Jun 2021
RPA Testing Leveraging UiPath Test Suite
Last Updated: 09 Aug 2022
Content 1. An Introduction to RPA 2. Core Advantages of RPA technology 3. Benefits for businesses leveraging RPA 4. Some important RPA use cases across major industries 5. Why is RPA testing essential for businesses today? 5.1 Some of the main reasons for businesses to take up RPA testing include 5.2 Some of the Best Practices to Follow for Effective RPA Testing 5.3 Some of the leading RPA automation tools to look in 2021 6. Key advantages with UiPath Test Suite 7. The superiority of UiPath Test Suite – Features and Differentiators 8. TestingXperts developed a Robot-led Test Automation Framework powered by UiPath Test Suite 9. Conclusion
An Introduction to RPA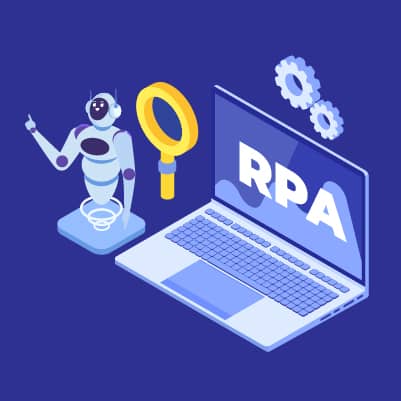 Robotic Process Automation (RPA) is the latest technology adopted by businesses wherein software robots perform various repetitive business tasks. Typically, these bots interact with multiple modes of SaaS applications and IT systems and automate the rule-based manual tasks that are repetitive and transactional. RPA technology helps organizations and businesses to ease manual tasks and improves the business's operational efficiency. This technology is undoubtedly the future go-to technology for digital companies, which require seamless operations in one go.
In recent years, automation has changed many aspects of businesses, and RPA technology has gained more traction. This technology plays a significant role in transforming tedious human tasks into robotically automated tasks with software bots while freeing human resources to perform other high-end tasks. These bots streamline many business processes and do not need any coding experience to operate them as they mimic human behaviour. Software bots can easily be integrated into the existing business processes. These bots can navigate enterprise software such as ERP systems, service management tools, other software solutions, etc.
RPA is emerging as a disruptive technology across industries and is helping to speed up an organization's digital moves in a great way. RPA technology eases digital transformation significantly and brings quicker ROI with improved operational efficiency.
Core Advantages of RPA technology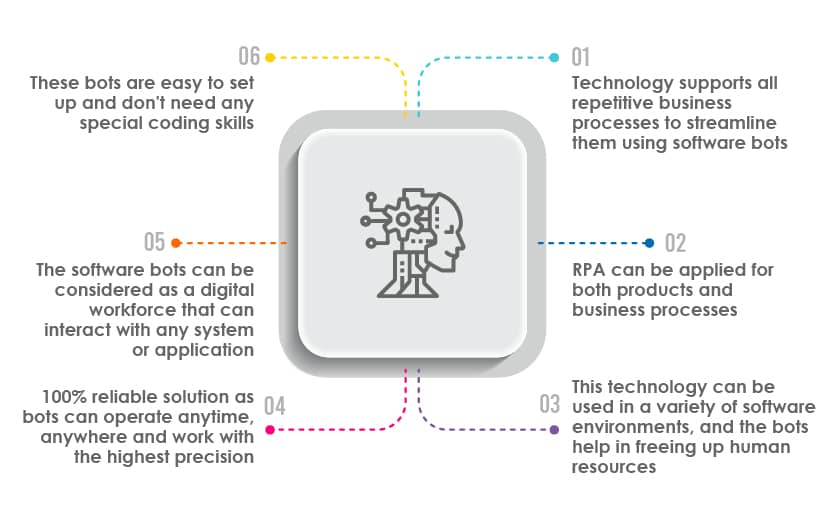 •  Technology supports all repetitive business processes to streamline them using software bots
•  RPA can be applied for both products and business processes
•  This technology can be used in a variety of software environments, and the bots help in freeing up human resources
•  100% reliable solution as bots can operate anytime, anywhere and work with the highest precision
•  The software bots can be considered as a digital workforce that can interact with any system or application
•  These bots are easy to set up and don't need any special coding skills
Recent stats on RPA market trends by leading analysts
✓ According to Grandviewresearch, "The global robotic process automation market size was valued at USD 1.57 billion in 2020 and is expected to grow at a compound annual growth rate (CAGR) of 32.8% from 2021 to 2028."
✓ According to Statista, "Robotic process automation market revenues are expected to eclipse 2.9 billion U.S. dollars worldwide in 2020. Forecasts predict continued growth in the coming years with a market value set to reach more than then billion by 2023."
✓ According to MarketsandMarkets, the "Robotic Process Automation (RPA) Marketis estimated to reach USD 2,467.0 million by 2022, at a CAGR of 30.14% between 2017 and 2022."
✓ According to FortuneBusinessInsights, "The RPA market is projected to grow from USD 1.61B in 2021 to USD 7.64 B in 2028 at a CAGR of 25.0% in the forecast period of 2021-2028. The rise in CAGR is attributed to this market's demand and growth.
Benefits for businesses leveraging RPA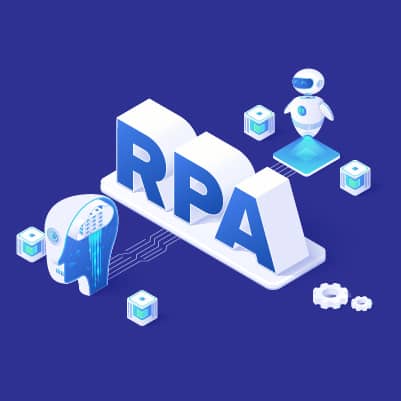 Business-wise Benefits
•  Improves businesses operational efficiency
•  Helps in driving business agility
•  Adds cognitive intelligence to the enterprise
•  Improves customer experience significantly
•  Reduces compliance risks and simplifies audit trials with digital log files
•  Bots are more reliable and accurate while performing tasks
•  Frees up manual resources as processes are automated with software bots
•  Enhances internal resource utilization
•  Bots are easy to configure with no code or low code usage
•  Ensures better control over repetitive business processes
•  Accelerates business processes endlessly
Cost-wise benefits
•  Improves business scalability
•  Enhances customer experience with better and seamless services
•  Lowers operational risks as bots perform tasks flawlessly
•  Increases business productivity and efficiency greatly
•  Delivers better business insights and analytics
•  Delivers quicker and better ROI as manual processes are automated
•  Provides significant cost savings as a minimal workforce is required
Some important RPA use cases across major industries

Telecom:
Automating back-office operations
Call resolutions
Quicker resolution of customer tickets
Classifying disputes
Porting customer numbers
SIM swapping
Banking
Credit card bill settlements
Loan processing
Data entry at primary level
Mortgage remediation
  KYC processing
Processing customer queries
Fraud detection
Insurance
Processing customer queries
 Invoice processing
Claim processing
Underwriting
Form registrations
Premium renewals
Retail
Customer support management
Returns processing
Accounting and finance
Payroll management
Call centre outsourcing
Employee onboarding
Work order management
Inventory management
Stock keeping
Low stock levels
Manufacturing
Inventory management
Stock level displays
Healthcare
Patient appointment scheduling
Doctor availability
Doctor appointment
Drug discovery
Early disease diagnosis
Finance & accounting
Invoice processing
Vendor
Customer invoicing
Account management
Payroll accounting
Human Resource (HR)
Payroll automation
Recruitment administration
Employee onboarding
Prospect outsourcing
Why is RPA testing essential for businesses today?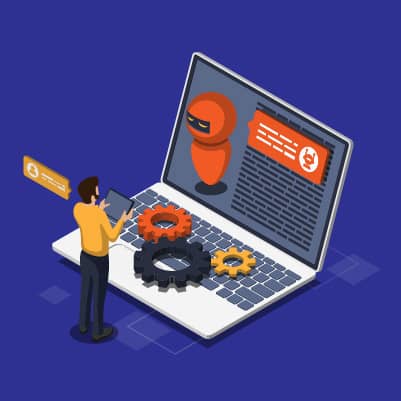 From the above RPA use cases, the importance of RPA across various industries is evident. Today, businesses across different industry sectors adopt and use RPA in their business processes. These software bots should perform seamlessly for enterprises to achieve operational efficiency and quicker ROI. Eventually, an effective RPA testing process is necessary to ensure seamless RPA implementations.
Some of the main reasons for businesses to take up RPA testing include:
• Bots have to be tested thoroughly to ensure they handle repetitive and rule-based digital tasks seamlessly
• These automation bots, until tested, will not be able to replace tedious clerical works to deliver an enhanced customer experience with 24×7 services
• Until these robots are validated for business processes, they cannot deliver the expected ROI
• Bots should execute on par the processes humans perform, and any change in the mimicking behaviour will make them ineffective
• Bots sometimes should handle high volumes of data and need to be tested using the latest automation tools to enable a great customer experience
• Until the bots are tested, they cannot interact with the business systems as humans do
• Bots need proper evaluation before they are used to perform back-office operations
Some of the Best Practices to Follow for Effective RPA Testing: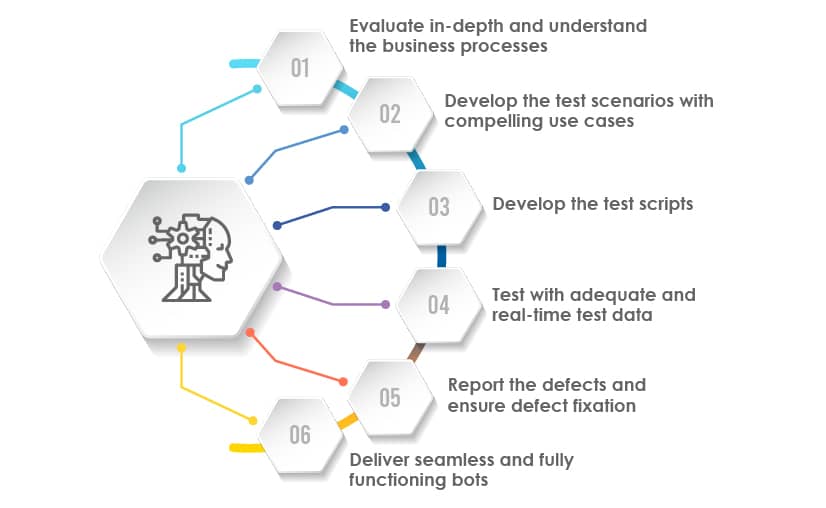 •  Evaluate in-depth and understand the business processes
•  Develop the test scenarios with compelling use cases
•  Develop the test scripts
•  Test with adequate and real-time test data
•  Report the defects and ensure defect fixation
•  Deliver seamlessly and fully functioning bots
Some of the leading RPA automation tools to look in 2021
•  UiPath
•  Blue Prism
•  Automation Anywhere
Why should businesses leverage UiPath Test Suite for RPA testing?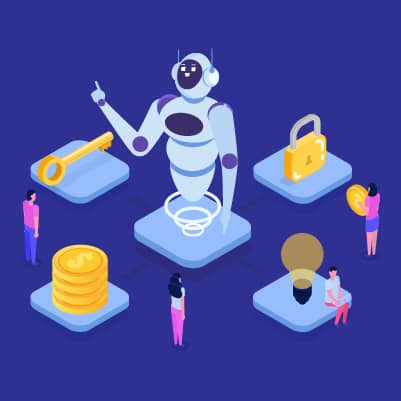 There are many RPA automation tools in the market, but UiPath Test Suite has many features and advantages over other automation tools. UiPath Test Suite utilizes an agile approach to deliver resilient automation faster and makes your apps and robots stronger. UiPath Test Suite is easier to learn and enables to automate tests 70% faster when compared to other RPA automation tools. The UiPath Test Suite consists of UiPath Studio Pro, UiPath Test Manager, and UiPath Orchestrator.
UiPath Studio Pro is used to create automated tests and supports the creation of specialized test cases for conducting automated application and bots testing. Another important feature of Studio Pro is that RPA workflows can be converted into test cases or imported as test cases from other projects.
UiPath Test Manager is used to plan and monitor testing for various automation and helps to triage defects with requirements traceability and visual logging
UiPath Orchestrator is used to organizing, schedule and analyzes test execution through the orchestrator
Key advantages with UiPath Test Suite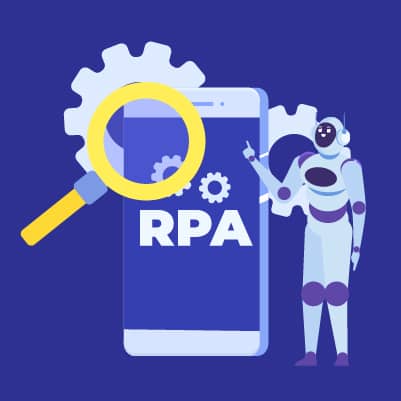 •  It gives a robust testing framework and supports web-based architecture
•  Platform-independent and supports industries of all sizes
•  Supports Web-based, Windows, and Mac operating systems
•  Highly user friendly and scalable across environments (can handle any process, in any number irrespective of its complexity)
•  Eases automation testing and can be used to automate virtually any software application and business process
•  Eases testing of even legacy or virtualized apps
•  It helps to save a lot of time for testers with this its superior features when compared to other automated tools
•  Tool eases tests even with the environmental changes
•  Easily links test suites in Jenkins or other CI tools, and it becomes easy for committing the code
The superiority of UiPath Test Suite – Features and Differentiators
•  Best tool to build resilient automation faster with UiPath Studio Pro
•  Best suited to boost release velocity by integrating directly into the DevOps pipeline
•  Helps to create tests faster by using RPA developers code to get started quickly
•  The tools drag and drop feature eases its usage
•  It can be used to automate the work of three testers with one UiPath test robot
•  Ensures tests are versioned and in sync with application source code
•  No coding skills are needed to work with this tool
TestingXperts developed a Robot-led Test Automation Framework powered by UiPath Test Suite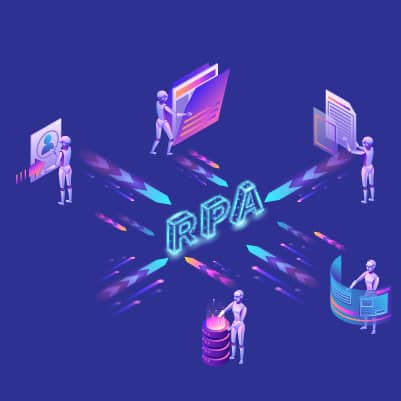 As a trusted UiPath partner with deep expertise in Quality Engineering and Test Automation, we at TestingXperts have been part of the evolution journey of RPA powered UiPath Test Suite.
TestingXperts Test Automation Framework powered by UiPath uses the hybrid model design principle & contains the below components/integrations:
•  GitHub [code repository]
•  Continuous Integration (CI) [Jenkins & Azure Devops]
•  Orchestrator [Manage robots]
•  BrowserStack Integration [For iOS mobile Automation]
•  Data Layer [Excel, JSON]
•  Test Manager
•  UiPath Insights
•  Utilities [Wrapper XAML files to handle typical test automation issues]
•  Reporting in the following formats:
–
UiPath Insights [Reporting Dashboard]
–
Standalone HTML reports
–
Email Notifications
–
Defect creation on JIRA
–
UiPath Test Manager
Below are the key metrics we found in terms of value and improvements in test automation, UiPath Test Suite brings:

For more information on this framework, read this blog: https://www.testingxperts.com/blog/Robot-led-Test-Automation
Conclusion
Robotic process automation is one of the latest technologies today by businesses to manage business operations using software bots. These bots manage customer-focused and repeatable back-end business processes. These software bots save the time of in-house resources and free up resources that can be used for more intensive and valuable works. There are many use cases of RPA, which reflects the versatility and the need for modern automation leveraging RPA technology across industries. Thus, by leveraging RPA technology, businesses get many benefits such as reduced costs, improved operational efficiency, and by and large, it has become a necessity to speed up a business's digital transformation today. But, for these software bots to perform seamlessly, leverage the services of a next-gen RPA testing services provider to get fully functional and flawless RPA solutions.
For more information, please feel
free to contact us
or email us at
[email protected]