Published: 22 Dec 2022
How Outsourcing QA Testing Helps Digital Businesses
Last Updated: 24 May 2023
Content 1. Digital Businesses Outlook in 2023 2. Main challenges faced by digital businesses 3. Why Should Digital Businesses Outsource QA Testing in the United Kingdom 4. Eight Business Benefits of Outsourcing QA 5. Factors to Consider Before Outsourcing QA 6. Conclusion 7. How can Outsourcing QA to TestingXperts Help Businesses in the United Kingdom?
Outsourcing QA Testing for Digital Businesses Outlook in 2023
With AI, cloud, automation, customer engagement, and cybersecurity leading the digital revolution in 2023, digital businesses should have a well-thought-through strategy to ensure and deliver an enhanced customer experience with their digital solutions. Digital will continue to drive the IT industry board room agenda for the year 2023. Companies must holistically assess their weakness and strengthen their digital and governance capabilities via wiser business decisions, such as embracing AI/ML, outsourcing QA testing, and so on. Strategic execution becomes very critical in uncertain environments where attrition, inflation, skill shortage, higher wages, and shrinking demand are inevitable.
Digital businesses in the UK should ensure the below 4 points for their solutions: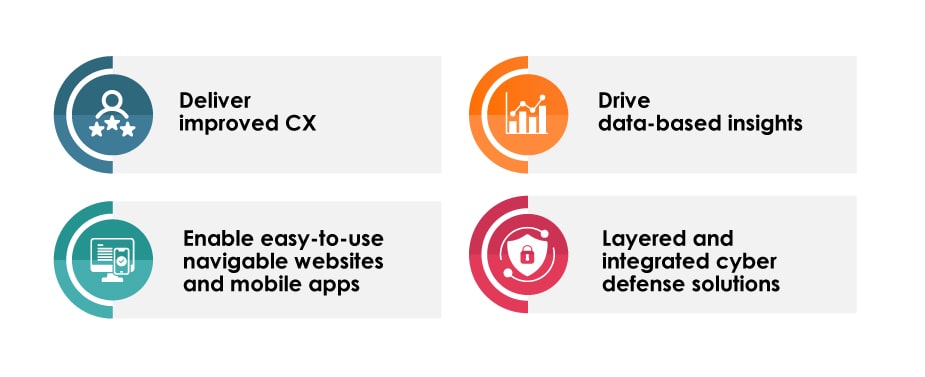 Main challenges faced by digital businesses

For digital businesses to get superior solutions faster and at cheaper costs, they should outsource their QA and testing services to a pure-play testing services provider.
Why Should Digital Businesses Outsource QA Testing in the United Kingdom?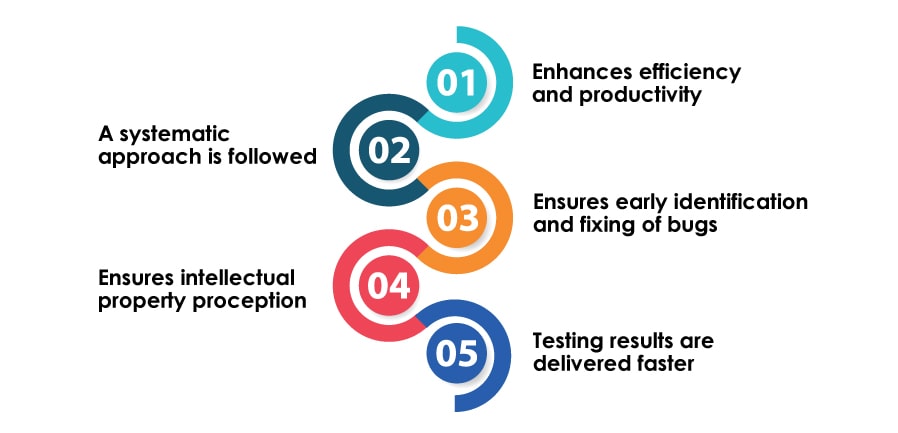 By outsourcing QA, businesses in UK can focus on their core competencies while a qualified team takes care of the quality assurance process. This allows businesses to save on costs, improve overall efficiency, and go to market faster. Following are the key reasons why outsourcing QA testing proves to be a game-changer:
Enhances efficiency and productivity
If the software needs to be evaluated in an unbiased manner, businesses must make a tactical move by assigning the testing and development activities to different teams that are in line with the overall product and business goals. More objectivity is needed if a single team is involved in coding and testing activities. There will also be a concern about discovering issues and bugs in the software. Further, the errors may be overlooked when the same Dev team carries out both development and testing activities. Hence, outsourcing QA activities ensures that experts with in-depth knowledge are involved to test the applications.
A systematic approach is followed
As the automation and technological spectrum is getting advanced, QA activities can also be automated for optimal results. QA automation service providers have an in-depth understanding of the tools and techniques required to enrich and optimize the testing process. Outsourcing QA activities ensure that the QA process can be effectively automated to provide the client with the best results, thereby justifying the worth of the QA service provider.
Ensures early identification and fixing of bugs
When an organization outsources its QA activities to an expert QA provider, then possible bugs or issues can be easily detected right in the early stages of the development process, saving cost and time. As the project progresses, the cost involved in finding defects will also increase. Hence, it is a wise business decision to bring in a specialized QA provider to detect risks at the initial stages.
Ensures intellectual property protection
One of the key benefits of outsourcing QA testing activities is that the coding details need not be shared with the outsourcing provider. The QA provider is concerned with working on test-related works, coming up with unique testing scripts, and thus ensuring that flawless software is delivered. Businesses who work with a professional outsourced QA partner do not have to worry about breach of Intellectual Property rights.
Testing results are delivered faster
When QA testing is outsourced, the turnaround time for detecting defects diminishes significantly, thereby making the testing process even more effective and faster. QA services providers adopt different models, such as onsite-offshore, Follow the Sun, etc., that ensure optimal productivity.
Eight Business Benefits of Outsourcing QA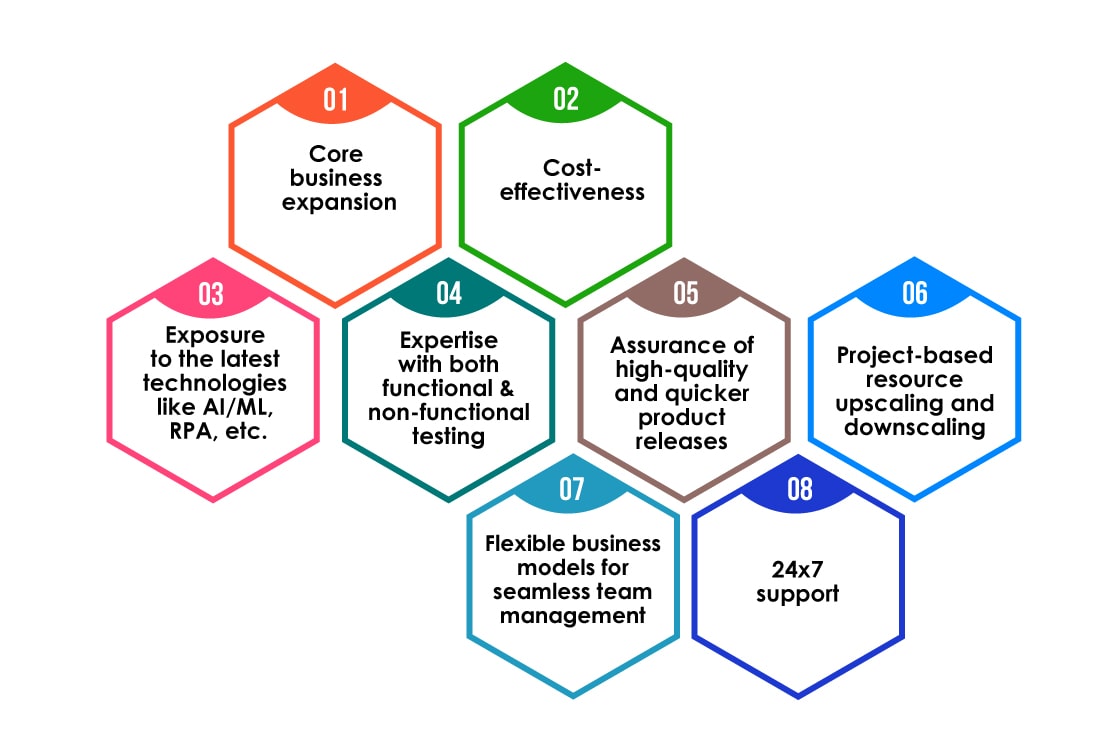 Factors to Consider Before Outsourcing QA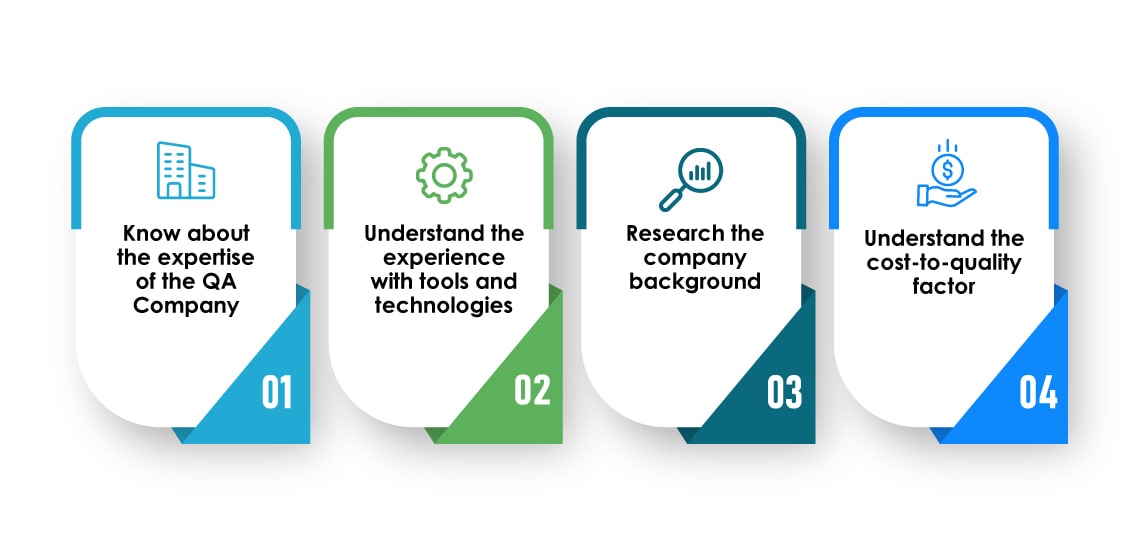 Know about the expertise of the QA Company
A business looking for a testing services partner should research the clients and industries they have worked for. More exposure to diverse industry verticals means the QA company is better equipped to solve complex QA issues and thus can provide seamless software testing solutions to the outsourcer.
Understand the experience with tools and technologies
Businesses thinking of outsourcing their QA processes must know the types of tools and technologies the testing services company implements in a real-time environment. Ideally, these technologies and tools should be reliable and the best resources available in the marketplace.
Research the company background
Businesses must do the necessary research to be well acquainted with the company's offering. Some of the areas where the businesses should explore are services offered, industries served, business models, clients served, thought leadership, global recognitions, etc.
Understand the cost-to-quality factor
Businesses should understand that higher costs of outsourcing may not assure the best-in-class services, and comparatively less costs may not mean it's the best service available. Businesses must focus on the quality of the deliverables more than the cost factor.
Conclusion
Outsourcing QA testing is beneficial to those organizations that need more expertise to carry out the QA testing process efficiently and rewardingly. QA testing provider has a strategic plan of action coupled with a competent and skilled QA team that can undertake both small and large-scale projects, regardless of complexity, and execute them as per the required specifications. This, in turn, ensures that the company that has outsourced QA testing gets the best of services that help them to scale their business efficiently.
How can Outsourcing QA to TestingXperts Help Businesses in the United Kingdom?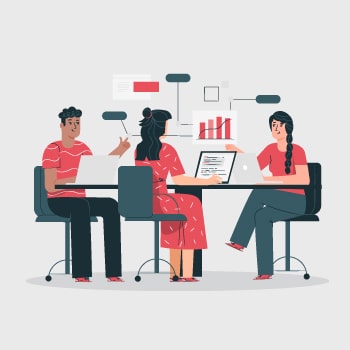 TestingXperts (Tx) is one of the 5 largest pure-play software testing services providers globally. Tx has been chosen as a trusted QA partner by Fortune clients and ensures superior testing outcomes for its global clientele. We have rich expertise in enabling end-to-end testing services for global clients across various industry domains like healthcare, telecom, BFSI, retail & eCommerce, etc.
With our domain knowledge and with over a decade of pure play testing experience, the company has been serving the global clientele with high-quality next-gen testing services to deliver superior solutions to clients.
Functional Testing
Tx has years of experience providing functional testing services for clients across domains. Our wide range of functional testing services includes automation, manual, regression, and mobile application testing. We have in-house mobile test labs with numerous mobile devices.
Non-Functional Testing
Tx provides a wide range of non-functional testing services such as performance and load testing, security testing, usability testing, and accessibility testing. We also have an in-house performance testing accelerator, 'Tx-PEARS,' which helps with all non-functional testing requirements, including continuous monitoring of your infrastructure in production as well as in lower environments.
Our Differentiators:
• 1200+ QA professional experts across domains of healthcare, BFSI, eCommerce & Retail, Travel, etc.
• Technically qualified (100%) and certified (>70%) employees
• Great Place to Work-Certified organization
• Faster and quality releases ensure on-time delivery
• Reduction in the testing cycles leveraging AI accelerators and RPA frameworks ensures faster time-to-market
• Code Reusability & Automation
• Delivers superior solutions with improved customer experience (CX) enabled by next-gen testing services
• Tool partnerships with leading vendors like UiPath Test Suite, Tricentis Tosca, AccelQ, Sofy.ai, and more
• Delighted customers – 67 NPS Score with 95% Client retention