Published: 08 Dec 2022
AI in Insurance – Role, Benefits, and Use Cases
Last Updated: 25 May 2023
Content 1. Pain Points of The Insurance Industry in UK 2. What Is The Role of AI in The Insurance Industry in the United Kingdom? 3. Benefits Of Leveraging AI in Insurance 4. Some AI in Insurance Use Cases To Ponder 5. Conclusion 6. How Can TestingXperts Help Insurers in UK With Its Intelligent AI And RPA Solution?
Pain Points of The Insurance Industry in UK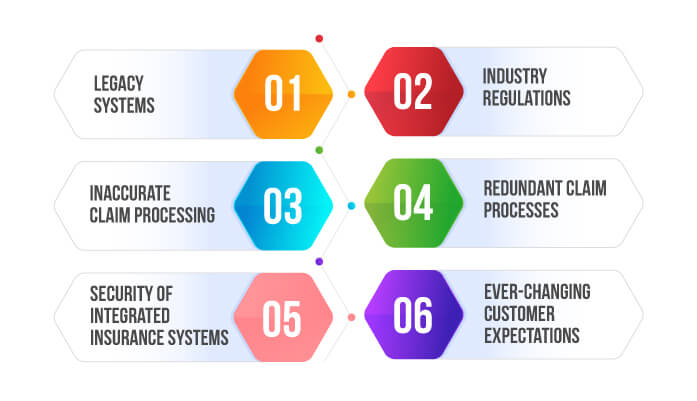 Insurtech investments have doubled from 2019 to 2022, and insurers have been focusing on enabling a digitally enhanced platform to deliver a great customer experience (CX). But, still, many insurance companies in the United Kingdom use traditional data collection methods, which are holding back their businesses from accurately understanding the customer requirements, assessing the risks involved, and predicting the required and progressive trends thereof.
A Deloitte study stated that while almost all industries have succeeded with AI or started investing in AI, the insurance industry seems to lag behind substantially.Only 1.33% of insurance companies have invested AI in insurance compared to 32% in software and internet technologies. Moreover, many impounding factors continue to impact the CX for insurers in a significant way. Some of the insurance industry pain points have been given below:
Legacy systems:
Most of the insurance systems are based on old technology and need to embrace the latest technologies (AI & ML) to upgrade themselves to deliver a greater CX.
Industry regulations:
Different states across countries change their laws, which needs to be handled by insurers effectively.
Inaccurate claim processing:
As claims are dependent on data unification, their accuracy is critical and needs proper assessment, processing, and management.
Redundant claim processes:
The insurance lifecycle is highly complex and needs seamless management, while redundant & wrong claims affect the insurers business bottom line.
Security of integrated insurance systems:
Insurance systems are well integrated with many third-party apps, and security testing is essential for web services & underlying APIs.
Ever-changing customer expectations:
Today's insureds want to be more involved and need intuitive and easy-to-use tools and platforms that facilitate quicker & easy communications, payments, and claim settlements. They need quick and easy processing methods to save time and gain an improved CX.
Thus, in the ever-changing Insurance industry arena, to satisfy their customers by delivering a superior CX, the insurers need to embrace and embed AI technologies into their solutions to encash the vast benefits of leveraging this next-gen technology. Forbes, in one of their latest Sept 2022 article named "How AI is changing the Game in Insurance," has clearly stated that the use of technology, data, artificial intelligence (AI), and modern design has created a powerful combination, changing what was once a very policy-centric industry to one that's customer-centric.
What Is The Role Of AI in The Insurance Industry in the United Kingdom?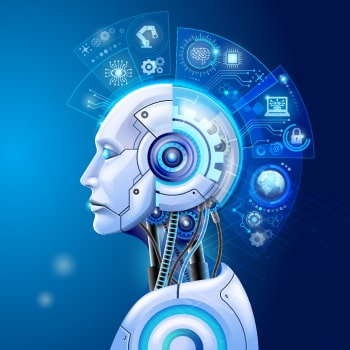 Artificial Intelligence (AI) has been a leading technology to be leveraged across different industries such as healthcare, Banking, FinTech, and eCommerce, along with the Insurance industry. AI has the potential to influence the insurance industry in multiple ways, such as with claims processing, underwriting, fraud detection, and customer service, to name a few. For example, to improve customer experience, many insurers are investing in virtual assistants like chatbots.
McKinsey, in their article titled "Insurance 2030 -The Impact of AI on the future of Insurance," states that as AI becomes more deeply integrated into the industry, carriers must position themselves to respond to the changing business landscape. Insurance executives must understand the factors contributing to this change and how AI will reshape claims, distribution, underwriting, and pricing. According to a Deloitte report, over 40% of CIOs plan to increase their spending on AI use cases and pilot projects in 2021.
Benefits Of Leveraging AI in Insurance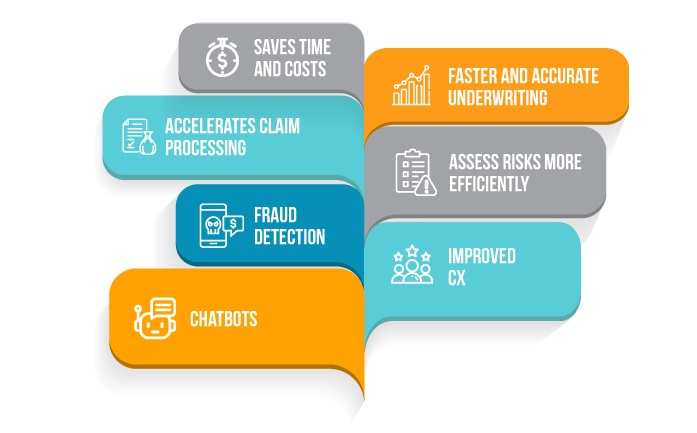 Saves time and costs:
Insurers can save time and reduce costs by implementing AI into their processes and thus deliver an improved CX.
Accelerates claim processing:
Several ML data models can help insurers determine the claims and rapidly forecast the potential costs. These models can analyze images, sensors, and the insurer's historical data. Further, the insurer can look at these AI results to verify the claim amount and finally share them with the customers. Thus leveraging AI in insurance helps customers get faster claim estimates and quicker resolutions.
Fraud detection:
The neural network models help insurers to evaluate fraud patterns and help to identify fraudulent claims quickly and in the prevention of such claims. According to the FBI, non-health insurance fraud in the US is estimated at over $40 billion per year, which can cost families between $400–700 per year in extra premiums.
Chatbots:
AI chatbots are the main modes insurers use to get quick answers to their insured's questions through emails, chats, and voice messages. Some of the use cases of AI chatbots include getting a personalized quote, signing up a policy, facilitating payments, and managing entire claims through proper resolutions without human intervention, thus enabling a seamless and delightful experience.
Faster and accurate underwriting:
Earlier, the underwriting process was mainly employee-dependent, but AI and ML systems help insurers to enable a better and more seamless underwriting experience with quicker analysis of historical data to enable quicker underwriting processes.
Assess risks more efficiently:
With automatic text processing enabled with ML and NLP models, these help insurers to analyze large amounts of data to assess risks within data.
Improved CX
Today's insureds need quick and prompt service, and most insurers are including AI tools such as chatbots to help guide their customers through numerous queries, thus enabling a great CX. Moreover, with the help of a chatbot that interacts with customers and collects the required information, which is captured in a structured format, a first-level validation can be carried out during the claim initiation process, thus enabling quicker claim adjudication.
Some AI in Insurance Use Cases To Ponder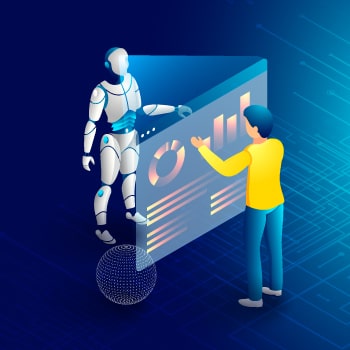 Claim management agents and adjusters can help to enhance CX by integrating advanced AI and ML technologies into their claim-processing operations.
Key AI use cases in Health Insurance:
• Helps with quicker disease detection.
• Helps in quicker and more accurate diagnosis.
• AI chatbots guide patients to get effective healthcare based on the diagnosis
• Customers also get personalized health insurance policies
• Billing is also being automated by leveraging AI to streamline operational processes.
Key AI use cases for Auto Insurance
• Supports best predictive analysis for the manufacturing industry.
• Delivers best vehicle maintenance recommendations and also driver performance monitoring by analyzing behavioural data from the connected car systems leveraging AI.
• Many AI-based auto apps deliver good options with cameras and IR sensors to detect driver's behaviour and alert them with prompt signals and notifications to avoid untimely accidents.
• ML algorithms improve the speed and accuracy of the forecast for individual claims.
Conclusion
In recent years, the insurance industry has expanded in leaps and bounds, and more customers are opting to avail of different types of insurance for health, motor, vehicle, etc. Today's insureds need faster and quicker methods of taking a policy or getting their claims done quickly. Ai is the next-gen technology that insurers should embrace and embed in their solutions to get faster processes without much human intervention and deliver a greater CX. AI, ML, and NLP models help in fraud detection and speedier claim processing, while AI chatbots continue to help customers solve their queries, thus delivering a greater CX which is the need of the hour.
How Can TestingXperts Help Insurers in UK With Its Intelligent AI And RPA Solution?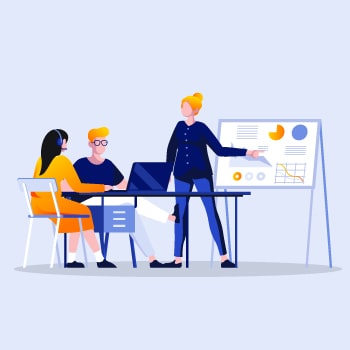 TestingXperts (Tx) developed an Intelligent QA Validation software for one of the largest independent Insurance adjusting firms in the U. TestingXperts automated the claims estimation software input process using Artificial Intelligence (AI). Tx used AI for image recognition and Intelligent Robotic Process Automation (RPA) for validating claims and loss reports generated by the Claims estimation and Validation software
Some of the benefits delivered include:
• Improved Claims accuracy to 99.99%
• Improved Customer Experience by 95%
• Improved Demand management by 85%
• Improved Operational efficiency by 60%
• Reduced customer conflicts by 95%
TestingXperts automated solution solved their three main business challenges:
• Streamlined and automated the claims validation process, which was a human-driven process.
• Improved accuracy of the claim loss reports using Artificial Intelligence.
• Optimized demand management cycle for independent adjusters in peak and non-peak seasons.
TestingXperts Range of Digital Testing Services for the Insurance Sector
| | | | | |
| --- | --- | --- | --- | --- |
| Functional & Automated testing | RPA testing Solutions with bots | AI-based testing | Security testing | Usability testing |
| Performance testing | Accessibility testing | Mobile app testing | Database testing | ETL & Digital testing |
Our Differentiators for Insurance digital testing services
•Successfully delivered insurance testing projects to Fortune 2000 clients with 50+ insurance domain experts.
•Tool, technology, and device-agnostic testing with AI accelerators and RPA frameworks.
•Dedicated Test Center of Excellence (TCoE) for Performance, Security, & Mobile.
•Reusable test repositories enable jumpstarting projects with faster testing outcomes.
•Rich pool of resources having E2E functional knowledge of insurance business processes.
•Flexible resourcing models
•Seamless customer support