Published: 24 Aug 2021
AI Chatbot Testing – A Detailed Guide
Last Updated: 18 Apr 2022
The rapid advancements in next-gen technologies have significantly transformed the way businesses connect and communicate with customers. Today, businesses leverage advanced technologies like Artificial Intelligence (AI), Machine Learning (ML), Robotic Process Automation (RPA), and Natural Language Processing (NLP) to develop software bots and chatbots. These AI-based conversational bots interact with customers in real-time and enable human-like interactions between systems and humans. For businesses, these AI conversational bots continue to be a faster mode of communication with their customers as it delivers a greater customer experience (CX).
Content 1. What is an AI Chatbot? 2. Latest market analyst's views on AI Chatbots 3. Benefits for Businesses Leveraging AI Chatbots 4. Industry-wise use cases of AI Chatbots 5. What Functionalities should be Tested in an AI Chatbot? 6. 5 Common Challenges of AI Chatbot Testing 7. AI Chatbot Testing Process Overview 8. Major Testing types for Testing AI Chatbots 9. Some of the Leading AI Chatbot Testing Tools 10. How can TestingXperts (Tx) help?
What is an AI Chatbot?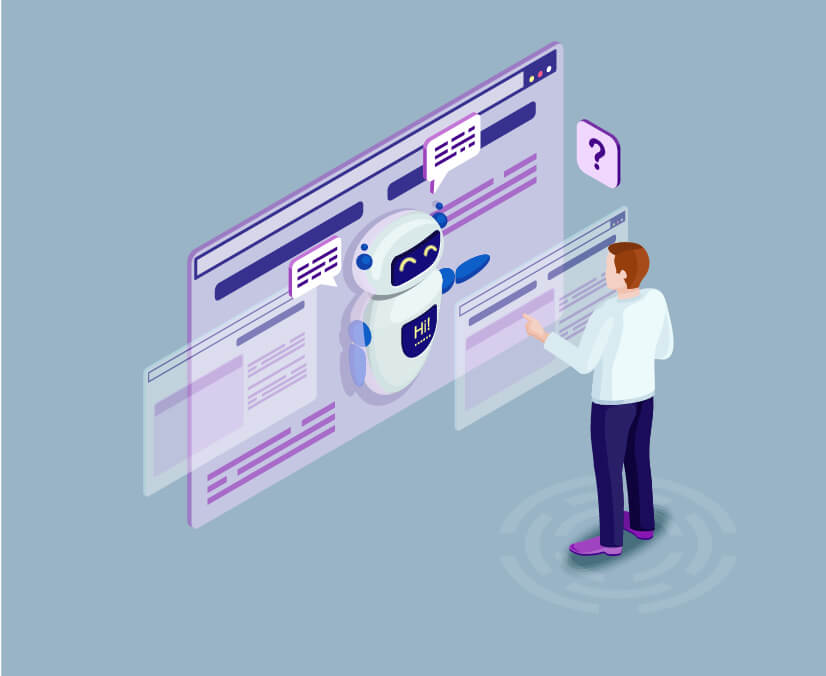 A chatbot is a text or voice-based interface that is built and deployed on the website or apps to simulate a conversation with users and seamlessly support users. These are self-learning bots and are programmed with AI, NLP, and ML technologies. There are many benefits with these bots; they can automate tasks, understand words and phrases, frame appropriate responses, and can learn from the received inputs. Thus, these conversational bots are effectively being used to replace a repetitive task that a human would do. Moreover, AI conversational bots differ from traditional rule-based bots and can understand language outside pre-programmed commands.
Some of the predominant AI conversational bots include Alexa, Siri, Mitsuku – Pandorabot, Botsify, etc. These bots can perform various tasks such as conducting sentiment analysis, predicting consumer likes and dislikes, assisting the customer with the right product/service, etc. As businesses across industries continue to leverage AI conversational bots or agents, their dominance in the market is increasing rapidly in recent times.
Latest market analyst's views on AI Chatbots
According to Grand View Research, the global chatbot market size was estimated at USD 430.9 million in 2020 and is expected to reach USD 525.7 million in 2021, exhibiting a CAGR of 24.9% during the forecast period of 2021 to 2028.
According to Markets and Markets, the global conversational AI market size is expected to grow from USD 4.8 billion in 2020 to USD 13.9 billion by 2025, at a CAGR of 21.9% during the forecast period 2020-2025.
According to Deloitte Digital Report titled "Adopting the Power of Conversational UX Chatbot," it is predicted that chatbots will save businesses $8 billion per year by 2022.
According to a Capgemini Research Institute Report with the title "How Organizations and Consumers are Embracing Voice and Chat Assistants," there were significant facts about chatbots delivered. The report states about 74% of respondents use conversational assistants for researching or buying products and services, 58% of respondents use them to play music, check directions, and 53% use AI chatbots for learning about banking/ insurance products, checking account balance, and for transferring funds.
Benefits for Businesses Leveraging AI Chatbots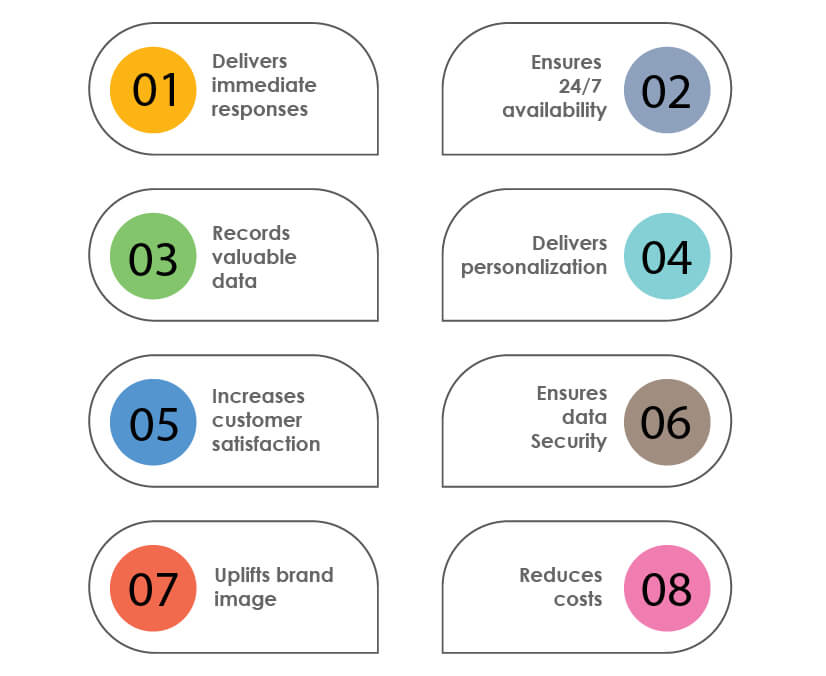 1. Delivers immediate responses:
Chatbots can respond quickly as soon as it receives customer queries. It helps businesses meet the ever-rising customer demand for quick query resolution and deliver immediate responses in real-time.
2. Ensures 24/7 availability:
Today, customers want business services to be available 24/7 and need their queries to be solved at the click of a button. AI conversational bots resolve customer queries in real-time 24/7, which ultimately enhances CX.
3. Records valuable data:
Conversational bots record various types of data when it interacts with the users, such as customer likes, dislikes, preferences, and this information is then used by businesses to increase user engagement.
4. Delivers personalization:
AI-based bots are backed by ML and NLP technology, which helps bots learn information explicitly from past interactions. Thus, they provide a more accurate and personalized response to users.
5. Increases customer satisfaction:
AI conversational bots ensure faster delivery of responses and customized or personalized responses, which ultimately increases customer engagement and leads to customer satisfaction.
6. Ensures data Security:
AI chatbot ensures data security as it is end-to-end encrypted, authenticated, and authorized. It follows specific regulatory policies/protocols and ensures no data leak happens when a user interacts with it.
7. Uplifts brand image:
A conversational agent or bot helps businesses deliver accurate and timely responses to customers. This not only increases CX but also uplifts the brand's image.
8. Reduces costs:
Chatbots help in reducing overall costs by reducing manpower. By leveraging these bots, businesses can automate many business processes, which ultimately leads to reduced costs and enhanced CX.
Industry-wise use cases of AI Chatbots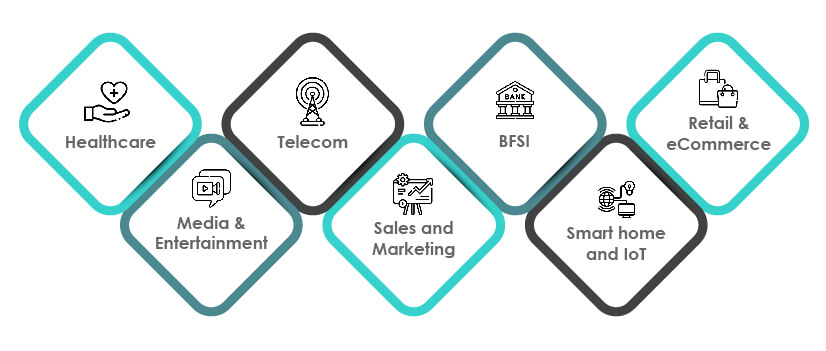 Healthcare:
• Healthcare service providers are leveraging AI chatbots to provide faster responses to patient queries and assist patients in booking appointments with doctors.
• These bots can provide medical information, collect patient data, manage medical insurance queries, claim processes, etc.
Telecom:
• Telecom companies are leveraging conversational bots to resolve technical issues seamlessly and provide faster responses to service-related queries.
• These bots can also gather user information and can help telecoms to offer personalized plans and services to customers based on their profiles.
BFSI:
• The BFSI sector uses AI-based conversational agents to assist customers in finding the correct product or service, handle customer queries, handle KYC processes, etc.
• These bots can also assist customers in filing claims, submitting payments, and significantly improving the online banking experience for users.
Retail & eCommerce:
• Conversational bots assist the customers in finding the right product, respond to customer queries, offer personalized shopping advice based on pre-recorded customer records, and assist in transactions and more.
Media & Entertainment:
• AI conversational agents are leveraged by media and entertainment companies to gather customer insights, offer personalized and unique content, assist viewers in navigating through the content list, and choose the right content.
• These bots are now being combined with AR and VR technologies to provide a next-level gaming experience to gamers.
Sales and Marketing:
• The sales and marketing sector is leveraging AI-based interactive bots to connect with users, increase brand awareness, pitch services, generate leads, acquire customers, and more.
• These bots also help sales and marketing professionals gain customer insights, offer personalized services, and significantly enhance the CX.
Smart home and IoT:
• AI-based interactive agents or bots help businesses provide a connected smart-home experience for users. Customers can now control and monitor any smart-home connected device or application with the power of text or speech features enabled by these bots.
• The users can also interact with smart vehicles to lock or unlock the car, set car temperature, play music, set routes, etc., by leveraging these interactive agents
• Since these bots are leveraged by almost all industries, they must be tested thoroughly to ensure their high-quality, seamless performance and robust security.
What Functionalities should be Tested in an AI Chatbot?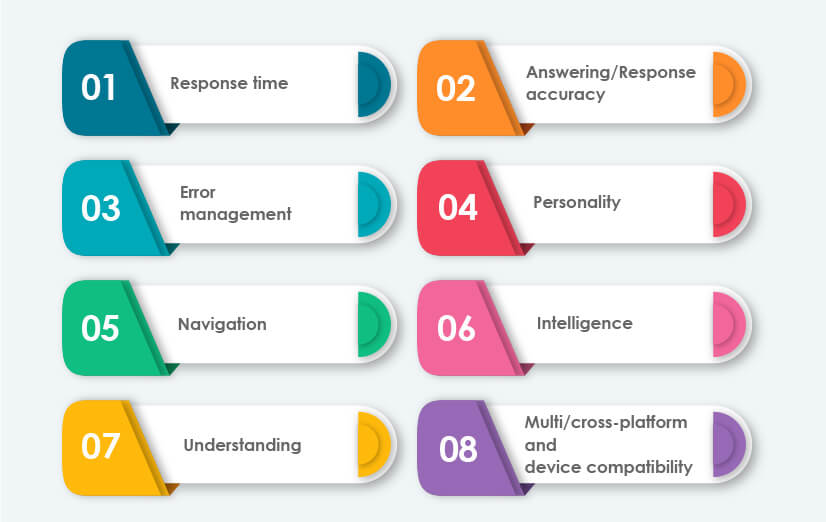 1. Response time:
Ideally, the AI conversational bot must reply fast as soon as it receives inputs from the user. Thus, it is essential to test the response time taken by the bot to deliver a great CX
2. Answering/Response accuracy:
The accuracy of the responses or answers that conversational assistants provide against inputs/queries must be tested.
3. Error management:
Chatbot's ability to deal with the errors and its ability to recover from those errors must be tested. If a bot fails to understand user inputs, it must smartly ask alternative questions to the customer or should connect the user with a live agent.
4. Personality:
It is essential to ensure that the chatbot's voice and tone fit with the users and with the ongoing conversation to deliver a great UX.
5. Navigation:
The navigation flow of the conversational bots should be tested to ensure the customer does not feel lost while speaking with the chatbot.
6. Intelligence:
Chatbot's intelligence must be tested to ensure it remembers things and provides correct responses based on recorded or stored data.
7. Understanding:
Chatbot should be able to understand all requests, small talk, idioms, emojis sent by the user to frame appropriate responses.
8. Multi/cross-platform and device compatibility:
Chatbots must be able to perform seamlessly on all devices, platforms, and OS versions. Therefore, it is essential to test the multi/cross-platform compatibility of chatbots to ensure it functions properly and delivers a great CX.
5 Common Challenges of AI Chatbot Testing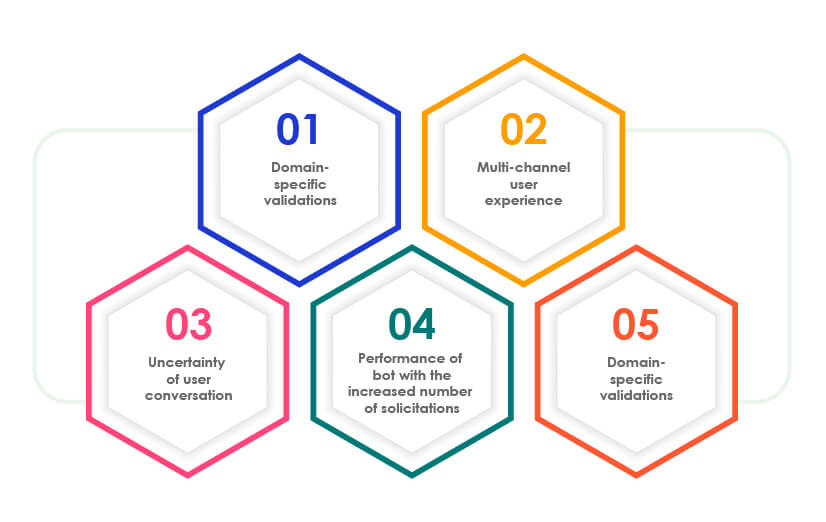 1. Domain-specific validations:
Typically, chatbots are designed to cater to domain-specific queries from humans. But validating the chatbot's ability to handle domain-specific queries is a challenging task.
2. Multi-channel user experience:
AI conversational assistants should ideally deliver a great multi-channel UX. But checking the bot's compatibility with various available platforms and channels is a challenging task.
3. Uncertainty of user conversation:
Ensuring 100% test coverage is a challenging task as there are various uncertainties related to the ways users interact with these bots. Logically it is not possible to test all queries that can be raised by a user.
4. Performance of bot with the increased number of solicitations:
Testing the bot's performance under various conditions especially with increasing solicitations is a challenging task.
5. Bot security:
The rising number of cyberattacks also poses a great risk to the security of bots. Thus, checking the security of the bot to ensure no compromise to business or customer data is again a challenging task.
Clearly, there are various challenges that testers face while testing an AI conversational bot. The need of an hour for all testers is to adopt an effective AI chatbot testing process.
AI Chatbot Testing Process Overview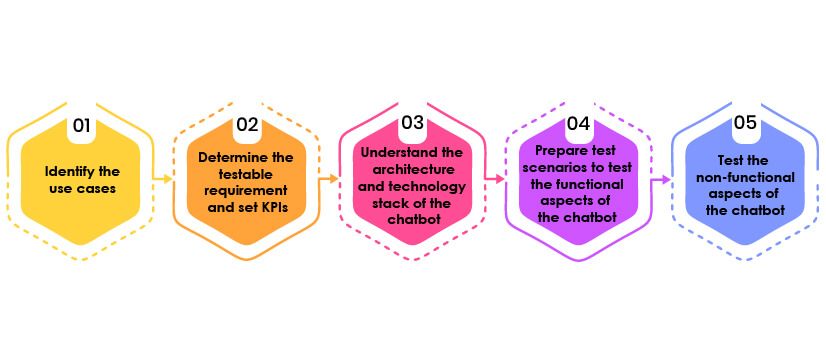 1. Identify the use cases:
To start with the testing process, first identify the use cases for the chatbot. It is essential to list all the questions and responses to cover every scenario and prioritize them accordingly.
2. Determine the testable requirement and set KPIs:
Once the use cases are identified, it is essential to see what needs to test based on the identified use cases. Also, set the KPIs such as self-service rate, performance rate, usage rate per login, escalation rate, etc.
3. Understand the architecture and technology stack of the chatbot:
Once all the use cases are identified and KPIs are set, it is essential to understand the underlying architecture and technology used by the chatbot for each use case.
4. Prepare test scenarios to test the functional aspects of the chatbot:
Prepare the test scenarios such that it covers functional aspects of the AI chatbot testing. Test scenarios should cover the conversation and voice testing. It is necessary to prepare scenarios to see how the chatbot responds to the same inputs and handles errors.
5. Test the non-functional aspects of the chatbot:
From the non-functional viewpoint, the various factors to be tested include performance, load handling capacity, security, and accessibility of the chatbot.
Major Testing types for Testing AI Chatbots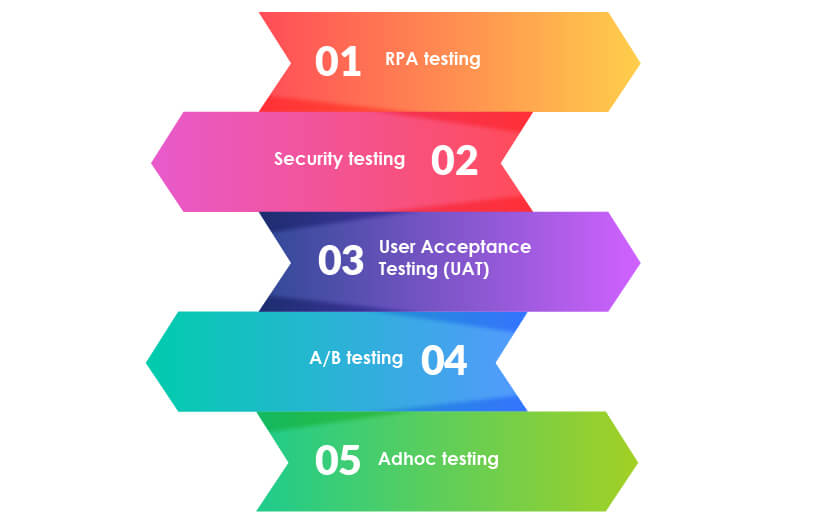 1. RPA testing: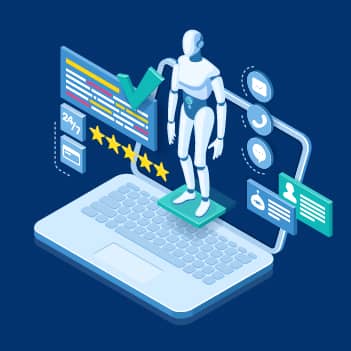 It is an advanced software testing technique that allows bots to mimic human actions and automate tasks. By leveraging RPA testing, businesses can effectively test the functional and non-functional aspects of AI chatbots.
2. Security testing: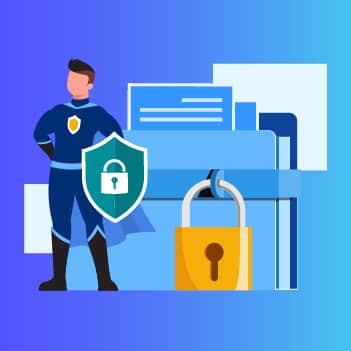 Data security is a major concern for all enterprises. By leveraging security testing methods, businesses can test the security levels of chatbots. This testing method helps to remove security loopholes or vulnerability issues.
3. User Acceptance Testing (UAT):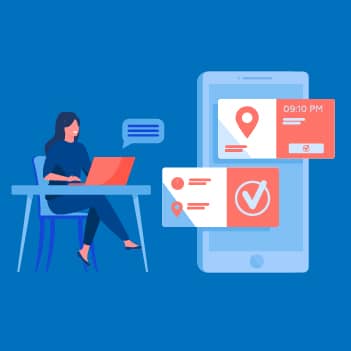 User satisfaction matters a lot for businesses today. Therefore, to ensure the bots deliver a seamless CX, businesses must leverage user acceptance testing. By including end-users in the testing process, businesses get real-time feedback from users, which helps to improve product quality and CX.
4. A/B testing: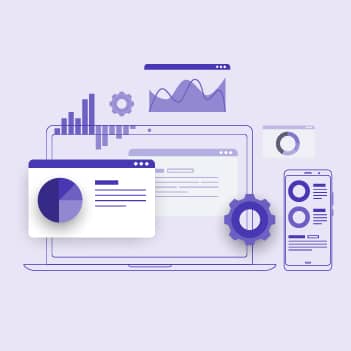 It is an important software testing technique in which two different versions of the conversational bot are showcased to the user. The versions can vary in their UI, visual factors like color, text size, style, etc. User feedback is then collected to find out which version is more liked by the users. This form of testing ultimately helps businesses to release products that match the user's expectations.
5. Adhoc testing: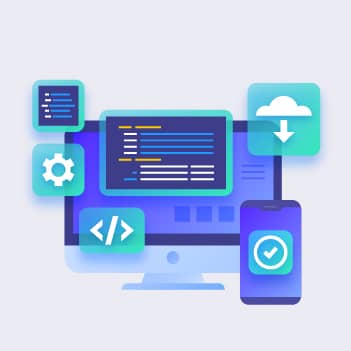 It is an informal, unstructured software testing type performed to see if any loopholes or bugs are present in the chatbot. This software testing type aims to find out any possible defects or errors in the bot performance.
Some of the Leading AI Chatbot Testing Tools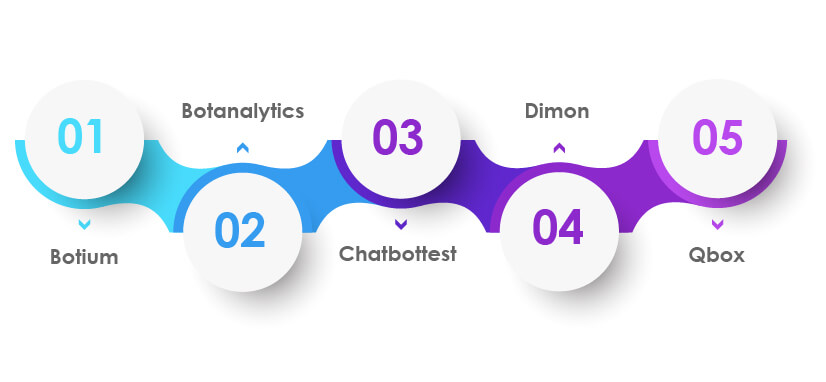 1. Botium:

It is a quality assurance framework for testing and training conversational AI. This testing framework contains two main modules, i.e., Botium Core and Botium Box. Botium Core automates conversations with a virtual assistant whereas, Botium Box makes test automation faster and easier. This tool has an easy-to-use interface and can be used to perform various tasks such as test management, maintenance, and reporting.
2. Botanalytics:

It is a leading conversational analytics tool for bots. It helps businesses improve human-to-bot communication by identifying bottlenecks, segmenting conversations & users, and measuring engagement. This tool helps businesses assess every key aspect of the chatbot conversation.
3. Chatbottest:

It is an open-source guide that helps businesses identify chatbot's design issues under seven categories, i.e., personality, intelligence, navigation, error-management, onboarding, answering, and understanding. This tool assesses the bot using three levels of testing, which include possible testing scenarios, scenarios that are expected, and impossible scenarios.
4. Dimon:

It is a proprietary solution that enables chatbot testing automation. This testing tool decreases testing time from hours to several minutes. It helps to generate multiple test scenarios, allows effective monitoring and faster test execution.
5. Qbox:

It is an NLP training data optimization platform that offers two options for chatbot testing; the standard test for NLP classifiers and bring your own test set. This tool uses pre-defined utterances and follows a five-step procedure that makes chatbots better.
Conclusion
Today, customers need high-quality products with seamless 24/7 business support. Therefore, businesses are rapidly adopting AI chatbots to deliver faster responses and continuous support to customers. These interactive bots are backed by advanced technologies like AI, ML, RPA, and NLP that help bots understand the user intent and interact with them just like humans. Since high-end technologies back these bots, it is essential to test them to ensure their proper functioning and data security. Businesses should leverage AI testing from an independent QA and software testing service provider for high-quality chatbots.
How can TestingXperts (Tx) help?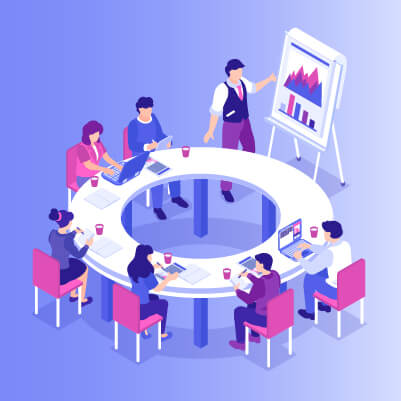 TestingXperts (Tx) is a leading and next-gen software testing services provider that delivers end-to-end AI chatbot testing services for businesses across domains.
Our AI chatbot testing services overview
• Specialized testing
• API
• Conversation flow
• Domain-Specific
• Crowd
• Performance and security
• NLP & Cognitive Service
Our team's expertise with industry-leading testing tools:
• BOX,
• Test My Bot
• Botium,
• Chatbot Test, etc.
Tx teams leverage in-house framework 'Tx-Botomate' to ensure seamless AI Chatbot testing.
Tx-Botomate features Overview: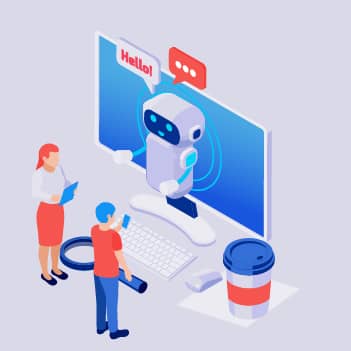 • Voice and chat automation
• Integration with Test Management and Bug Tracking Tools
• UX testing
• OS independent
• NLP
• CI Integration
• Insights
Get in touch with our experts to know more.