Published: 10 Sep 2018
Automation to Assist Mobile Testing – Best Practices You Can't Afford to Miss!
Last Updated: 09 Aug 2022
5 Min Read – 
Strong digital presence and real-time engagement with customers is the need for many companies across all industries. According to a report by Statista, as of 2018, global mobile population is accounted for 3.7 billion unique mobile internet users.
Contents 1. Mobile Test Automation 2. Best Practices in Mobile Test Automation 2.1 Matured Automation Strategy 2.2 New Device Models and New Releases Testing 2.3 Increasing Test Coverage Over Time with Automation 2.4 Keeping Up with an "Aggressively Tight" Release Schedules 2.5 Leveraging IP-Led Tools & Continuous Testing Innovation
It means, mobile applications are one of the fastest and reliable ways for these companies to rely on, to have a strong digital presence and interact with the end-users effortlessly. Mobile applications are getting highly interactive and innovative, and require frequent updates to keep users engaged.
Being able to ensure quality of mobile application updates for the end users keeps enterprises' digital façade robust and trustworthy. To achieve this, Continuous Testing and Continuous Deployment are essential.
Mobile Test Automation
Mobile Test Automation, being critical in the Continuous Development and Testing cycle, helps elevate the digital agility of the enterprises. However, it also comes with quite a significant number of challenges. Luckily, strategizing Mobile Automation Testing not just ensures a flawless mobile experience and secure sensitive mobile data, but also helps bring down the manual testing efforts and speed up the testing cycles.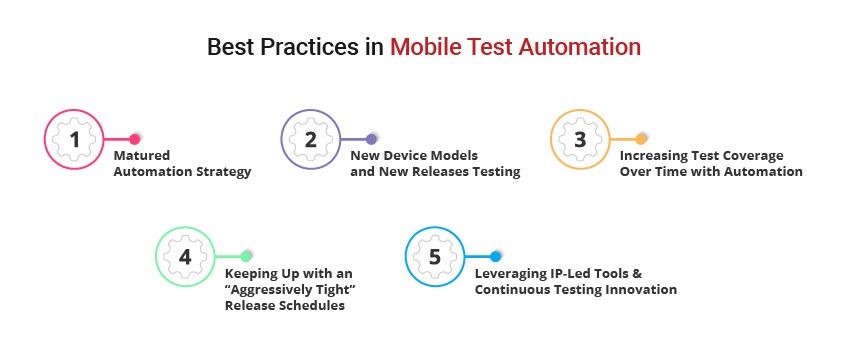 Best Practices in Mobile Test Automation
Matured Automation Strategy
To automate every type of Mobile Functional Test Case is undeniably not possible, not required too. What to automate depends on the test automation tool selection, the type of mobile application, the criticality of use cases and of course, automation feasibility. Having a matured-tools strategy plus a clear understanding of ROI on the tools selected makes an enterprise automation journey hassle-free. TestingXperts' accelerators and ready-to-deploy test automation framework help you achieve a matured test automation solution along with an accelerated set up.
New Device Models and New Releases Testing
With the launch of newer devices of varying configurations and operating systems (iOS, Android, Windows) upgrades, most organizations face challenges with optimization of testing effort. With test automation, continuous innovation and customized automation strategy, organizations can test their releases across as many devices, operating systems, platforms and combinations as possible.
Increasing Test Coverage Over Time with Automation
The need for enhanced test coverage is something that an organization can't afford to overlook. Ensure to select testing solution and platform that gives highest test coverage, so that every issue in an app is addressed.
In this, also consider test for emerging technologies such as Artificial Intelligence (AI), Chatbots, Virtual Reality (VR), Internet of Things (IoT), Big Data Testing, and more integrated into your mobile application.
Keeping Up with an "Aggressively Tight" Release Schedules
Since mobile application goes through constant updates for a better user experience, release cycles get shorter and tougher. The solution is to automate testing as much as possible to adapt to some of the common requirements, such as constant feature updates to improve User Experience (UX), shorten testing cycles, continuous delivery and deployment, and to write a stable code and integrate into the given framework.
Leveraging IP-Led Tools & Continuous Testing Innovation
To ensure almost zero defects and to ensure highest test coverage and mobile app' quality, organizations need to create customized solutions and innovate continuously to keep pace with the market trends. The teams need to imagine and identify newer ways to test faster and more effectively and leverage the latest software testing solutions.
Are you looking for a QA team with strong expertise in testing various mobile applications, be it web, native or hybrid?