Published: 31 Jan 2023
How to Comply with Texas Web Accessibility Standards
Content 1. Why is Web Accessibility so Important in Texas? 2. Position of ADA Compliance Lawsuits in Texas 3. Recent Accessibility Laws in Texas 4. What makes a WebPage Accessible? 5. Role of Testing in Web Accessibility 6. How is Accessibility Testing Performed? 7. Conclusion 8. How can TestingXperts Help with?
In a forever-evolving world of technology, it is important to recognize the value of abiding by Texas Accessibility Standards to create a more inclusive society in the state. It works to exclude barriers to websites that limit a user's access to your business.
In addition to the ADA, Texas has its own law in place, Chapter 121 of the Texas Human Resource which entails the protection of the rights of disabled people.
Why is Web Accessibility so Important in Texas?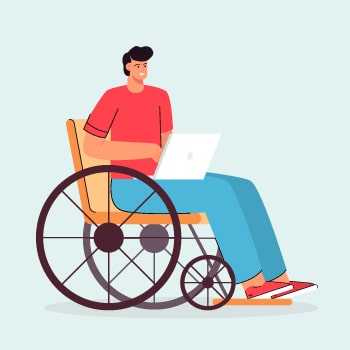 With almost 20 percent of the population in the US having some disability, it becomes important to provide equal access and equal opportunity to all. This is the reason the framework of federal laws and regulations, including the Americans with Disabilities Act (ADA) and section 508 of the Rehabilitation Act of 1973, needs the Texas organizations to have an accessible website.
There were some updates in Texas Accessibility standards in 2017 to reflect the changes in technology. In 2017, the section was updated to align with the Web Content Accessibility Guidelines (WCAG) 2.0, AA success standards. WCAG itself was updated to version 2.1 in 2018 and all content that conforms to version 2.1 also adhered to WCAG 2.0.
To help people with disabilities, there are multiple assistive technology tools that make it easier to navigate a website and connect with its content. Therefore, it becomes important to be accessible to every user out there.
Websites that are not compatible with assistive technology tools are like shopping centers denying access to someone with a need. And, more than a compliance requirement, it is a societal responsibility to provide access to your applications and websites to ensure the inclusivity of differently-abled populations. In addition, it also assists brands in building an inclusive image and growing the number of happy users.
Therefore, if you own a website or sell to Texas residents, it is critical to ensure your website follows Texas Accessibility Standards and is accessible to every user. In order to do this, you need to follow the WCAG guidelines at level 2.1.
Position of ADA Compliance Lawsuits in Texas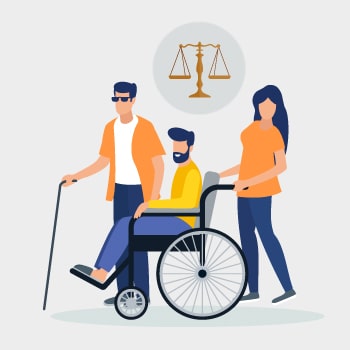 The legal battle against ADA non-compliance has recently taken a very sharp curve in Texas. There has been a noticeable increase in ADA accessibility lawsuits, enforcement actions, and demand letters selecting Texas businesses over the past few years.
Section 508 was updated in 2000 and again in 2017 to reflect the changes in technology and the need for accessibility in regard to the internet. In 2017, Section 508 was updated to align with the Web Content Accessibility Guidelines (WCAG) 2.0, AA success criteria. WCAG itself was updated to version 2.1 in 2018 and all content that conforms to version 2.1 also conforms to WCAG 2.0.At the same time, it becomes highly important for businesses to follow the WCAG 2.2 guidelines and understand how important it is.
To pick a few: 
For not following the Texas Accessibility Standards 2018 guidelines, the state recorded 196 ADA non-compliance cases, which ultimately increased to 239 in 2019. An increase of 21.9%.
In 2020, the state listed 285 ADA non-compliance cases, making it the fourth state with the most accessibility-related cases.
California recorded 120 ADA non-compliance cases in 2019. Additionally, ADA non-compliance cases are common in New York, which registered 2,256 in the same year.
Recent Accessibility Laws in Texas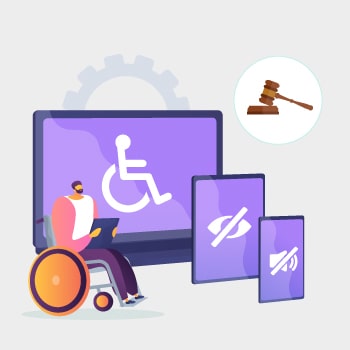 Website accessibility is mandated in Texas, and many different statutes cover this. For example, Texas has approved federal accessibility policies. According to Texas administrative code, websites must comply with the Federal Government's Section 508 of 2016. On top of it, the state also needs to follow WCAG guidelines. On the other hand, Texas also stresses the fact that government agencies and educational institutes shall follow accessibility guidelines more than any other industry or business. Texas administrative code has sections 206.70, 213.21, and 213.41 related explicitly to website accessibility.
What makes a WebPage Accessible?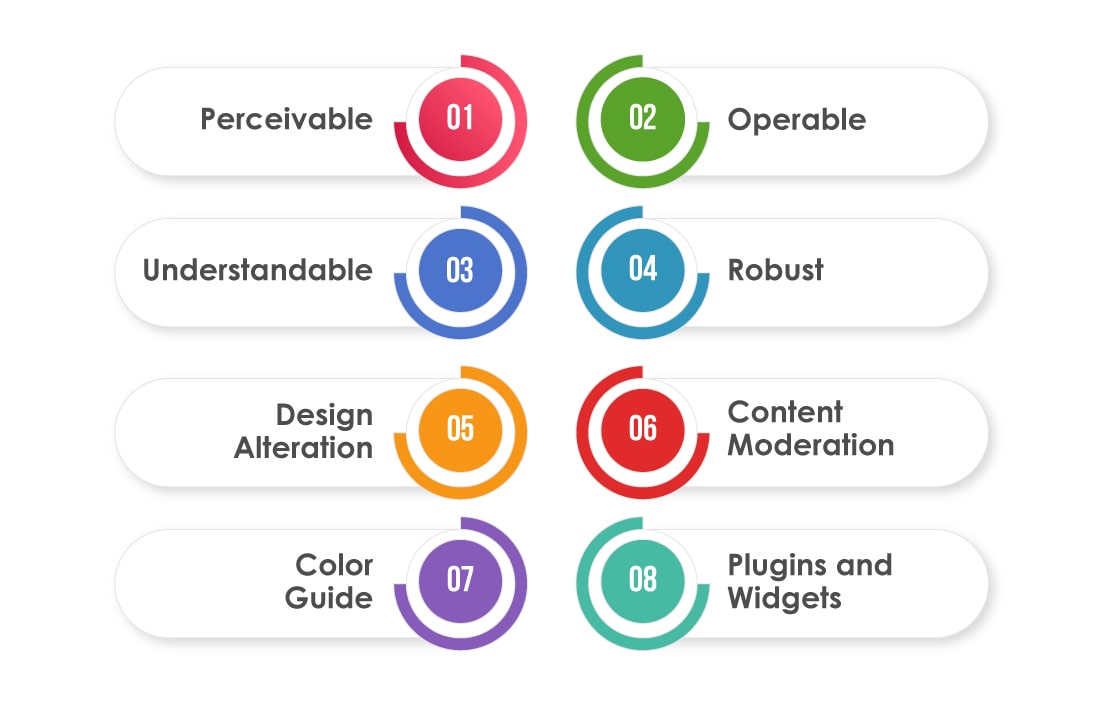 Texas considers web accessibility standards as a key thing for websites and puts in efforts to aid educational institutions, government agencies, and other private businesses with the process. There are very useful guides composed of all the required resources that entities need to make their websites compliant. For instance, the DIR offers tools for website development like a designer, Webaim.org, and other US web design standards V2.0. There are other resources for forms, multimedia, and HTML. A solid foundation for understanding web accessibility is offered by the World Wide Web Consortium, which comprises some guidelines that websites need to follow. These guidelines adhere to four fundamental principles: operable, understandable, perceivable, and robust.
Perceivable
It should be easier for the users to perceive the information. To elaborate:
• Offer text substitutes for non-text content
• Offer captions and other alternatives for multimedia content
• Design content that can be staged in different formats, including by assistive technologies, without affecting the meaning
• Easy access to the users to see and hear content
Operable
The user interface components must be easy to navigate and operate. To elaborate:
• Offer good time to read and use the content
• Functionality is easily available from a keyboard
• Content does not lead to any physical reactions and seizures
• Users should be able to navigate, locate content, and regulate easily
• Users can use multiple input modalities beyond the keyboard
Understandable
The information and operation of the user interface must be easily understood.
• Readable – Make the text content easy to read and understand
• Predictable – Design web pages that appear and operate in predictable ways
• Input Assistance – Assist users in avoiding and correcting the mistakes
Robust
Content needs to be robust to be interpreted by a huge variety of user agents, including assistive technologies.
• Double the compatibility with current and future user tools.
Apart from these, there are some other ways to attain accessibility, which include the following:
Design Alteration
• Altering your website's design is one of the easiest ways to achieve ADA compliance. For example, non-text content, such as images and videos shall have alternative text.
• Make sure that users have access to adjust the font sizes, and CTA buttons should have large font sizes.
Content Moderation
• Offering content moderation functionality to the users allow better website accessibility. For instance, your site can offer 24/7 assistance to users.
• The site shall offer suggestions when users receive input errors.
Color Guide
• Except for text, you should also consider that color and contrast contribute to your website's accessibility. Choose a high-contrast background when designing your web pages so that they stand out.
• It is also recommended not to use thin fonts or Java or CSS features to change the site's contrast. In addition to this, keep in mind that color contrast is crucial when it comes to CTA buttons.
Plugins and Widgets
Another method to achieve web accessibility is using plugins, widgets, and other reliable resources. You can use these tools to maintain an accessible website without spending a lot of money. It includes the page title, headlines, contrast ratio, image text alternatives (Alt Text), forms, labels, errors, multimedia alternatives, links and navigation, and more.
Role of Testing in Web Accessibility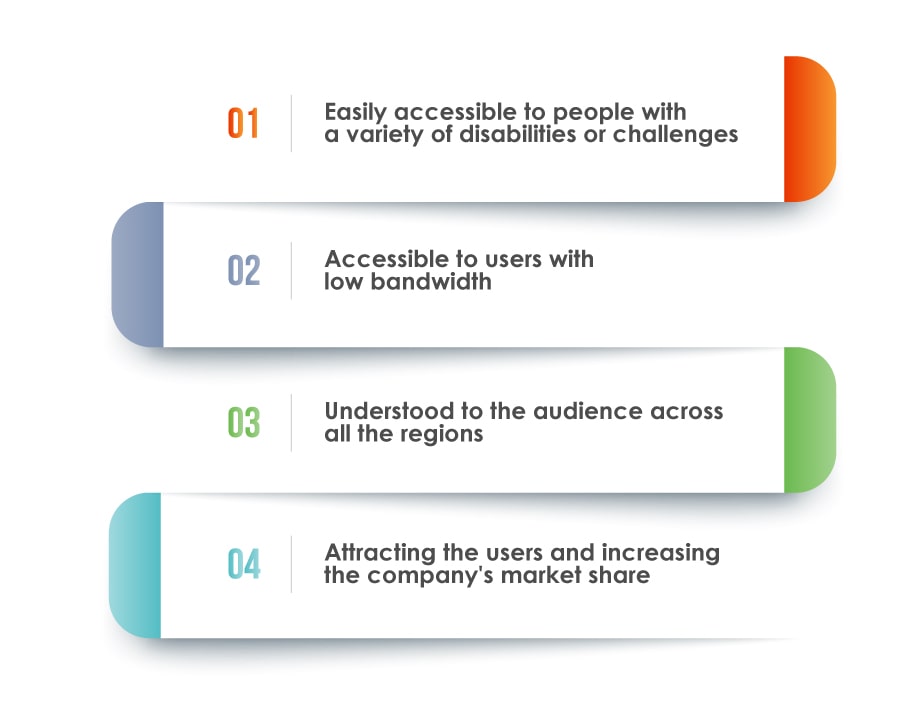 Making accessibility tests, an integral part of the software testing process, and executing the necessary checks early and often can assist in improving the complete experience of using an application or website. While the world is moving towards perking up the customer experience, an application shall be tested for its accessibility.
With a tested website for accessibility, a business makes sure that the website is:
• Easily accessible to people with a variety of disabilities or challenges
• Accessible to users with low bandwidth
• Understood to the audience across all the regions
• Attracting the users and increasing the company's market share
How is Accessibility Testing Performed?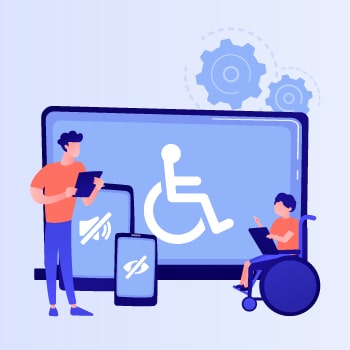 Based on your industry, where your organization is based, and remaining factors, your company may need to audit against a particular accessibility regulation or define some requirements for a product to be audited against.
The most common regulatory standards include section 508 for federal government websites and ADA for private entities and state and local governments. The WCAG guidelines are a comprehensive set of accessibility guidelines developed with the aim of creating a shared international standard. WCAG 2.0 and WCAG 2.1 are commonly used standards in accessibility testing.
Adding to those standards, there can be many other requirements for users with special abilities like color sensitivity or limited hearing.
In case your software is extremely complex, a subset of pages or screens may be chosen for the accessibility audit.
Once your business recognizes the essential requirements and regulations that apply to your product and pages that need to be tested, you need to develop an accessibility checklist. It should cover the five major categories of disabilities: speech, visual, hearing, motor, and cognitive.
Conclusion
ADA compliance in Texas is not a choice but a requirement. However, the only way to be sure of it is to take it through accessibility testing. Texas is already on its way to having fewer cases compared to 2018 to 2019.
Most businesses think their website is problem-free and is good to go live. However, the only way to be completely sure of it is to take it through accessibility testing. An app or website that is non-optimized may lead to limited use of the services, eventually helping only a particular type of community and people. Accessibility check passed applications and websites steer clear of all the lawsuits and worries.
How can TestingXperts Help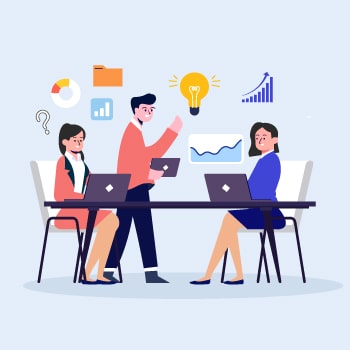 With sound knowledge of the accessibility regulation like W3C's WCAG 1.0/WCAG 2.0, BITV 1.0, Section 508 & Stanca Act, etc., TestingXperts (Tx) makes sure that all the practices for standardized accessibility are followed within your application or website. Tx takes different personas like color blindness, impaired vision, hard of hearing, deafness, and mobility impairment, and incorporates disabilities, ensuring that the client's website, product, and application are user-friendly and ready for the forecasted future.
We ensure that we stand out as a service provider. We cover VPAT (Voluntary Product Accessibility Template) report as a final document. This report covers the comprehensive analysis of the business's conformance to web accessibility standards mentioned in section 508 of the Rehabilitation Act. The report forms the key accessibility requirements, offers a structured plan for the vendor to check the compliance level, and also covers the explanatory remarks.
Involving actual users in the testing process, Tx enhances the overall experience as users are the real experts in their abilities and their assistive technology. Leverage our accessibility testing services, let's connect!