Published: 01 Nov 2022
A Quick Overview of Site Reliability Engineering (SRE)
Last Updated: 03 Nov 2022
Content 1. What is Site Reliability Engineering (SRE) 2. Key Aspects of Site Reliability Engineering (SRE) 3. Six Business Benefits of Adopting SRE 4. Top SRE Tools 5. Conclusion 6. How can Tx Help with SRE?
What is Site Reliability Engineering (SRE)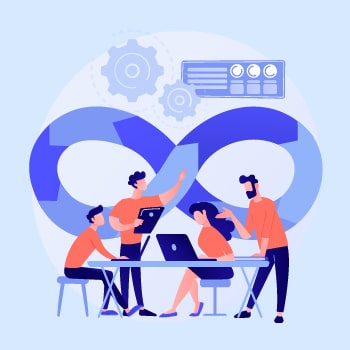 Site reliability engineering (SRE) applies the principles of software engineering to development (Dev), operations (Ops), and infrastructure processes. SRE helps digital businesses create reliable and scalable applications that meet customer expectations. Typically, SRE focuses on improving the reliability of an application or system across critical metrics, including efficiency, performance, availability, latency, capacity, and incident response.
The concept of SRE is credited to Ben Treynor Sloss, VP of engineering at Google, who famously wrote, "SRE is what happens when you ask a software engineer to design an operations team."
Key Aspects of Site Reliability Engineering (SRE)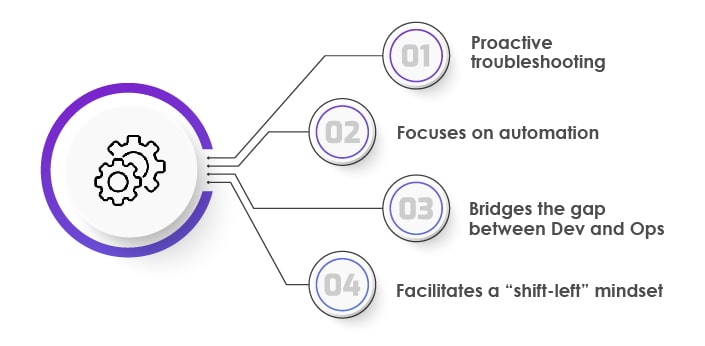 There is a need to keep the existing strategies up-to-date to maintain the necessary balance between launching apps faster and ensuring the apps are highly intuitive, failure-proof, and reliable. With digital businesses embracing new IT technologies and methods to remain competitive, SRE is proving to be one of the promising and effective strategies that facilitate preventive measures to keep the overall processes running in case of any system failures.
Proactive troubleshooting:
To stay ahead of cutting-edge competition, digital businesses rely on continuous innovation and implementing advanced technologies. However, quick app deployments often lead to flaws and vulnerabilities that sneak into the final release. SRE ensures the issues are proactively resolved before they reach the end-users.
Focuses on automation:
A significant goal of SRE is to eliminate all possible effort redundancy in the business processes. SRE focuses on replacing manual processes with automation, such as setting up accounts, provisioning access, and developing intelligent self-service tools. This enables the Dev team to focus on releasing new app features while the Ops team can focus on infrastructure management.
Bridges the gap between Dev and Ops:
SREs drive resiliency-based engineering. They can become mentors and ensure that resiliency is a top priority for developers and operations. Collaboration between developers, operations, and product owners enables site reliability engineers to define and meet uptime and availability targets.
Facilitates a "shift-left" mindset:
Ideally, SRE is an ever-evolving discipline that creates constant opportunities to build strategies, policies, and processes into the product delivery pipeline. With a shift-left mindset, SREs embed reliability into the Dev and Ops processes, enabling resiliency in each process, app, and code update to improve the app quality that goes to production.
Six Business Benefits of Adopting SRE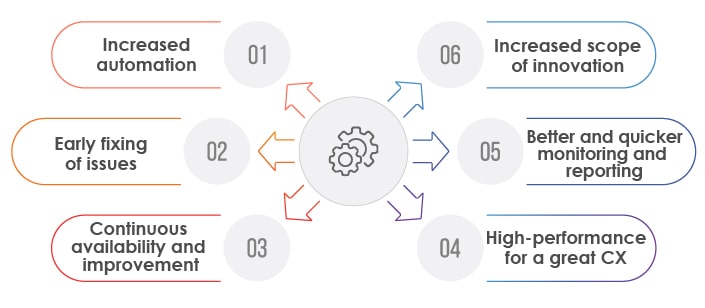 Increased automation:
SREs continuously identify the workflow candidates for automation while detecting vulnerabilities and bugs simultaneously.
Early fixing of issues:
Rapid development and shipment of apps may keep a business ahead of the competition, but it also invites various issues, such as disregarding bugs and vulnerability detection. SRE teams perform proactive troubleshooting to eliminate such problems and ensure continuous and reliable app releases.
Continuous availability and improvement:
SRE offers an ongoing search for areas of improvement to optimize services and product availability & reliability.
Increased scope of innovation:
SRE teams enable quick detection of potential issues that allow the Dev teams to work on the bugs and resolve the issues in advance. Once the issues are fixed, the Dev team has more bandwidth to innovate and launch new features.
Better and quicker monitoring and reporting:
SRE provides much-needed visibility into the business's service health by leveraging tracking metrics, logs, etc., across various services in the business and identifying the causes of any bug incidents.
High-performance for a great CX:
SRE always focuses on meeting customer expectations using metrics such as SLA, SLO, and SLI. As a result, the products will be more reliable and deliver quicker ROI, while ensuring a great CX.
Top SRE Tools
Based on the requirements of a standard SRE architecture, the following is the list of tools that may be considered to implement the SRE best practices: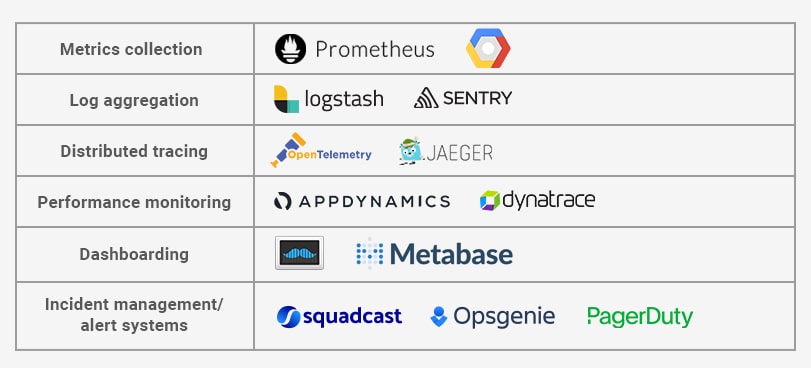 Conclusion
The ability to meet customer demands has always been SREs' primary objective. Regardless of the industry, businesses are adopting the SRE model at different levels of digital transformation. SRE is quickly gaining importance as an essential part of Agile organizations as SRE models close the gap between departments such as Dev and Ops. Consequently, digital businesses deliver better applications faster—without compromising on the apps' quality and reliability. Thus, businesses should leverage the services of a pureplay testing services provider to get the best benefits of SRE.
How can Tx Help with SRE?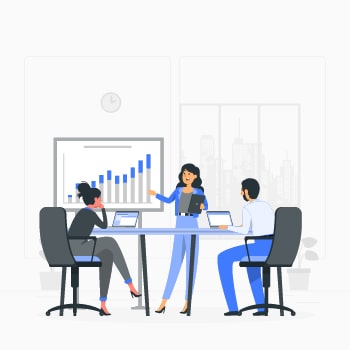 TestingXperts (Tx) is one of the five largest global pure-play software testing services providers. Tx has been chosen as a trusted QA partner by Fortune clients and ensures superior testing outcomes for its global clientele. The demand for SRE is rapidly increasing, requiring coding and automation expertise. Tx has the necessary expertise in SRE implementation that enables businesses to build better and more robust IT services, which reduces operational costs while enhancing the reliability of software.
SRE services offered by Tx
• Cloud testing for fault resilience, process correctness, and ability to scale
• Design & implement monitoring services and performance evaluation
• Connect teams and orchestrate release events
• Scale up cloud-hosted SaaS services
• Fully automated deployment, upgrades, certificate management, capacity scaling, etc.
• Management & security for application platform, managed applications, and data services
• Blueprint creation for release, configuration, and performance engineering
• Reduce operational costs