Published: 13 Oct 2022
Quality Assurance vs Quality Control – A Quick Overview
Last Updated: 25 May 2023
Content 1. Quality assurance vs quality control 2. An overview of QA processes 3. An overview of QC processes 4. Quality assurance vs quality control: The similarities 5. Quality assurance vs quality control: Key differences 6. Conclusion 7. How can Tx help?
Digital businesses must deliver exceptional customer experiences that ensure user retention, customer loyalty and a relentless revenue stream. While the stakes are high and businesses compete aggressively to achieve digital transformation, quality remains at the focal point. Quality assurance (QA) and quality control (QC) are two key aspects of product or service quality management. There is no denying of the fact that some quality assurance and quality control activities may be interrelated, but the two processes differ. When comparing quality assurance vs quality control, both processes share similar objectives but employ different strategies to ensure customers in the UK receive products of the highest quality.
Quality assurance vs quality control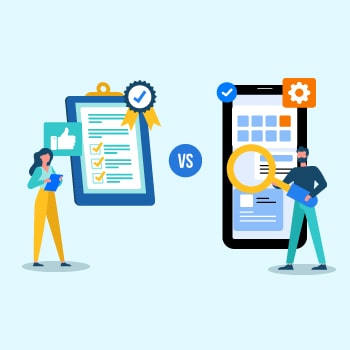 Quality assurance:
Quality assurance is defined as a quality management initiative aiming to provide confidence that an application's quality requirements will be fulfilled. Quality assurance is twofold—internally to the stakeholders and externally to the final users, regulatory authorities and third parties.
Quality control:
Quality control is defined as a quality management process aiming to fulfil an application's quality requirements or service. While quality assurance deals with how processes are performed or an application is created, quality control can be termed as the 'inspection' aspect of quality management.
An overview of QA processes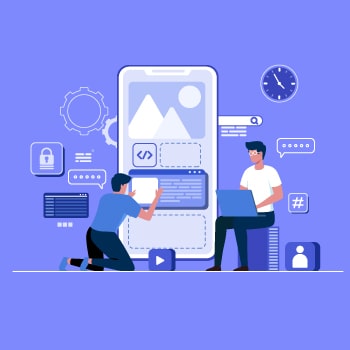 QA involves activities and procedures performed during SDLC that help ensure a high-quality application release. QA includes members across departments discussing, planning and executing tests to validate product quality.
A QA process deals with the following aspects:
• Requirement gathering, designing and prototyping
• Programming and code reviews
• Creation of version control
• Continuous integration/continuous delivery (CI/CD)
• Configuration management
• Test planning and execution
• Release management
• Deployment and integration
• Customer acceptance and feedback
An overview of QC processes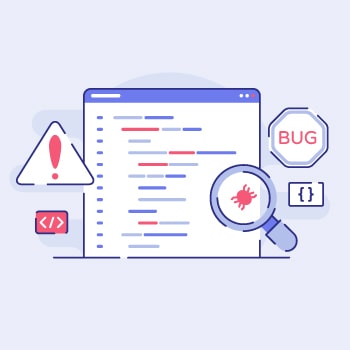 In QC, it is ensured that the developed application meets the organisation's quality standards. Defects in an application, such as UI bugs, design glitches, accessibility issues or security flaws, can cause irreparable damage to both the end users as well as the product businesses.
A QC process deals with the following aspects:
• Identifying application errors
• Verifying predefined quality requirements are met
• Ensuring conformance with industry compliances and regulations
• Creating and maintaining quality reports
• Determining features where UX could be uplifted
Quality assurance vs quality control: The similarities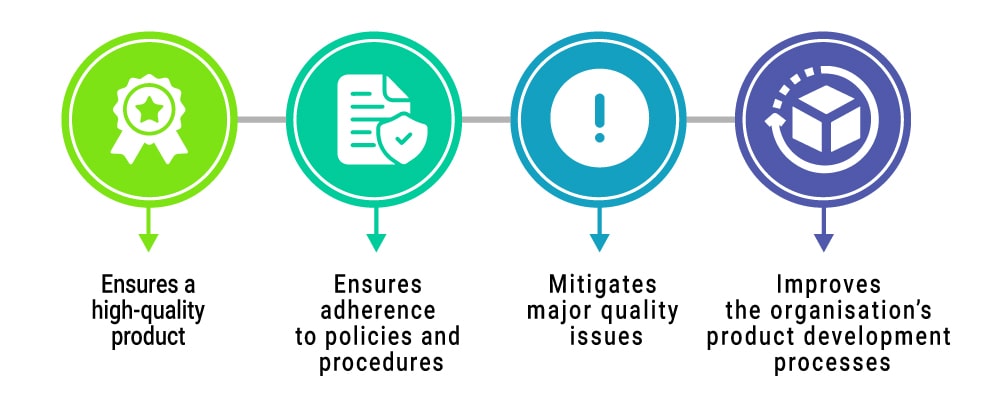 Ensures a high-quality product:
A business can't simply release a product and hope for the best. QA helps digital organizations plan how they will approach product quality. QC helps ensure digital businesses that the finished product meets expectations. QC and QA play vital roles in delivering top-quality services and products to customers and securing revenue for the business.
Ensures adherence to policies and procedures:
While QA is more process-oriented than QC, both approaches follow standards set by the organisation for securing high quality. QC might involve some exploratory or UX testing that demands a certain level of creativity on the tester's part. However, defect detection and remediation must still be recorded and executed systematically.
Mitigates major quality issues:
Defects may be in the form of minor inconveniences or highly escalated disruptions. The earlier such defects are identified, the more cost-effective and easier it is to fix the issue. The risk increases exponentially as defects move closer to the customers' hands. QA and QC aim to achieve reduced time and cost to market for digital businesses. The former helps to establish processes for early detection, and the latter helps businesses fix as many errors as possible in the application.
Improves the organisation's product development processes:
Feedback loops are a familiar idea for developers. Organisations adhering to QA and QC processes follow a continuous learning path and eventually become more efficient and effective with each product release. QC and QA enable digital businesses to understand where they may improve in critical areas of planning, automation, bug detection, etc., to enable a great CX.
Quality assurance vs quality control: Key differences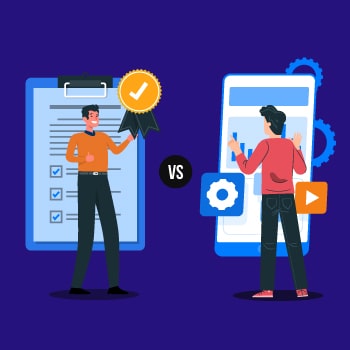 | | | |
| --- | --- | --- |
| S.no. | Quality Assurance (QA) | Quality Control (QC) |
| 1. | Quality assurance aims at preventing defects and mistakes | Quality control aims at fixing defects once these are identified |
| 2. | Involves preventive and initiative-taking measures for debugging | Involves corrective techniques and reactive measures for eliminating quality bottlenecks |
| 3. | Process-oriented | Product-oriented |
| 4. | Maintains quality standards by defining the processes, strategies, policies, project checklists and establishing standards that need to be followed throughout the SDLC | Involves adherence to predefined guidelines as applications are made to verify quality, identify defects and fix the bugs |
| 5. | Everyone involved in developing the application or service is responsible | A particular team is responsible for verifying the application for bugs and other issues |
Conclusion
Quality assurance and quality control are essential for delivering high-quality applications and services in the UK. While quality assurance focuses on preventing defects and ensuring overall product quality, quality control detects and fixes defects. Both processes are integral to effective quality management.
How can Tx help?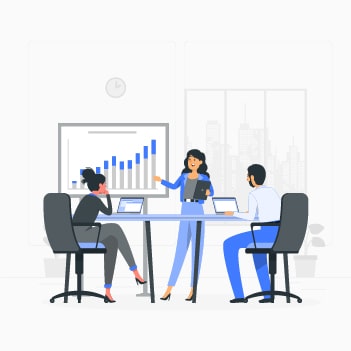 TestingXperts (Tx) is one of the five largest global pure-play software testing services providers. Tx has been chosen as a trusted QA partner by Fortune clients and ensures superior testing outcomes for its global clientele. We have rich expertise in enabling end-to-end testing services for global clients across various industry domains like healthcare, telecom, BFSI, retail & eCommerce, etc.
Our wide range of QA testing services in the United Kingdom includes:
Test Advisory:
TestingXperts' Test Advisory Services provide specialist advice to help achieve overall product quality, reduced release cycle time, faster time-to-market, and significant reductions in QA costs.
DevOps Consulting Services:
Our DevOps experts will analyse business needs and help achieve a strategic DevOps adoption roadmap. Our wide range of DevOps services like DevOps consulting, DevOps CI/CD implementation, Enterprise DevOps Transformation, IAC consulting and Implementation, and Test Automation in DevOps will help achieve faster and quality releases.
Test Automation:
Our in-house test automation experts have rich expertise in industry-leading test automation tools. Our end-to-end test automation services help businesses reduce regression time and cost.
Functional Testing:
Tx has years of experience providing functional testing services for clients across domains. Our range of functional testing services includes automation, manual, regression, and mobile application testing. We have in-house mobile test labs with numerous mobile devices.
Non-Functional Testing:
Tx provides a wide range of non-functional testing services such as performance and load testing, security testing, usability testing, and accessibility testing. We also have an in-house performance testing accelerator, 'Tx-PEARS,' which helps with all non-functional testing requirements, including continuous monitoring of your infrastructure in production and lower environments.
Next-gen Testing:
Our wide range of next-gen testing services includes AI testing, RPA testing using UiPath Test Suite, Digital testing, IoT testing, etc.