Published: 17 Nov 2021
Top Intelligent Automation Trends and Predictions for 2022
Last Updated: 21 Jul 2022
Automation and Artificial Intelligence (AI) have revolutionized how businesses work across industries. Today, businesses continue to deploy AI technologies within their operations to improve operational efficiency and reap tangible benefits. Rapid advancements in technologies and automation have built wider advancement with the integration/collaboration of both AI and automation named Intelligent Automation. This new advanced technology is simply the outcome of AI and automation coupled with human intelligence. It is now widely used across industries, and its usage is expected to rise manifold in the coming years.
Content 1. What is Intelligent Automation? 2. What is the Significance of Intelligent Automation for Businesses? 3. What are the top Trends in Intelligent Automation for 2022? 4. Intelligent Automation Predictions for 2022 5. Conclusion
What is Intelligent Automation?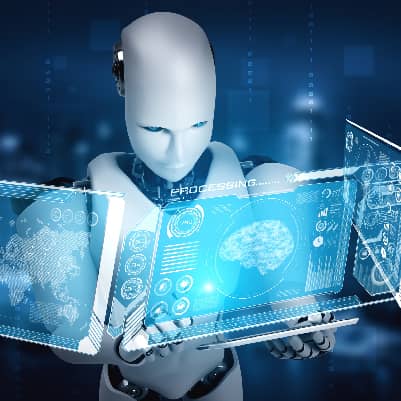 Intelligent Automation, also known as cognitive automation is a combination of next-gen technologies like Artificial Intelligence (AI), Business Process Management (BPM), and Robotic Process Automation (RPA). Along with these technologies, Intelligent Automation also utilizes some more intelligent technologies like Analytics, Optical Character Recognition (OCR), Intelligent Character Recognition (ICR), Machine Learning (ML), Deep Learning (DL), Natural Language Processing, Process Mining, etc. Together, these technologies enable end-to-end business process automation, accelerate digital transformation for businesses, and streamline their decision-making process across the organization to improve operational efficiency.
According to Analyticsinsight, "With digital transformation, intelligent automation has gained immense importance mainly for process management to orchestrate users, tasks, systems, and robots (RPA) depending on the business needs at each moment. Intelligent Automation contemplates the use of analytics and AI (especially machine learning) to make automated and intelligent decisions, and case management to provide processes with enough flexibility for end-to-end case management success."
What is the Significance of Intelligent Automation for Businesses?

1. Increases process efficiency:
Intelligent Automation reduces human prone errors, increases processing speed, regularizes outputs, and ensures accuracy.
2. Ensures service continuity & greater CX:
Robots can work 24/7 without manual intervention; thus, Intelligent Automation ensures continuity of services under all situations and delivers a more excellent customer experience (CX).
3. Enables effective monitoring and fraud detection:
Intelligent systems can easily detect suspicious activities such as frauds and alert users to prevent the same.
4. Frees up employees from repetitive tasks:
Leveraging Intelligent Automation frees employees from repetitive tasks and helps them focus on other high-priority tasks.
5. Helps to save costs and time:
By leveraging intelligent technologies and systems, businesses can reduce their team size, achieve operational efficiency, and save time and cost significantly.
6. Ensures traceability of data:
Cognitive automation helps businesses achieve full traceability of their data and processes from start to finish. It can also improve analytics and help business leaders during financial audits.
What are the top Trends in Intelligent Automation for 2022?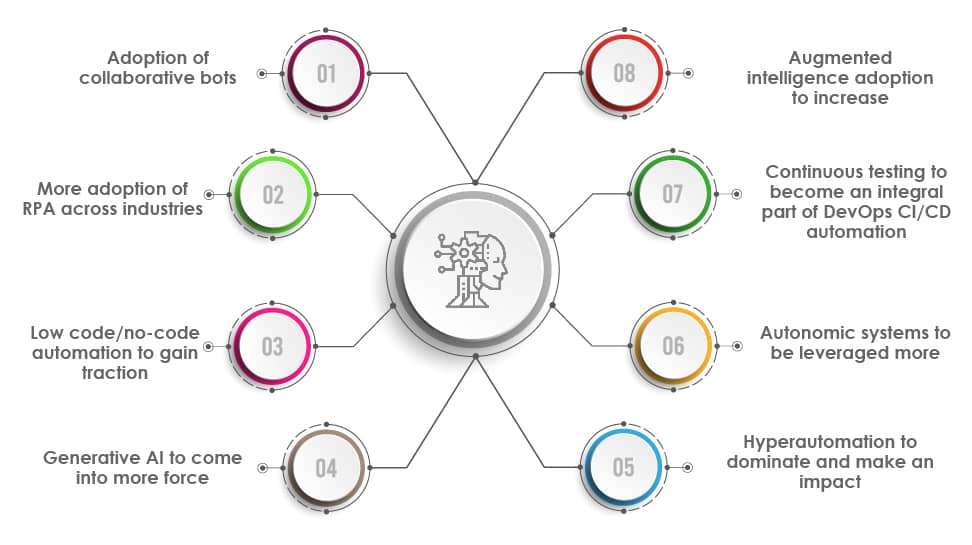 1. Adoption of collaborative bots: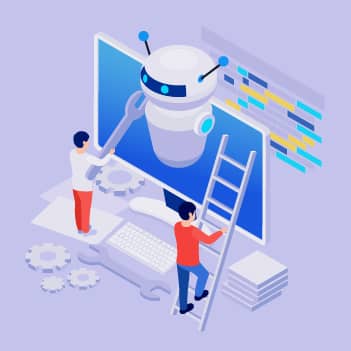 Collaborative robots or cobots are the types of robots intended to interact with humans in a shared workplace physically. From lifting heavy weights in warehouses to intelligently removing obstacles from assembly lines, these cobots assist humans in smart factories. These bots are greatly helping small businesses as they do not require large floor space and high personnel assistance to program and maintain them, unlike large robots. Industries are rapidly using the robots to help address the lack of labor resources, automate repetitive tasks, maintain quality, etc. In the coming years, it is expected that the adoption rate of robots will significantly increase across industries.
According to MarketsandMarkets, the collaborative robot market size is expected to grow from USD 1.2 billion in 2021 to USD 10.5 billion by 2027 at a CAGR of 43.4% from 2021 to 2027.
2. More adoption of RPA across industries: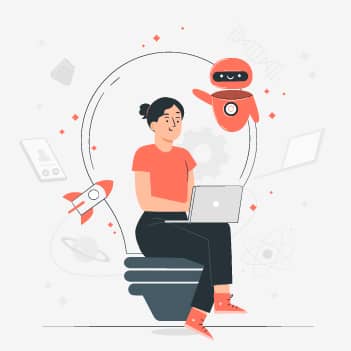 RPA is a technology that enables software bots to replicate human actions and perform a task more effectively. This technology is leveraged by almost every industry, such as insurance, banking, finance, healthcare, and telecommunications. RPA has been significantly helping businesses in achieving operational efficiency, reducing time-to-market, and ensuring high security. Thus, the usage of RPA, which is one of the essential components of Intelligent automation, is expected to rise more in the coming years.
According to Grand View Research, the global RPA market size was valued at USD 1.89 billion in 2021 and is expected to reach USD 13.74 billion in 2028 growing at a CAGR of 32.8% from 2021 to 2028.
3. Low code/no-code automation to gain traction: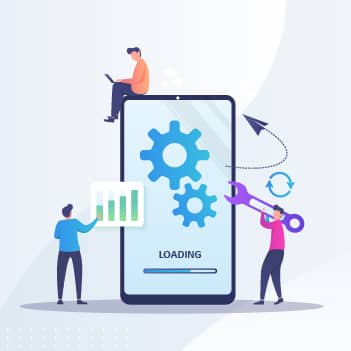 The low code/ no-code automation trend is rapidly gaining traction and is expected to rise more in the coming years. The low-code/no-code automation platforms are software programs that require little to no coding knowledge. It offers predesigned workflow templates and a user-friendly drag-and-drop interface for customizing workflows that people can use without back-end computer programming knowledge. These platforms are gaining much attention due to various benefits to businesses, such as faster time to market, scalability, self-service capability, etc.
According to GlobeNewswire, the global low-code development platform market is predicted to generate a revenue of $187.0 billion by 2030, rising from $10.3 billion in 2019, and is expected to grow at a CAGR of 31.1% during the forecast period 2020-2030.
4. Generative AI to come into more force:
Another cognitive automation trend that is coming to market is generative AI. Generative AI is based on AI algorithms and machine learning methods that learn from the existing data such as text, audio files, images and create completely new and original content. Generative AI can be used for a variety of activities such as making software codes, processing images, facilitating drug development, providing better customer service, speeding up check-ins, targeted marketing, etc. It is expected that there will be more usage of generative AI in the future.
According to a leading research analyst, it is expected that by 2025 generative AI will account for 10% of all data produced, up from less than 1% today.
5. Hyperautomation to dominate and make an impact: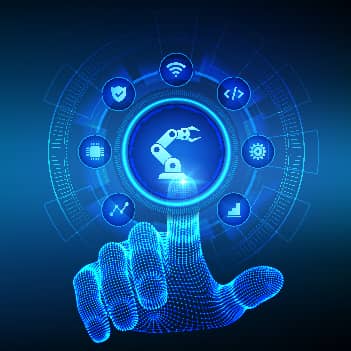 Hyperautomation is the use of advanced technologies like AI, ML, and RPA to automate as many tasks and IT processes as possible. Hyperautomation is the future of intelligent automation as it brings all advanced technologies under one roof and helps businesses reap the real-time benefits of all technologies together. Hyperautomation not only automates tasks but also automates the processing of any form of structured or unstructured content that helps businesses in a large way. In the coming years, it is expected that this trend will continue to positively impact businesses.
According to Verified Market Research, the Hyperautomation market size was valued at USD 581 Million in 2020 and is projected to reach USD 2216 Million by 2028, growing at a CAGR of 18.25% from 2021 to 2028.
6. Autonomic systems to be leveraged more: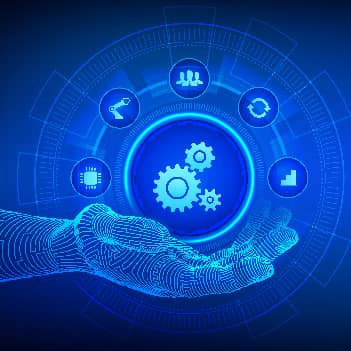 Autonomic systems are self-managed software/platforms that learn from the environment, make decisions independently without any external intervention, and automatically adapt themselves to the changes in the environment. The four basic principles of an autonomic platform are self-configuration, self-healed, self-optimization, and self-protection. These self-managed systems are expected to be useful in large data sets and complex analytical solutions. In the forthcoming years, the autonomic platform market is expected to grow as it can address challenges enterprises face in managing data, making appropriate decisions, and handling unexpected complexity in a dynamic environment.
According to Verified Market Research, the autonomous data platform market size was valued at USD 989 Million in 2020 and is projected to reach USD 4885 Million by 2028, growing at a CAGR of 22.1 % from 2021 to 2028.
7. Continuous testing to become an integral part of DevOps CI/CD automation: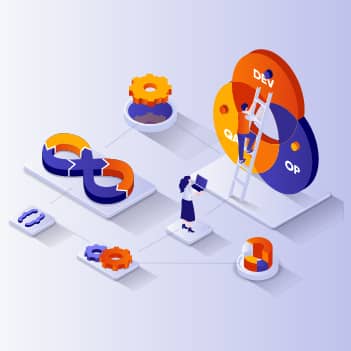 Today, almost every business needs to adopt DevOps as it enables continuous integration and delivery (CI/CD) of high-quality software to customers. In DevOps CI/CD, the continuous automated testing of the software at each stage of the software development is done with automated tools. In this way, bugs are found and fixed well before the release. As a result, the test cycles become faster, and software is continuously tested and released. This continuous automated testing of the software is a kind of intelligent automation and is expected to become a trend in coming years as more businesses will continue to adopt DevOps.
According to ordor Intelligence, the continuous testing market was valued at USD 1.48 billion in 2020 and is expected to reach USD 3.45 billion by 2026, at a CAGR of 15.24% over the forecast period 2021 – 2026
8. Augmented intelligence adoption to increase: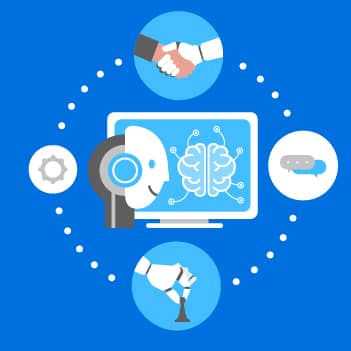 Another trend that is expected to rise in the coming years is the increasing usage of augmented intelligence. Augmented intelligence is nothing but AI with a twist. It involves robots and humans working together to improve cognitive performance. Platforms that utilize augmented intelligence can collect all sorts of data, both structured and unstructured, from multiple sources and can show that data to human workers in a way that gives a 360-degree view of each customer. This intelligence allows businesses to deliver better services and make informed decisions. Financial services, healthcare, retail, travel, manufacturing are one of the major industries where augmented intelligence is becoming more prevalent.
According to Allied Market Research, the global augmented intelligence market size was valued at $11.73 billion in 2020 and is expected to reach $121.5 billion by 2030, growing at a CAGR of 26.4% from 2021 to 2030.
Intelligent Automation Predictions for 2022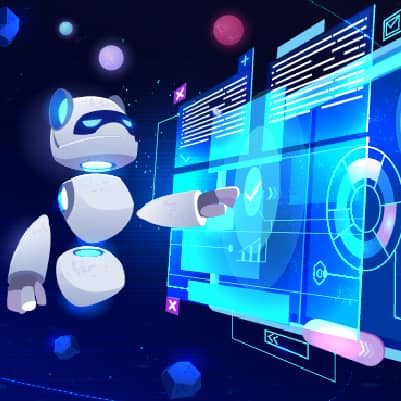 • According to Statista, In 2022, it is projected that the most common application for new shipments of collaborative robots (cobots) will be material handling. Some 7,000 cobot units shipped in 2022 are expected to be used for assembly and around 4,000 units are forecast to be used for pick and place.
• According to Forrester, Intelligent Automation (RPA plus AI) will release $134 billion in labor value in 2022.
• According to IDC's research, 40% of the G2000 will double the use of intelligent automation in knowledge retention, dissemination, and information synthesis by 2026, filling the skills vacuum in the data to insights life cycle.
• IDC According to a recent IBM report titled "Automation and the future of work," 79% of executives whose organizations are scaling intelligent automation expect their organization to outperform the competition in revenue growth within the next three years.
• According to Verified Market Research, the Intelligent Process Automation Market size was valued at USD 8.52 Billion in 2020 and is projected to reach USD 21.63 Billion by 2028, growing at a CAGR of 12.37% from 2021 to 2028.
• According to an article published by InformationWeek titled 'AI, Automation Predictions for 2022: More Big Changes Ahead,' some of the predictions include, one in five organizations will double-down on "AI inside" to boost real-time readiness, advancing automation will push 15% of enterprises to monitor employee psychology, and creative AI systems will win dozens of patents.
Conclusion:
In the upcoming years, many analysts predict the breakout for intelligent automation across leading industries. It is expected that the adoption rate for intelligent automation will rise more as it is a way forward for businesses to accelerate their digital transformation and automation journey to become autonomous enterprises. By leveraging the combination of advanced technologies (AI, ML, RPA, BPM, etc.) in cognitive automation, businesses can ensure process efficiency, operational efficiency, save considerable time and cost, and deliver a great experience to customers and employees. Leverage next-gen testing services from an independent QA and software testing services provider for next-gen testing services to get high-quality products that are bound to deliver a more excellent experience to your customers.