Published: 15 Jan 2019
INSURTECH: HOW AI IS ADDRESSING THE INDUSTRY'S KEY CHALLENGES
Last Updated: 25 Aug 2022
This is the second post in a series of posts about InsurTech and Artificial Intelligence. You can read the first post of the series here.
Contents 1. InsurTech and Artificial Intelligence 2. How AI Is Addressing The Industry's Key Challenges 3. Conclusion
InsurTech and Artificial Intelligence
In the previous post we acknowledged that the insurance industry is traditional, complex and is being disrupted by AI. Because of the complex nature of its products / services, innovation through AI is often stifled, and customers find the products / services confusing which is often a root cause of poor customer experience. However, challenges like these shouldn't stop AI to revolutionize the entire industry sector and deliver better customer experiences.
In this article, let's take a look at some of the key challenges in the insurance sector, and how AI can help overcome these challenges.
How AI Is Addressing The Industry's Key Challenges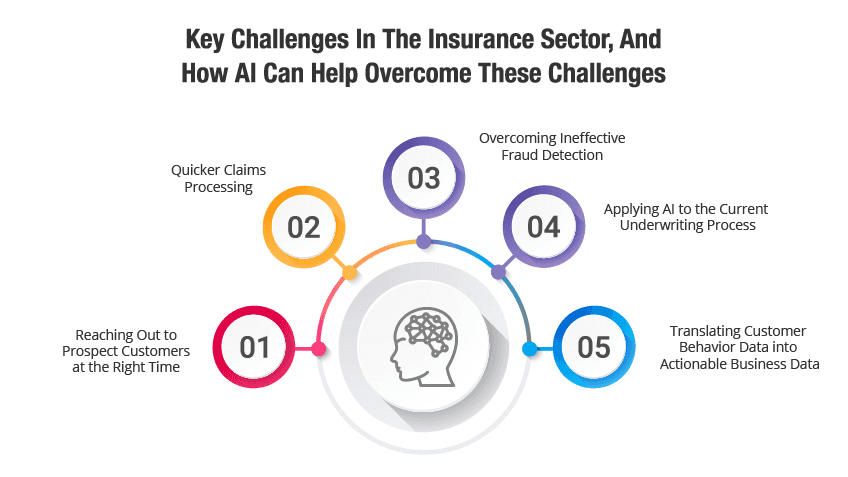 Reaching Out to Prospect Customers at the Right Time
InsurTech companies that are aspiring to use digital channels to reach out to their prospects are uncertain about the user behaviour and the right time to establish contact. The data driven intelligence when combined with innovation can help these insurance companies successfully contact people who are most likely to buy their products at that time – allowing them to spend less energy, time and money in identifying their prospects.
Quicker Claims Processing
One of the biggest challenges that is hindering the complete digital implementation in the insurance industry is its tricky and manual claims business processes. Using AI for Quick Claims Support, especially for loyal customers, companies can reduce claims processing timelines and provide next-gen support to customers. Leveraging AI in the claims processing and Chatbots implementation can help insurers offer consistent customer experience, greater transparency and effectively reduce policies' costs.
Overcoming Ineffective Fraud Detection
Securing customers' information is crucial to curb increased frauds and risks. AI in insurance will ease out fraud detection by ensuring accurate and reliable customer information, helping companies to improve the overall quality of their service and reduce operational costs.

Applying AI to the Current Underwriting Process
Applying AI to the underwriting process can help them seamlessly evaluate and analyze the risks of insuring people and thereby reduce business risks.
Translating Customer Behavior Data into Actionable Business Data
Digital marketing analytics provide a wealth of deep insights enabling companies to track how individual prospects and leads interact at different stages in the buyer's journey. When marketing analytics are combined with smart data-driven technologies like behaviour analytics and Big Data, it provides a strong base of decision making. Companies with AI based effective data analytics create targeted policies that meet customers' specific needs.
Insurance companies today need to focus on using the latest technologies, such as AI-powered solutions and Automation to improve customer experience, effectively respond to the market needs, enhance decision making process and increase productivity.
Comprehensive testing services provided by TestingXperts can help insurance companies validate complex AI based systems. Tx's approach can automate various testing processes, business processes to achieve high code coverage and find new patterns of failure. Connect with our experts and check out how Tx is helping insurers to shift from an 'identify and improve' model to a 'predict and prevent' QA model.