Published: 30 Jun 2022
Impact of Digital Transformation in BFSI
Last Updated: 01 Aug 2022
Digitization or digital transformation (DT or DX) is a buzz for businesses today that involves upgrading existing processes and adopting new digital technologies to enhance the customer experience (CX). Digital technologies such as AI, ML, and RPA have transformed how businesses connect seamlessly with customers through digital solutions. Evidently, embracing digital technologies has helped companies improve operational efficiency, quicker processing of transactions, cost-effectiveness, and build engaging and enhanced CX.
Content
1. What is digital transformation?
2. What are the benefits of digital transformation for businesses?
3. Impact of digital transformation in BFSI sector
4. Examples of digital solutions in BFSI Sector
5. Major digital technologies accelerating the growth of digitization in BFSI
6. Significance of software testing for digitally transforming the BFSI sector
7. Various software testing types for BFSI businesses to leverage
7. Conclusion
7. How can TestingXperts help digital transformation in BFSI businesses?
What is digital transformation?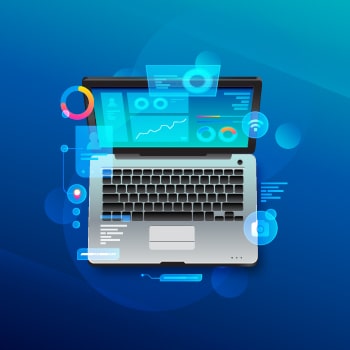 Digital transformation is adopting and integrating digital technologies in all areas and levels of the business. It is how today's organizations embrace a change in the business process, workflow, and culture. According to Wikipedia, Digital transformation in BFSI is the adoption of digital technology to transform services or businesses by replacing non-digital or manual processes with digital processes or replacing older digital technology with newer digital technology.
Though the definition of DX sounds simple, it has some amount of technical complexity involved in it as it contains -critical factors for success such as business change acceptance, organizational culture transformation, digital technology adoption, and customer-centric outcomes. Thus, digital transformation across industries undoubtedly provides opportunities to embrace new technologies and ways to achieve seamless offerings, on-the-go transactions, and many other business benefits.
What are the benefits of digital transformation for businesses?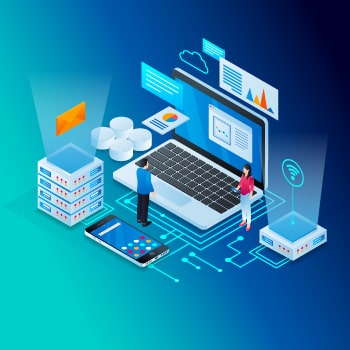 •  Improves operational efficiency and productivity
•  Open doors to new business opportunities and revenue streams
•  Facilitates mobility and remote communication
•  Ensures better fraud detection
•  Ensures businesses with agility to enable them to make rapid changes and stay ahead of the competition
•  Reduces costs and saves time with new features and processes adopted
• Builds a culture of innovation and prepares organizations for any disruption in the market
•  Improves collaboration and communication across departments
•  Helps stakeholders with better decision-making with improved analytics
Evidently, there are various benefits of digital transformation, and this is the major reason behind the adoption of DT across industries such as BFSI, Healthcare, eCommerce, and Retail, but specifically has more prominence in the BFSI sector. Typically, this has been upheld by statistics provided by major research analysts.
According to  MarketsandMarkets, the global digital banking platform market size is expected to grow from  8.2 billion in 2021 to 13.9 billion USD in 2026 at a CAGR of 11.3%. Also, a study by Statista predicts that 2.5 billion individuals to utilize online banking services by the year 2024.
Undoubtedly, the significance of DT is growing across many industries but is more prominent in customer-centric businesses where the need for faster processes is high, along with an impounding need for the-go services, such as in Banking, Financial Services, and Insurance (BFSI). Let us now dive deep into the concept of digital transformation and explore its impact on the BFSI sector.
Impact of digital transformation in BFSI sector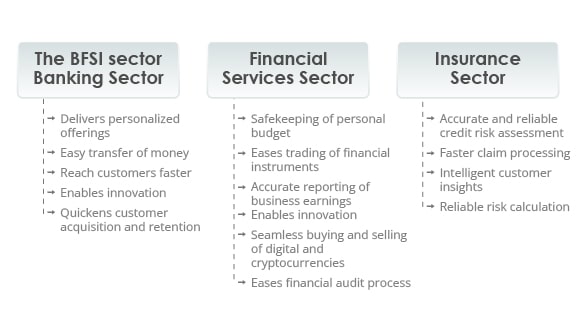 Banking Services Sector:
1. Delivers personalized offerings:
With the help of DT, banks can deliver personalized offerings to their customers based on their needs. The AI/ML technology and data analytics help banks better understand customer needs and help to provide on-the-go services.
2. Easy transfer of money:
With the help of digital technologies, the facilities of digital payments have come into existence, allowing customers to send and receive payments with a single click of a button.
3. Reach customers faster:
DT has helped the banking sector expand its reach and deliver its services to remote areas and reach the customer faster.
4. Enables innovation:
Leveraging DT, the banking sector is now developing innovative features and ways to deliver their services, such as chatbots, voice assistants, etc., and become closer to the customer for their query resolution.
5. Quickens customer acquisition and retention:
DT helps the banking sector understand customer pain points, thus enabling them to launch innovative offers or products that fulfill customer needs and make them stick with the banking organizations.
Financial Services Sector:
1. Safekeeping of personal budget:
Financial planning and personal budget management are some of the benefits DT provides to the financial sector and its customers. Digital transformation facilitates financial planning and personal budget management in real-time via extended planning and analysis (xP&A).
2. Eases trading of financial instruments:
With the help of digital technologies and platforms, trading of financial instruments like shares and bonds has become extremely easy.
3. Accurate reporting of business earnings:
By leveraging digital technologies and solutions, businesses can get accurate reports of their earnings with just a click of a button.
4. Seamless buying and selling of digital and cryptocurrencies:
Digital apps and platforms have enabled easy buying and selling of digital and cryptocurrencies online
5. Eases financial audit process:
The financial audit is a complex and tedious task that manually takes long hours; these audits can be performed easily and quickly by leveraging digital finance apps
Insurance Sector:
1. Accurate and reliable credit risk assessment:
Credit risk assessment is one of the tedious tasks that employees in the insurance sector have to deal with. However, credit risk assessment has become more reliable and easy with DT.
2. Faster claim processing:
DT speeds up the claim settlement process and ensures customers get their claims on time.
3. Intelligent customer insights:
Embracing DT, insurance businesses access various data points related to the customers, their needs, pain points, etc. Thus, it provides better customer insights to stakeholders.
4. Reliable risk calculation:
DT helps insurance employees and customers calculate risk related to particular investments reliably and accurately, thus saving them from the potential risk of loss.
Examples of digital solutions in BFSI Sector:
Examples of DT in the Banking sector

Examples of DT in the Financial Services Sector

Examples of DT in the Insurance Sector

· Fraud detection

· Virtual assistants

· Data encryption

· KYC software

· ATMs

· Cashless payments

· Financial reporting software

· Wealth management software

· Cryptocurrencies

· Digital Gold/Silver

· Risk calculator

· Blockchain solutions

· Credit management software

· Data analytics
Major digital technologies accelerating the growth of digitization in BFSI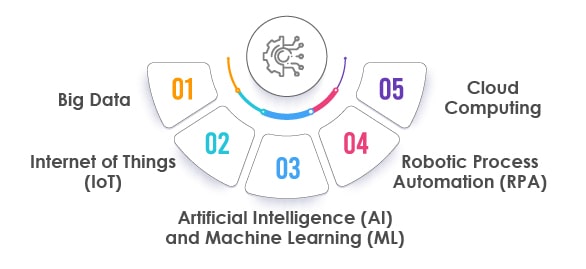 Big Data:
Big data and data analytics help the BFSI sector understand customer behavior and analyze customer touchpoints by tracking the actions performed by customers on their apps/websites. This technology helps stakeholders derive better information from the data, make informed decisions, prepare better strategies, and effectively address customer needs.
Internet of Things (IoT):
IoT bridges the physical and digital world gap. With the help of IoT apps and devices, the BFSI industry gathers and monitors real-time data. It also helps stakeholders make informed decisions and deliver a great CX.
Artificial Intelligence (AI) and Machine Learning (ML):
AI and ML are the major technologies that are helping the BFSI sector transform digitally. AI enables machines to think and act just like humans, and ML allows machines to learn and improve from past behavior experiences with the help of data. These technologies help BFSI streamline its complicated business processes. Face detection and recognition, intellectual computing, Chabot, etc., are some examples of AI/ML technology.
Robotic Process Automation (RPA):
RPA software bots mimic the way humans interact with the apps and then automate the task. RPA goes beyond basic automation and takes DT to a completely new level that benefits businesses. Organizations generate more value with RPA by integrating it with other technologies such as AI, ML, smart workflow tools, and digital assistants.
Cloud Computing:
Cloud computing is done to maintain, store, manage, process, analyze, and secure data over a network of Internet-based servers. The data stored in the cloud helps the BFSI sector streamline processes, improve productivity, optimize costs and enhance the digital CX.
Though we have known a lot about the BFSI sector in detail, last but not least, the BFSI apps and solutions should be scalable and robust and should function seamlessly to deliver a great CX. Thus, BFSI businesses should leverage various software testing methods to ensure seamless apps and solutions and enable a seamless and secure experience for their clients.
Significance of software testing for digitally transforming the BFSI sector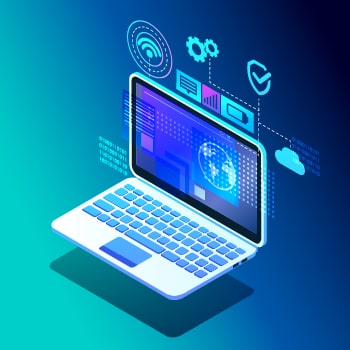 •  Safeguards the BFSI sector from cyber-attacks
•  Removes bugs from BFSI apps/software
•  Improves the performance of banking apps
•  Ensures effective load handling capacity of BFSI apps
•  Enhances the usability of the app
•  Ensures equal accessibility of BFSI apps to all
•  Improves the UI of BFSI apps
Various software testing types for BFSI businesses to leverage

Functional testing:
It is a black-box type of software testing method performed to test the software components and check the basic functionality of the BFSI apps. It ensures the application works as expected and delivers customers a great user experience (UX). The various types of functional tests are unit testing, integration testing, interface testing, system testing, regression testing, acceptance testing, etc.
Non-functional testing:
This software testing type is performed to test the non-functional aspects of the BFSI software that directly or indirectly affects the performance. The various non-functional tests are security testing, accessibility testing, usability testing, load, and performance testing.
Automation testing:
A software testing technique where automation tools and frameworks are used to perform the testing on the BFSI apps. This testing method helps deliver a high-quality product to customers in less time. It helps reduce regression testing time, reduce time-to-market, and significantly save costs.
Digital testing:
Digital testing covers the entire gamut of software testing. It is performed for end-to-end testing of the BFSI apps and software. The various tests under this category are mobile, multi-channel, L10N & I18N, Big Data, Cross-browser, cloud testing, etc.
AI testing:
As businesses across all domains continue to leverage AI-powered smart applications, there is a rise in demand for end-to-end AI testing that ensures high-performing AI systems. BFSI businesses can be assured of reliable functionality and effective performance of their apps with AI testing.
AI-Based testing:
An intelligent software testing method that leverages advanced and complex technologies such as AI and ML for BFSI solutions testing. These advanced technologies ensure faster and more effective testing outcomes and quality solutions.
RPA testing:
Today, businesses across industries, especially banking and insurance, leverage bots that can automate mundane tasks without human intervention. RPA testing is critical to ensure these bots' proper functioning and reliable performance.
Conclusion
Digital transformation has undoubtedly become the need of an hour for all businesses, especially BFSI sector. The usage of digital technologies, platforms, and solutions helps the BFSI sector speed up its operations, achieve operational efficiency, and helps to deliver a better customer experience (CX). New-age technologies like AI, ML, and RPA have enabled the BFSI sector to deliver better customer services through their digital apps and platforms. However, for these digital apps/solutions/platforms to work seamlessly, BFSI organizations should leverage various types of software testing from a next-gen QA and software testing services provider.
How can TestingXperts help for digital transformation in BFSI businesses?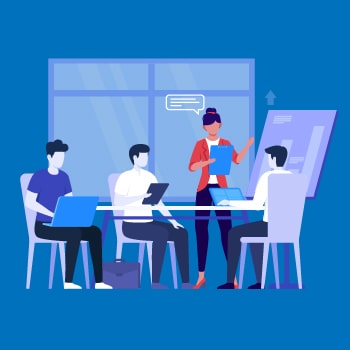 Our experienced QA engineers leverage in-house AI accelerators and RPA-based automation frameworks to ensure scalable and robust products with faster testing outcomes.
QA solutions for the Banking sector

QA solutions for the Finance sector

· Open Banking APIs

·  Retail and Digital Banking Systems Testing

·  Banking CRM

·  Banking as a Service (BaaS) Platforms testing

·  Chatbots and Voice bots testing

·  Digital Card Payment Platforms

·  Cloud Banking Solutions

·  Legacy Banking Platforms

·  End-to-end testing for migration to core banking products

·  Run the Bank and Change the Bank testing

·  Banking Regulatory Compliance

· Loan Management and Loan Approval Workflows

·  Asset Management

·  Electronic Cards and Payment Solutions

·  Credit Check Applications

·  Management Information Systems

·  Financial Product Management Applications

·  Risk, Regulation, and Compliance Applications

·  Premium Finance Applications

·  Digital and Mobile Financial Services

·  Collections Platforms and Applications