Published: 18 Jan 2022
How Intelligent Automation Is Transforming The BFSI Industry
Last Updated: 15 Jun 2022
Today's businesses leverage technologies like Artificial Intelligence (AI), Machine Learning (ML), Natural Language Processing (NLP), Robotic Process Automation (RPA) for automating their tasks and other business processes. Though these next-gen technologies have helped businesses achieve their goals, as we advance, companies need to upgrade themselves by adopting Intelligent Automation(IA), which typically combines the power of AI, ML, RPA, and other advanced technologies.
Content 1. An overview of Intelligent Automation 2. Differences of Intelligent Automation with RPA and Hyperautomation 3. Why should businesses leverage Intelligent Automation? 4. How Intelligent Automation is transforming the BFSI industry? 5. An overview of Intelligent Automation Testing types 6. Conclusion
An overview of Intelligent Automation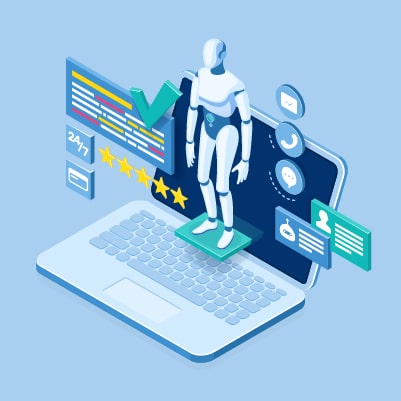 Intelligent Automation, also known as cognitive automation combines advanced technologies like: – RPA, – BPM, – AI, – ML, – Analytics, – OCR, – ICR, – Process mining to create end-to-end business processes that think, learn, and adapt on their own. Moreover, this intelligent automation accelerates digital transformation, automates repetitive tasks, ensures freeing up resources, improves operational efficiency, and effectively simplifies various business processes.
Differences of Intelligent Automation with RPA and Hyperautomation

| | | | |
| --- | --- | --- | --- |
| Point of Difference |  RPA | Hyperautomation | Intelligent Automation |
| Bots and other technology usage | RPA utilizes bots to automate routine, repetitive, and predictive tasks accurately with little-to-no human intervention | Hyperautomation utilizes the power of RPA and Intelligent automation (including AI, ML, and analytics) to automate complex and critical business processes | Intelligent automation combines RPA with a layer of AI technologies like ML and NLP language processing to augment human decision-making capabilities |
| Advantage of leveraging this technology | Software robots  are used to perform tasks, and enterprises get  a boost of higher productivity, efficiency, and resilience | Hyperautomation increases process efficiency by automating repetitive tasks and provides intelligent insights which help in decision making. It also ensures faster time to market and high-quality releases. | It ensures process automation and ensures process accuracy and efficiency. This technology ensures fraud prevention and a high-level customer experience. |
Why should businesses leverage Intelligent Automation?
Streamlines back-office processes and increases efficiency:
Intelligent automation can speed up business processes and streamline tasks per business needs, ultimately increasing process efficiency.
Improves customer service:
This technology helps businesses get real-time access to customer information, accelerate the resolution of customer requests, and help identify additional product/service needs.
Frees-up employees for higher-value work:
Intelligent automation can effectively handle routine and repetitive business tasks without any manual intervention. Thus, it can free up employees from mundane tasks and help them focus on high-priority tasks.
Improves governance and fraud detection:
With the help of intelligent automation, fraudulent or suspicious activities can be identified early in banks and financial organizations. Leveraging this technology helps businesses gain more security and safety of their systems against fraudulent activities.
Interprets big data:
Data acts as a fuel for every business, and its correct interpretation is necessary for business leaders to make informed decisions. However, interpreting big data manually is a challenging task. Intelligent automation can effectively handle and interpret a large amount of data in no time, which would take hours for humans to manage.
Helps in decision-making:
This technology utilizes AI and ML technologies that enable machines to learn, think, and act just like humans. Thus, it augments human decision-making capabilities and helps humans make better-informed decisions.
Reduces cost & saves time:
Another reason for C-suite members to consider intelligent automation is that it helps in reducing costs and saves a lot of time. As most repetitive business processes are automated, it also saves costs significantly. Since most of the repetitive business tasks are automated, employees can focus on other higher-value tasks, which saves high costs for businesses.
How Intelligent Automation is transforming the BFSI industry?
Intelligent automation is now leveraged across industries and impacts the BFSI sector significantly. Since the BFSI sector plays a vital role in the economy, there is constant pressure on BFSI institutions to improve business performance and lower operational costs. Due to the complexities of data, increased regulatory scrutiny, back-office inefficiencies, and outdated legacy systems, the BFSI sector faces many challenges. The BFSI sector needs to leverage intelligent automation testing to overcome these challenges. This technology helps BFSI institutions reduce costs, boost overall business performance, and deliver a great experience to employees and customers.
1. Banking Sector: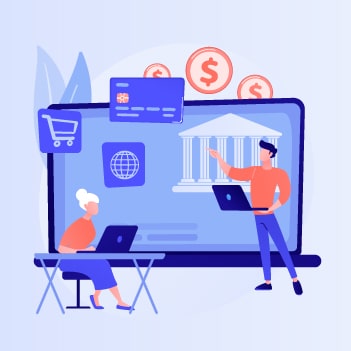 • Frees up banking team for higher-value work: Employees in banks have to regularly deal with repetitive and time-consuming tasks such as entering customer details, KYC process, etc. But, with the help of IA, various tasks can be automated and completed with much accuracy and at a faster pace. This frees up employees and allows them to focus on other high-value tasks.
• Allows customers to open a bank account remotely: Gone are the days when customers need to visit the bank to open bank accounts. But, now, with IA in place, customers can open their accounts remotely. Customers need to complete online KYC, submit required documents, fill in the necessary details and open their accounts in no time.
• Eases general ledger: Banking employees have to regularly maintain and update the ledger daily, a time-consuming and critical task. With the help of IA, banks can collect, update and validate large amounts of information from multiple sources faster and more effectively.
2. Finance Sector: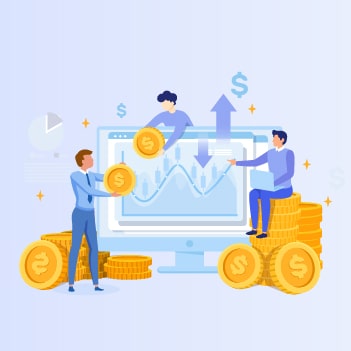 • Eases the application validation process: Employees working in the finance department have to manually validate applications that consume a lot of time and effort. But with IA technologies such as OCR, NLP, Intelligent Document Processing (IDP), etc., documents can be automatically processed easily in no time.
• Helps in detecting fraudulent activities: IA solutions can continuously monitor real-time transactions and can analyze the patterns of these transactions that help in detecting fraudulent activities such as anti-money laundering, frequent deposits of large amounts, frequent withdrawals, etc. It can also alert the concerned party and help prevent financial fraud in Fintech businesses.
• Eases financial audits: Finance audits are very complex and involve evaluating financial statements, tax calculations, checking amounts payable, and more. With IA, these tasks can be effectively automated, and chances of human-prone errors can be removed.
3. Insurance Sector: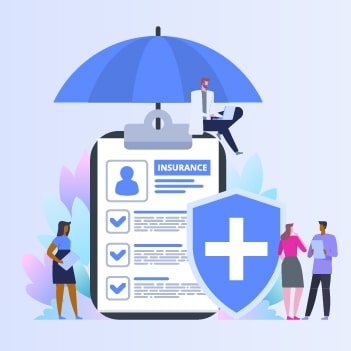 • Makes credit risk assessment accurate and reliable: IA in the insurance sector plays an important role. This technology can intelligently screen prospective borrowers and assign them a risk score based on their ability to repay loan amounts. This process further helps various institutions to make an informed decision regarding credit/loan approval/rejection.
• Ensures faster claim processing: Claim processing is a complex and time-consuming task. Typically, insurance agents need several days to gather data and process claims. But with the help of IA, claim processing and even settlements can be done faster and more effectively without any risk or manual errors.
• Provides intelligent insights: IA tracks and records customer journey and makes insightful recommendations to suggest policies suitable to customer needs based on these recommendations. This further helps customers to manage their insurance money better and ultimately enhances the customer experience (CX)
Other industries where Intelligent Automation is making an impact
1. eCommerce: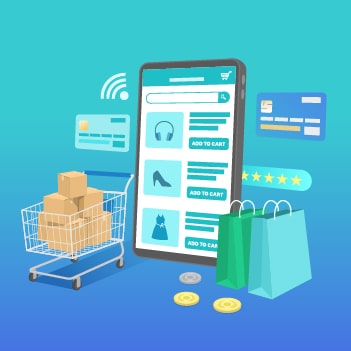 • IA utilizes the power of AI technology that records the customer data and their shopping journey and makes recommendations each time customers visit the site for shopping.
• It helps businesses to make decisions about procurement by predicting demand and supply.
• It also enables seamless checkout with their shopping carts while smart algorithms calculate the amount to be charged and ensure seamless transactions to users.
2. Manufacturing: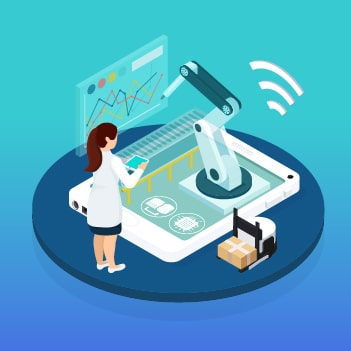 • Physical and digital robots driven by IA are used to perform various tasks and replace/supplement humans in the manufacturing sector.
• Digital bots help manufacturers process a large amount of data and streamline the ordering process, procurement, appointment scheduling, and alerting.
• It also enables predictive analytics, utilizes machine vision technology, and enables quality inspection that is much more reliable and detailed than humans.
3. Logistics and Transportation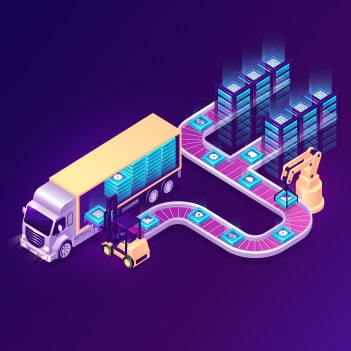 • IA helps truck drivers find the fastest and most cost-efficient routes by utilizing the power of analytics and predictive insights.
• IA has made the concept of self-driving cars into reality, and even drone delivery has been made possible due to the AI technology behind IA.
4. Healthcare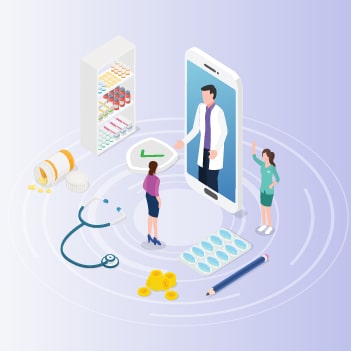 • The healthcare industry is rapidly using AI and RPA technology that goes behind IA to provide better patient outcomes and services.
• AI-powered chatbots are used to make appointments with doctors and provide online consultations.
• Intelligent bots are used to perform surgeries on the head, neck, eye, etc.
• Advanced AI technologies are being leveraged to enable accurate analysis of medical images, such as CT scans, MRIs, and X-rays, which significantly reduce the chances of human error.
5. Telecom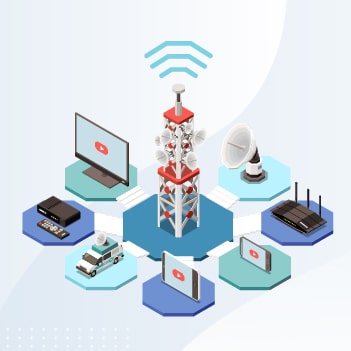 • The Telecom sector has always been data-intensive, and IA helps manage large amounts of data effectively.
• Automated call centers powered by advanced technologies reduce wait time for customers, accelerate the customer query resolution process and enhance the CX.
• IA also helps telecom service providers improve the quality of their network operations by automating the testing, addressing, remediation, and maintenance procedures.
• Intelligent Automation plays a major role across industries and AI-powered apps and solutions must be properly tested to ensure greater outcomes for businesses.
An overview of Intelligent Automation Testing types

UiPath Test Suite based Test Automation:
UiPath has come up with its
UiPath Test Suite,
which has many advanced features to support enterprise test automation. The UiPath test suite consists of Test Manager, Studio Pro, Orchestrator, Robots, and other Test Studio Components. By leveraging UiPath Test Suite based test automation, businesses can achieve up to 30% faster test execution, up to 40% lesser maintenance effort, and up to 70% faster test creation and more
AI Testing:
As businesses continue to adopt AI-powered smart applications, the need for end-to-end AI testing to ensure fully functional and high-performing AI systems is rising. Businesses can ensure proper functionality and effective performance of AI-powered smart apps and bots by leveraging AI testing.
AI-Based testing:
It is an intelligent software testing method in which advanced technologies like AI, ML are used for testing the software. These advanced technologies ensure faster and effective testing outcomes and quality solutions.
RPA Testing:
Today, businesses across industries are leveraging bots to automate repetitive tasks and perform various tasks without human intervention. But, to ensure the proper functioning and reliable performance of these bots, RPA testing is necessary. Bots are tested thoroughly leveraging RPA testing to ensure seamless bot functioning and performance.
Conclusion
Intelligent Automation driven by cognitive and digital capabilities is changing the future of all industries, especially for the banking, financial, and insurance sectors. This technology is one of the significant drivers accelerating business growth and ensures a great customer experience. The combination of AI and RPA's strength in the form of Intelligent Automation is helping businesses improve the quality, speed, and productivity of processes. While some businesses have already realized its importance, others need to adopt it. If you are an enterprise looking for intelligent automation testing, TestingXperts (Tx) can be your one-stop solution.
Tx is a proud partner of UiPath and has been providing UiPath process automation leveraging various UiPath tools to speed up the testing process. Our teams have hands-on experience with the UiPath test suite and provide next-gen intelligent automation testing services to clients across industry domains. We also have an in-house AI-enabled comprehensive platform – Tx-SmarTest that systematically caters to faster releases enabled with DevOps CI/CD implementation. This platform significantly helps boost the software quality through production, which is enabled by combining AI, ML, Deep Learning, and Neural network algorithms.