Published: 16 Mar 2022
Impact of Digital Transformation on the eCommerce Sector
Last Updated: 15 Jun 2022
Digital transformation is no longer a buzzword for organizations; instead, it has become a necessity to adopt for every business to beat the competition. The disruptions caused by the COVID-19 pandemic have mandated the adoption of digital technologies and processes. Digital transformation helps organizations keep up with the emerging customer demands and allows companies to perform better in today's digital economy that is constantly changing to various technological evolutions.
Content
1. An overview of digital transformation
2. What is the significance of digital transformation for businesses?
3. Impact of digital transformation on the eCommerce sector
4. What is the need to leverage digital testing for enterprises digital transformation?
5. An overview of various digital testing types to leverage
6. Conclusion
7. How can TestingXperts help?
An overview of digital transformation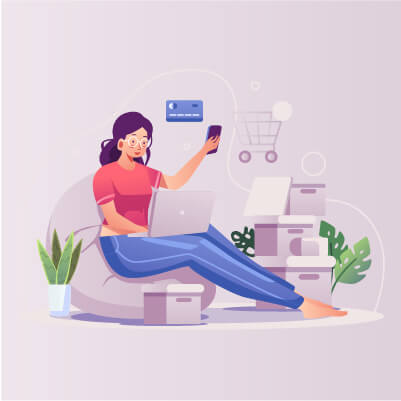 Digital Transformation represents a shift from the conventional and manual way of working to the new digital way of doing business. Digital transformation is the process of adopting and integrating digital technologies in all areas of business. Its main goal is to improve existing business processes, culture, and customer experience.  According to Wikipedia, Digital Transformation (DX) is the adoption of digital technology by a company. Some of the common goals for its implementation are to improve efficiency, value, or innovation. Further, it brings innovation and helps businesses keep pace with the latest technological trends. Undoubtedly, today almost every industry is moving towards digital transformation or at least has realized the importance of digital transformation for delivering high value to customers.
According to Statista, In 2022, the spending on DX is projected to reach 1.8 trillion U.S. dollars. By 2025, global digital transformation spending is forecasted to reach 2.8 trillion U.S. dollars. Moreover, according to IDC, By 2022, 70% of all organizations will have accelerated the use of digital technologies, transforming existing business processes to drive customer engagement, employee productivity, and business resiliency.
What is the significance of digital transformation for businesses?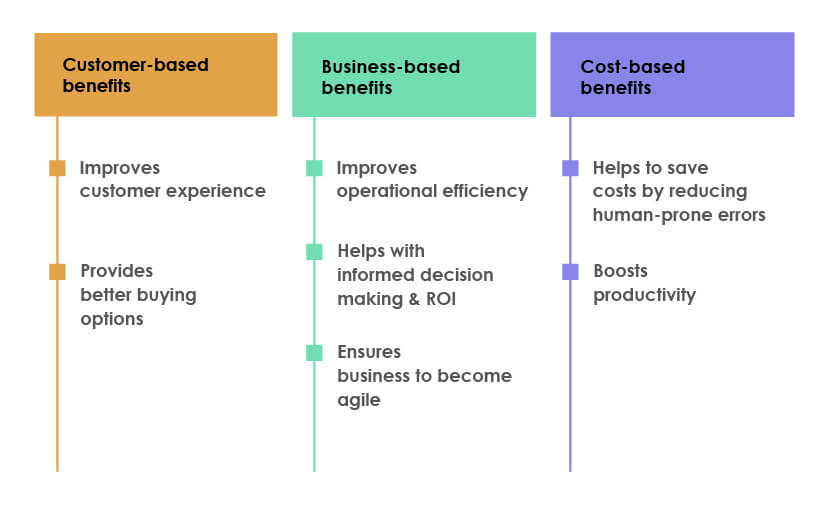 Customer-based benefits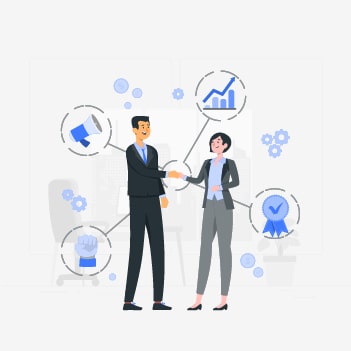 Improves customer experience:
Digital technologies like Artificial Intelligence (AI) and Machine Learning (ML) help gather relevant customer data, personalize the digital customer experience, provide seamless multi-channel experience, and much more. This way, digital transformation enhances the overall customer experience.
Provides better buying options:
With the adoption of digital transformation, businesses can track the metrics and analyze the data generated through digital marketing. These data-based insights help businesses understand their customers better and recommend better buying options.
Business-based benefits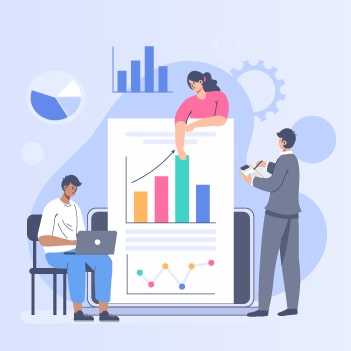 Improves operational efficiency:
Digital transformation enhances the operational efficiency of businesses by minimizing the complexity and time spent on repetitive processes. The automation backed by advanced technologies and digital tools helps improve the productivity and efficiency of the day-to-day business operations.
Helps with informed decisions making & ROI:
Digital transformation helps businesses analyze the data in real-time. It helps business leaders in making an informed decision regarding ways to increase sales, retain customers, improve the quality of product/process. This ultimately helps businesses increase their ROI in the long run.
Ensures business to become agile:
The technology landscape is advancing rapidly, and businesses should keep themselves updated with the latest technologies. Digital transformation helps businesses survive in the highly competitive and technologically advanced marketplace and allows them to become more agile to beat the competition.
Cost-based benefits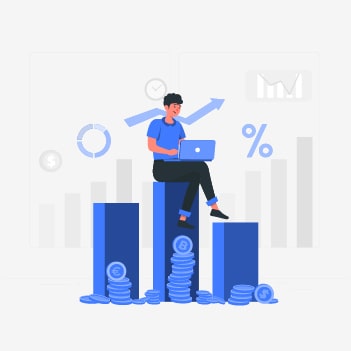 Helps to save costs by reducing human-prone errors:
Any kind of human error can cost businesses to incur high expenses. However, with the help of digital transformation and automation, chances of human errors are significantly reduced, resulting in higher accuracy and significant cost savings for businesses.
Boosts productivity:
By adopting new-age technologies and automating repetitive tasks, businesses can save the time and cost spent on training workers and updating digital resources. Thus, with the help of digital transformation and digital tools, businesses can lower expenses and increase productivity.
Truly, today, businesses across industries, such as healthcare, eLearning, retail, BFSI, etc., are all adopting digitization, and interestingly, this digital impact is seen more in the eCommerce sector, which is directly connected to customers. The ever-changing customer needs largely drive the eCommerce sector, and hence, the retailers are bound to deliver a great customer experience (CX) which is all possible by adopting DX.
Impact of digital transformation on the eCommerce sector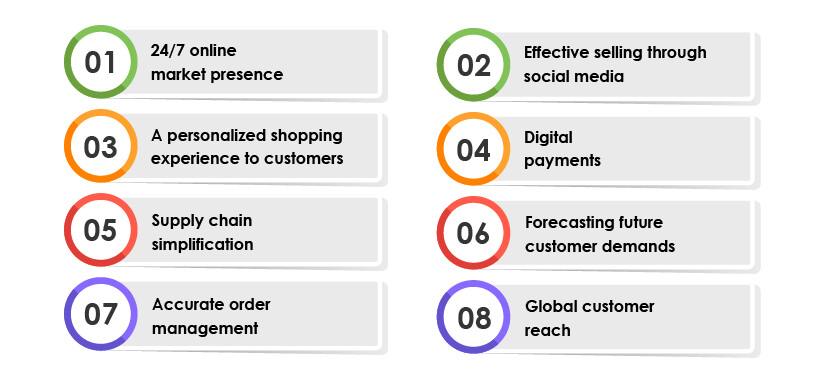 24/7 online market presence:
Digital transformation helps businesses strengthen their market presence by making their products available online 24/7. With the help of digital eCommerce, brands can now sell products to customers 24×7 from anywhere and any time.
Effective selling through social media:
Another way digital transformation has strengthened eCommerce is by facilitating sales through social media platforms such as Facebook, Instagram, WhatsApp, etc.
A personalized shopping experience for customers:
Digital technologies such as AI, and ML gather customer interest and purchase data and help eCommerce businesses to make a personalized recommendation to the customer based on their browsing and purchase history.
Digital payments:
Digital technologies have now simplified the way payments are made. With the help of digital payments enabled through net banking, payment gateways, etc., customers can easily purchase products from eCommerce channels seamlessly on the go. These digital payments have been increased more due to the COVID-19 pandemic also.
Supply chain simplification:
Digital transformation has also simplified every aspect of the supply chain, such as Inventory management, Stock Keeping Units (SKU) management, Warehouse management, Delivery management, etc.
Forecasting future customer demands:
Advanced technologies, such as AI and ML, collect customer purchase data from various sources. Based on this data, businesses can predict the future requirements of customers. This way, eCommerce businesses can suggest to customers what more they can add to their cart while shopping and deliver a seamless shopping experience.
Accurate order management:
Digital transformation has helped eCommerce businesses simplify the order management process. With the help of advanced order management platforms, retail companies can easily track orders/returns.
Global customer reach:
Digital transformation has helped the eCommerce sector expand its global footprints. With the help of digital channels, businesses can now sell their products globally without any hassle.
Undoubtedly, digital transformation has been creating a great impact across industries; however,  businesses should ensure their mobile/web apps, and websites deliver a seamless experience to their digital customers, for which digital testing should be leveraged.
What is the need to leverage digital testing for enterprises digital transformation?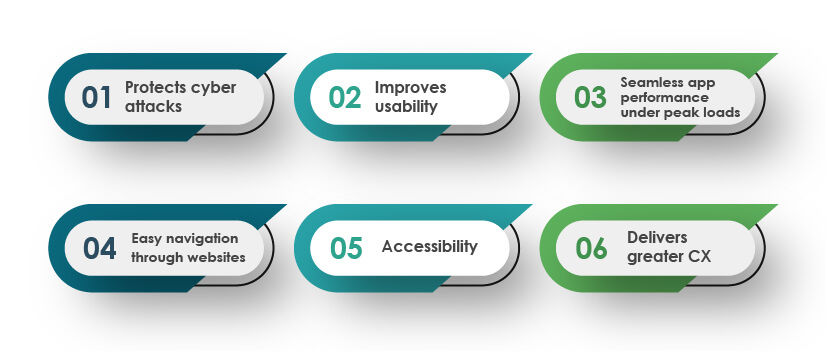 Protects cyber attacks:
Protects digital apps/systems/networks from cyber-attacks
Improves usability:
Ensures proper app navigation & Improves the usability of the app
Seamless app performance under peak loads:
Ensures the app performs seamlessly even under user loads, especially during peak holiday sales
Easy navigation through websites:
Improves eCommerce website performance and navigation to deliver more personalization to the customers
Accessibility:
Ensures the app is accessible to all people, even for the differently-abled population with hearing loss, vision impairment, moto impairment, etc.
Delivers greater CX:
Ensures payments do not get stuck due to poor payment gateway integration and ensures effective cart functionality to deliver a great CX.
An overview of various digital testing types to leverage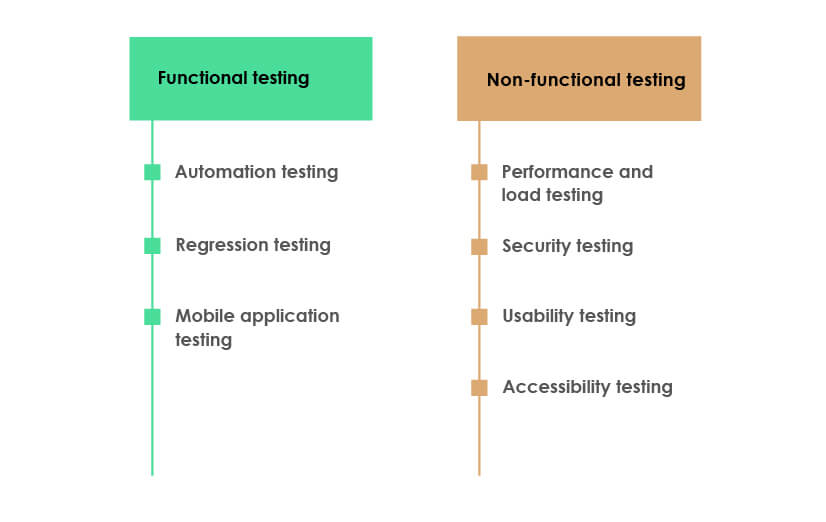 Functional testing: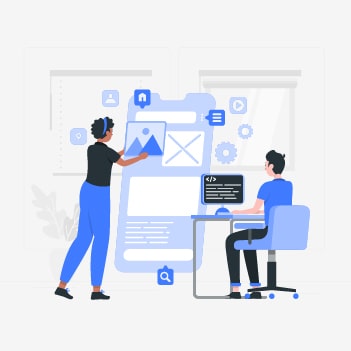 It is performed to test the functional aspects of the software. This testing method helps validate the app's functionality to ensure its works properly as per the requirements. There are various types of functional testing methods that businesses can leverage, such as:
Automation testing: It is an advanced software testing technique, wherein testers use test automation tools for conducting the test. It helps in reducing regression time, ensures faster bug identification, and helps businesses go to market early.
Regression testing: This testing method validates the proper functioning of the software even after frequent code changes and should be taken up whenever any changes are made in the software.
Mobile application testing: In this testing type, the apps designed for hand-held devices like mobile phones and tablets are tested thoroughly. Mobile app testing validates mobile apps' functionality, performance, compatibility, usability, etc.
Non-functional testing: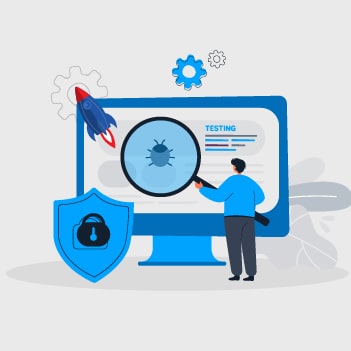 In this testing type, the non-functional aspects of the software, such as performance, security, reliability, accessibility of the web/mobile apps are checked thoroughly.
Performance and load testing: The main aim of this test is to check the performance, speed, responsiveness, stability, and reliability of the app under high user loads, fluctuating networks, varying bandwidths, etc.
Security testing: As the name itself suggests, this testing type helps identify and remove security loopholes or vulnerability issues from the software. There are various types of security testing methods such as vulnerability testing, penetration testing, ethical hacking, etc.
Usability testing: The main aim of this test is to ensure the proper usability of an app to the end-user. Usability testing involves the validation of app navigation, content readability, multimedia visibility across the app, etc.
Accessibility testing: This test ensures equal access of apps to all people, including people with certain disabilities like partial blindness, hearing loss, motor limitations, etc. Accessibility testing validates the app's compliance with accessibility guidelines like W3C's i.e., WCAG 2.0, WCA 2.1, WCAG 2.2, Section 508, Stanca Act, etc.
Next-gen testing methods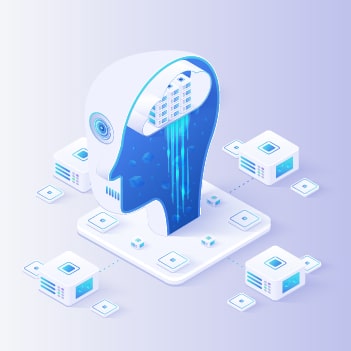 AI testing: In this testing type, the AI-powered smart apps and bots are tested comprehensively to deliver fully-functional AI apps and bots.
AI-based testing: It is an advanced software testing technique wherein advanced technologies like AI and ML are used for testing the software. This testing type helps testers speed up the testing process, identify bugs faster and deliver software at speed. Tx-SmarTest is an AI-enabled comprehensive platform that systematically caters to faster releases enabled with DevOps CI/CD processes. It helps boost the software quality through production enabled by combining AI, ML, Deep Learning, and neural network algorithms.
Conclusion
Digital transformation is changing the world in leaps and bounds, and every business is digitally transforming by adopting digital apps, tools, technologies, and more. Digital-first and customer-first approaches are transforming the way of doing business across the globe. However, the significance of digital transformation is significant in the eCommerce sector as it has allowed businesses to sell their products directly to the customer without any hassle. This digital transformation impact has been amplified with the pandemic when customers started to buy products online. However, effective digital testing is necessary for businesses to ensure their mobile/web apps deliver a seamless digital experience to their customers. Businesses should leverage end-to-end digital testing from an independent software testing service provider for high-quality digital solutions.
How can TestingXperts help?
TestingXperts (Tx), an award-winning and leading next-gen QA and independent software testing services provider, has been at the forefront of enabling digital testing services for businesses across industries. With proven experience in mobile and web app testing services and with an end-to-end service portfolio, Tx addresses various customer challenges associated with digital apps like functionality, performance, security, usability, cross-device compatibility, and more. Tx teams closely work with clients in various methodologies (Agile, & DevOps) to offer digital testing services for mobile and web applications. Tx also ensures businesses achieve faster time to market with quicker ROI.